What are the Online Program Options at University of Hawaii at Manoa?
Find your degree
Online College Plan is an advertising-supported site. Featured or trusted partner programs and all school search, finder, or match results are for schools that compensate us. This compensation does not influence our school rankings, resource guides, or other editorially-independent information published on this site.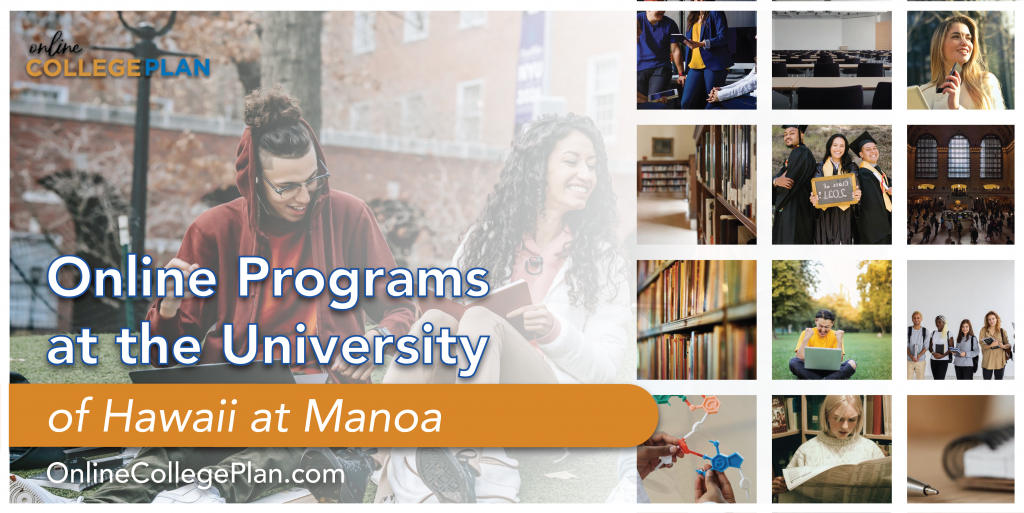 The University of Hawaiʻi at Mānoa is considered to be the best school in Hawaii when using the ranking criteria of affordability, graduation rates, freshman retention rates, and the overall grade given to the school by students obtained through Niche. In this article, we will be discussing the fully online degree programs at the University of Hawaii at Manoa and breaking down their flexibility and benefits for distance learning students.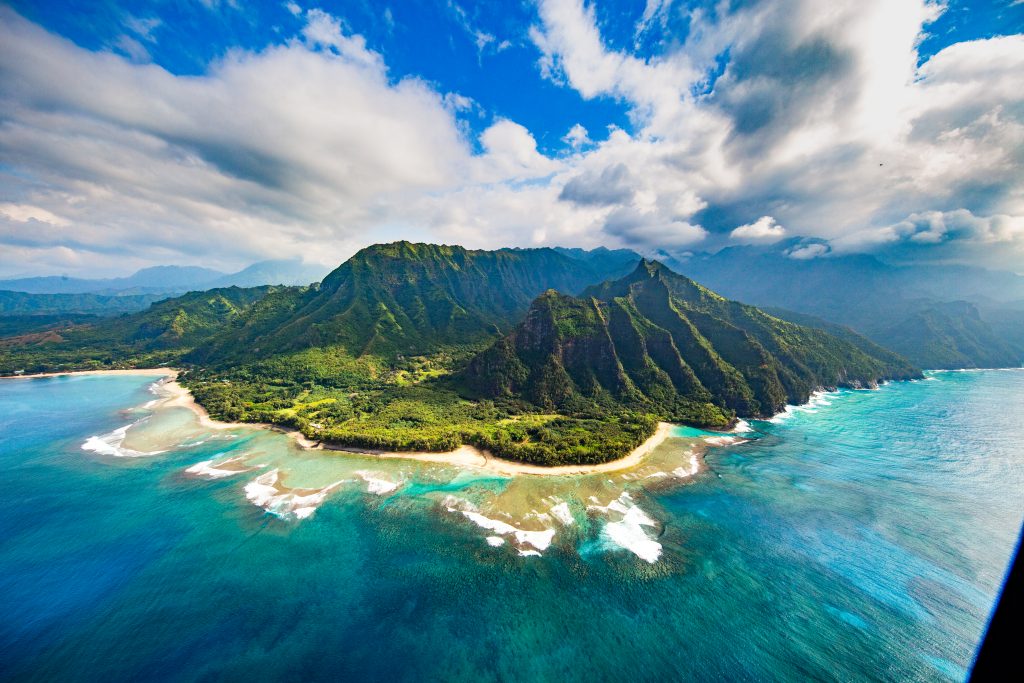 The University of Hawaiʻi at Mānoa, also known as UH Mānoa, is a public university and the flagship institution of the University of Hawaiʻi system. Mānoa is considered an affluent neighborhood of Honolulu and is located in Honolulu County. The school is located about 3 miles inland and east of the downtown area of Honolulu and about one mile northeast of Waikīkī.
UH Mānoa was founded in 1907 and began as a land-grant college of agriculture and mechanic arts. The school held its first classes the following year with a modest enrollment of five freshmen and five preparatory students. The College of Hawaiʻi, which was its name then, relocated to Mānoa Valley in 1912. The first permanent building at this campus was erected in an area which was surrounded by pig farms and kiawe trees. Today, this building still stands and is known as Hawaiʻi Hall.
Featured Programs
Throughout the years the institution has grown, changed, and adapted to suit the growing educational needs of the student population. It was 1972 when the school was renamed the University of Hawaiʻi at Mānoa. The reason for this was that the University of Hawaiʻi System was still growing and the university wanted to distinguish it from the other campuses within the same system.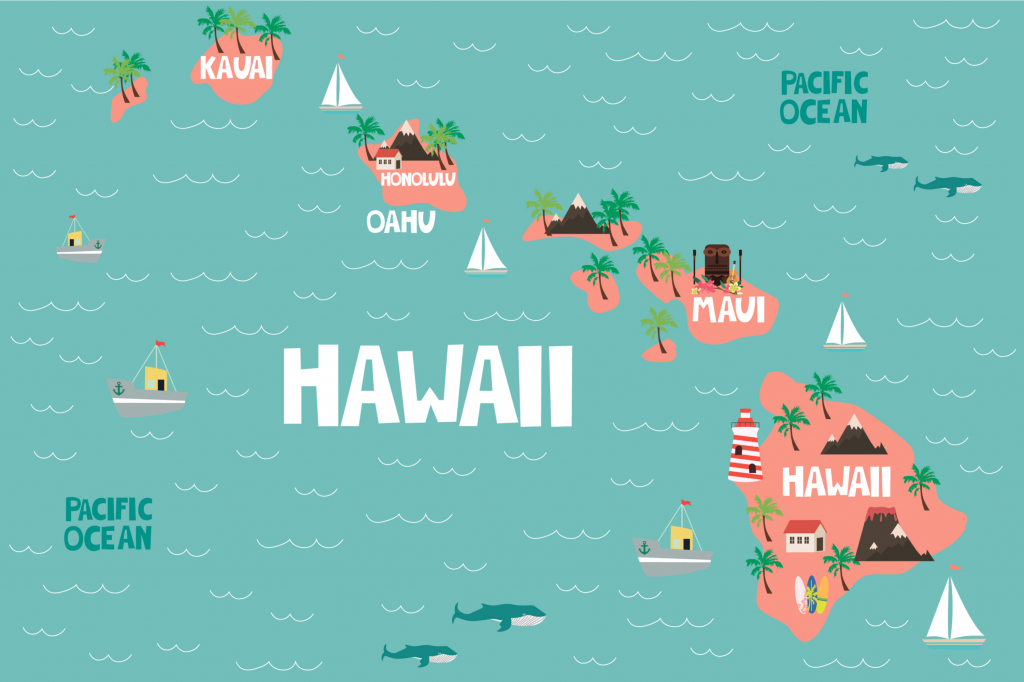 Today, there are more than 19,000 students earning degrees at UH Mānoa. The student body is one one of the most diverse of all colleges and universities in the United States, in fact, it is ranked #1 in our ranking, Top 20 Most Ethnically Diverse Schools With Online Programs.
There are many different online degree programs that can be taken entirely through UH Mānoa's distance learning department. In the following section, we will be talking about each one of these programs in-depth to help you determine whether or not UH Mānoa is right for you.
Undergraduate Degrees:
UH Mānoa has a variety of exciting and cutting-edge bachelor's degrees and other undergraduate programs available online for distance learning students, including topics in economics, social work, and women's studies.
Bachelor's Degrees at UH Mānoa
Bachelor of Social Science of Oceans
Bachelor of Arts in Economics
Bachelor in Elementary Education
Bachelor of Social Work
Bachelor of Arts in Women's Studies
Bachelor of Social Science of Oceans
This accelerated BA program is entirely online for distance learning students and is designed for working adults with courses that are completed in five-week sections. If you have an associate's degree or have the college courses equivalent, you can complete this bachelor's program in two and a half years or less. In this program, you will learn about many of the complicated issues related to our oceans and island nations. Subjects include social sciences like anthropology, economics, environmental science, geography, and sociology. This program is especially relevant for Hawaiian students or other students residing on an oceanic island.
Bachelor of Arts in Economics
Economics degrees, in general, can be incredibly beneficial for those wanting to pursue graduate degrees or further education. Economics degrees explore aspects of money and our economy such as resource allocation, wealth, incentives, taxing, and more. Fields like business, management, law, public affairs, and more are related to economics, so it is incredibly valuable information to have as an undergraduate student. This degree can be completed in as little as two years with proper pacing and credit management, but some students take up to four years to complete it.
Bachelor in Elementary Education
This online degree program is designed to help students become an educator of grades K-6. If you want to inspire the next generation of students, this is the degree for you. It takes 66 credits and two years to complete, and you will need to submit passing scores for teaching licensing tests upon receiving your diploma. Following these steps, you can become recommended for licensure by the Hawaii Teachers Standards Board to begin educating students. Some of the goals of this program include building organizational, professional, and academic leaders for the future.
Bachelor of Social Work
The bachelor of social work program from UH Mānoa is actually the only BSW program available online in the entire state of Hawaii. Therefore, it is a premier and cutting-edge program. During this program, you can choose to either pursue your studies on a full or part-time schedule depending on the kind of time you have during your daily routine. Most courses are delivered asynchronously, meaning that you don't need to adhere to specific lecture or exam times. By the end of the program, you will be grounded in the practice of social work and ready to help others.
Bachelor of Arts in Women's Studies
This BA in women's studies is entirely online for UH Mānoa students, delivered in a 16-week semester format. During the program, students will be given a comprehensive, interdisciplinary background in feminist scholarship as well as gender and sexuality studies. If you qualify, this program also gives students the opportunity for dual enrollment with UH Mānoa, meaning that you would be able to pursue two different degrees at the same time.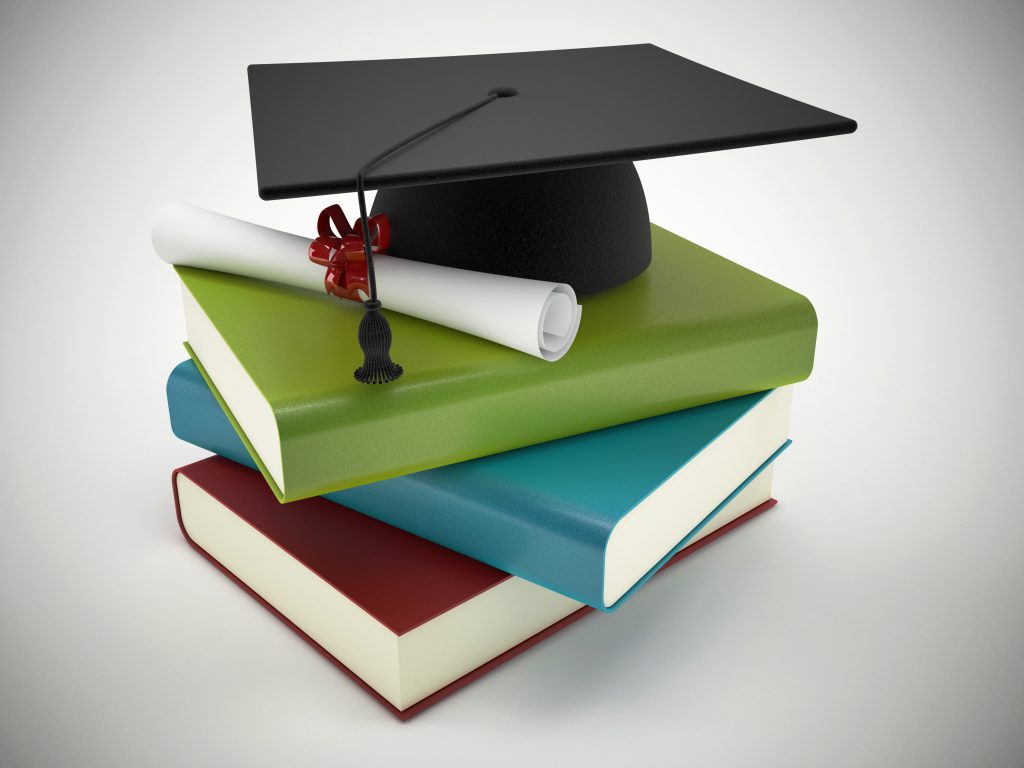 Graduate Degrees:
UH Mānoa also has many graduate degrees for those looking to continue their secondary education or gain a further edge in their field of choice. Topics of online master's programs at UH Mānoa include things like special education, curriculum science, and learning design and technology.
Graduate Degrees at UH Mānoa
Master of Science in Kinesiology and Rehabilitation Science
Master of Education in Special Education
Master's in Curriculum Science
Master's in Learning Design and Technology
Master's in Educational Foundations
Master's in Special Education
Master of Science in Kinesiology and Rehabilitation Science
The official name of this program is a Master of Science in Kinesiology and Rehabilitation Science – Rehabilitation Counselor Education Program, and it is designed for both professionals already working in the field as well as those who are entirely new to the field of kinesiology. During this program, you will learn how to safely and effectively work with people with disabilities and provide the care they need. The program takes 48 credits to complete and can be done in as little as 3 years.
Master of Education in Special Education
Also called the MEd SPED program, this master's degree is designed for professional educators who want to gain a more well-rounded understanding of how to provide service to those with disabilities and learning challenges. The program specializes in leadership and research, meaning that students will come out of their degree feeling empowered and ready to help others. The program takes 31 credits to fully complete and can be finished in as little as 2 years. People who should especially consider this program are special education educators and special education mentors.
Master's in Curriculum Science
Known as the MEd-CS PACMED program, the Master of Education in Curriculum Studies – Place Based Curriculum is a 30-credit, 2 year program designed for educators residing on the Pacific Islands. The program is made for educators of all grade levels all the way through college, placing an educational focus on the STEAM subjects (science, technology, engineering, arts, and math). The program is designed to nurture teachers who can create culturally-responsive curriculums to challenge and educate a new generation of students.
Master's in Learning Design and Technology
This online master's in learning design and technology (OTEC) is designed for students all over the US who have a bachelor's degree and find the process of obtaining an on-campus graduate degree too difficult. This program takes two or three years to complete and is composed of 33 credits. This program will prepare you to be employed by any educational institution as well as government sectors and private companies who need help with learning design or educational technology. Some of the most common job titles for graduates of this program include Training Coordinator, Education Specialist, and more.
Master's in Educational Foundations
The full title of this program is Master of Education in Educational Foundations – Global Perspectives on Educational Policy and Practice, and can be completed in as little as 20 months with 30 credits. This program is designed to prepare professionals to incorporate global perspectives into practice, including in places like classrooms, school administrations, and communities as a whole. The unique program examines how global perspectives and policies affect education worldwide from a young age.
Master's in Special Education
The full title for this program is a ​​Master of Education in Special Education- Behavior Analyst Certification Board, and is a very unique 2-for-1 program. By the end of your studies, you will have met the coursework requirements to become certified by the ABA (Association for Behavior Analysis International). If you are looking to take the BCBA (Board Certified Behavioral Analyst) exam, these courses are the perfect place to get most of your required elements. This program takes roughly 2 years to complete and is composed of 31 required credits.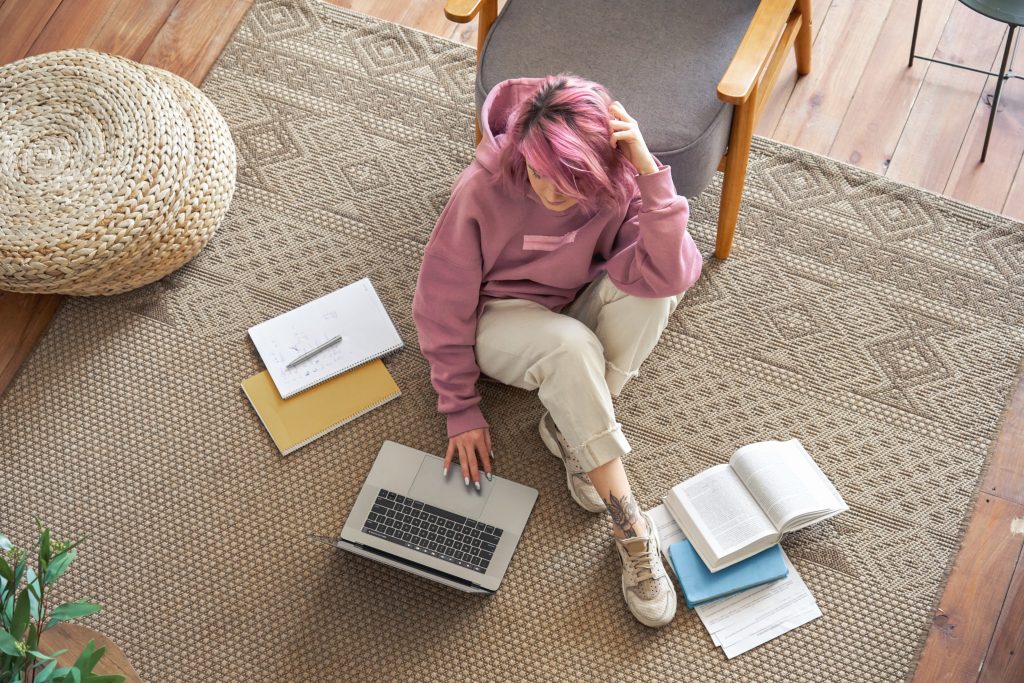 Certificates and Short Programs:
Aside from full bachelor's or master's programs, UH Mānoa also has some short certifications and programs for those who do not want to engage with or cannot afford a full degree.
Online Learning and Teaching (COLT)
This graduate-level COLT program is designed specifically for Hawaii's educators, although it can be pursued by others. It takes only 15 hours or 5 courses to complete, and offers rolling admission to students who are interested. This program is ideal for those who want to learn how to deliver educational materials from a distance, which is especially relevant as the COVID-19 pandemic keeps students and educators apart. Educators who teach all levels, even through undergraduate college, can benefit from this short program.
Interdisciplinary Certificate in Disability and Diversity Studies
This graduate-level certificate is composed of 15 required credits (5 courses) and is sponsored by the Center on Disability Studies (CDS). This program is relevant to students across several different disciplines, including but not limited to social work, education, sociology, psychology, public health, nursing, and more. By the end of this program, you will learn how to approach disability from a different perspective and further understand how those with disabilities are not any different from you.
Post-Baccalaureate Certificate in Elementary Education
If you hold an undergraduate degree not in the field of education but want to become a K-6 educator, this certificate is another way for you to do so. The program is composed of 31 required credits and takes about 18 months to complete. The certificate provides students with a pathway to teacher licensure, especially for those who have worked as substitutes or part-time educators in the school system already. The program is also specifically targeted to those looking to teach in areas that have lower teacher retention.
Speech Pathology and Audiology Prerequisite Program (SPAPP)
This program is partnered with the University of Hawaii's Department of Communication Sciences and Disorders (UH CSD), aiming to provide students with a foundation of coursework to move onto a desired graduate program. The program is perfect for those who need to complete prerequisite courses before entering a graduate program in audiology or speech pathology, as it is made up of 7 recommended courses and 1 elective. Individual courses can be taken additionally if desired, but the foundational coursework takes only 1 year to complete.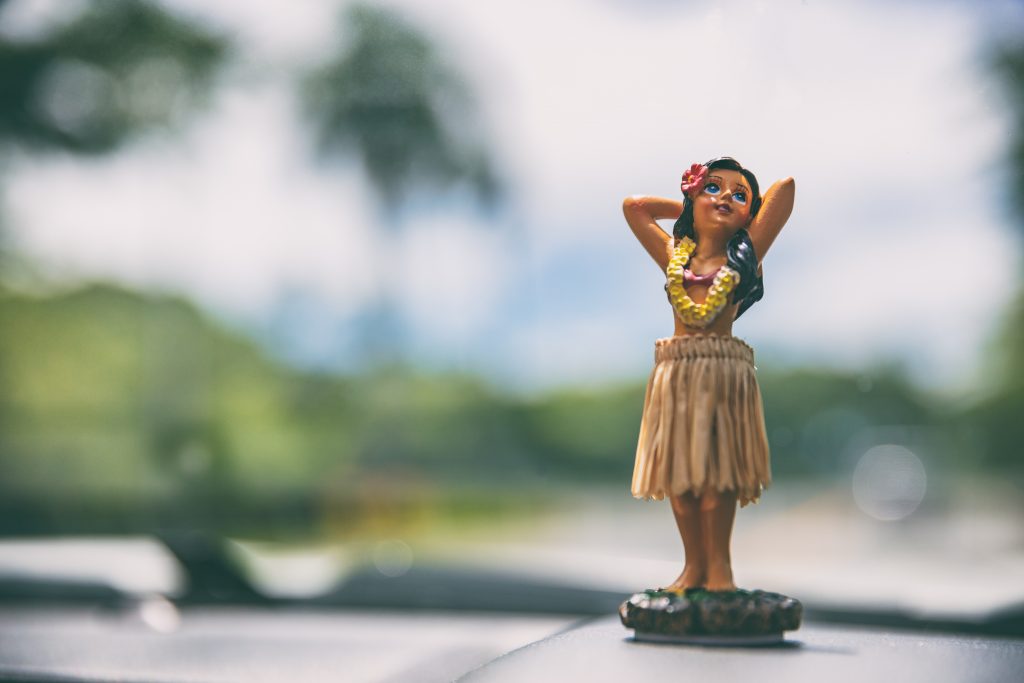 Other schools within the system which offer online programs include Leeward Community College, UH West Oʻahu, and UH Hilo. There are more online options through the same school system, we have only listed the ones which are hosted by the University of Hawaiʻi at Mānoa. UH Mānoa has a lot of great options for distance learning students to pursue, so don't hesitate to ask for more information from university officials if you think it could be right for you. 
Students exploring options for attending college for the first time might enjoy checking out The Ultimate Guide To Online Colleges. If you are still considering other schools, you might also enjoy our Best Online College or University by State and Location.
Related Articles:
Can I Earn a Bachelor's Degree Online from a School Based in Hawaii?
What are the Options for Online Degrees from Schools in Hawaii?
Can I Earn a Degree Online from Rowan University if I Live in Hawaii?