How Do I Apply to Graduate School?
Find your degree
Online College Plan is an advertising-supported site. Featured or trusted partner programs and all school search, finder, or match results are for schools that compensate us. This compensation does not influence our school rankings, resource guides, or other editorially-independent information published on this site.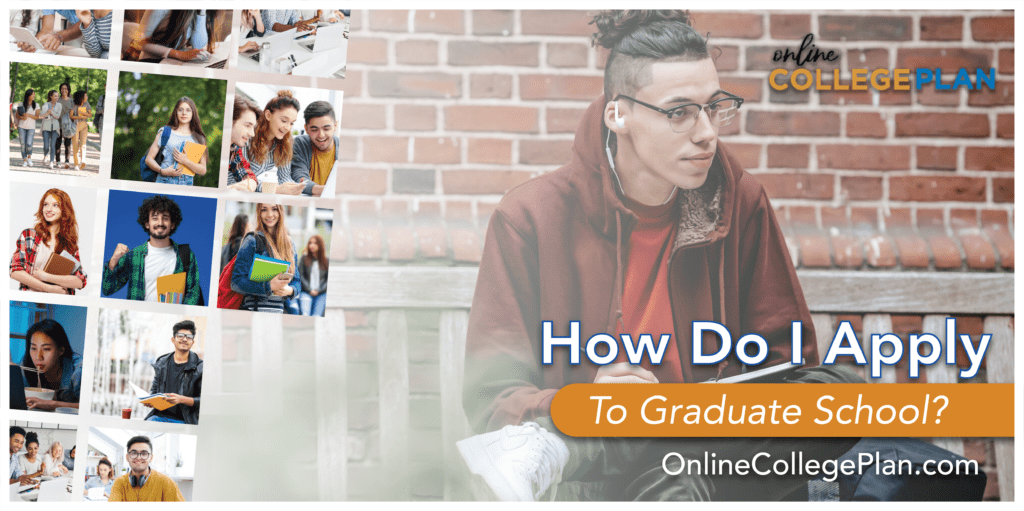 So, you've decided to go to graduate school. Awesome! You may have assumed your days of filling out college applications were over, but surprise! They're back. Never fear, however; you've got this. You'll tackle it like you've tackled everything else thus far—by putting one foot in front of the other and moving forward. In this post, We're going to give you all the details on how you can apply for graduate school. By the end of this article, you'll have a much better idea of what you need to do to earn a master's degree.
Graduate School
Yes, it's a daunting process, especially if you've been away from academic life for a few years. But it's also exciting. I mean, come on—you're going to graduate school! It's a big damn deal!
In this article, we'll help by breaking things down step-by-step. Applying for graduate school may be a challenge, but if you get organized and stay ahead of the game, you'll give yourself the best chance to get into the school of your dreams. Are you ready? Let's roll.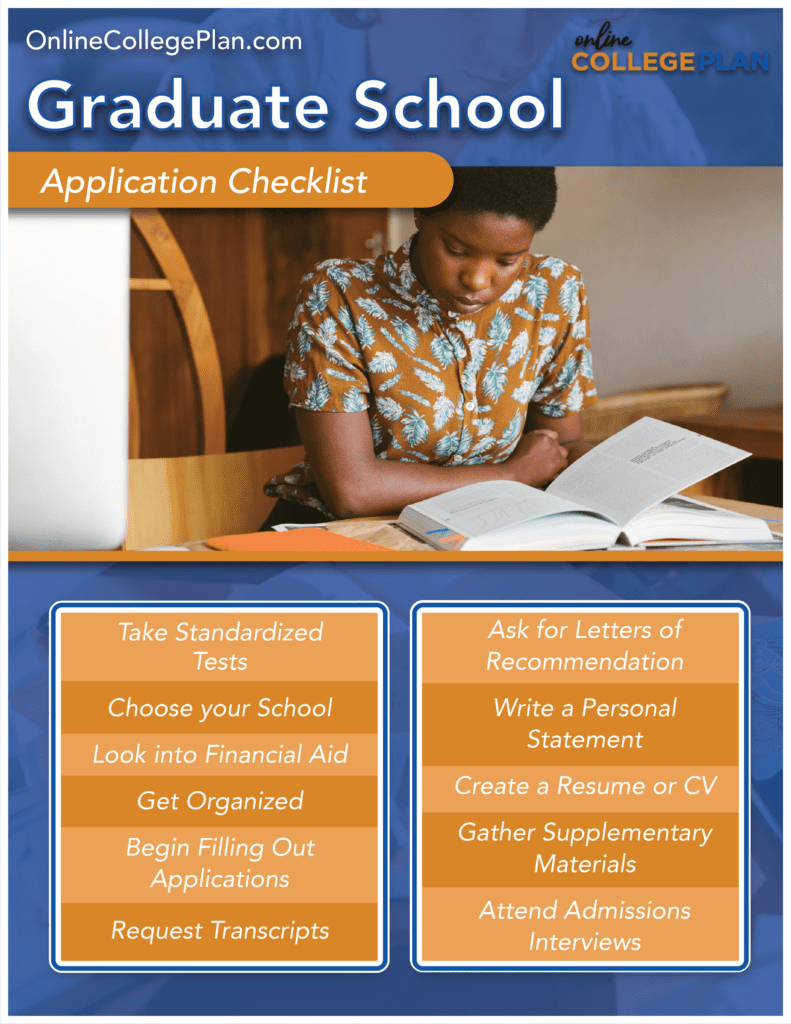 Applying to Graduate School—the Planning Stages
In many cases, those reading this will have already completed some of these preliminary steps. However, if you're arriving late to the game, here's a brief overview:
Take Standardized Tests
Until you have your test scores, everything is more or less up in the air. So, this is the first step in preparing to apply for graduate school. It's best to take them in July or August. That way, if you're unhappy with your scores, you still have a chance to retake them in the fall.
You'll want to spend some time studying, too. While many paid programs can help you with this, those on a budget should consider free online courses explicitly designed to prepare students for the GMAT and the GRE.
Choose Your School
The obvious first step is in choosing a graduate school to attend. Naturally, your selection will depend on various factors—location, cost, quality of the program, etc. If you haven't already, you will need to decide between a Ph.D. or a master's program, and you'll want to research each school's program to determine how well it fits with your future goals.
As you are creating your list of potential grad schools, try to separate them into three categories:
Dream Schools: Schools you would love to attend but that are highly competitive with rigorous admissions requirements. They may be a long shot, but you would be ecstatic if you were admitted to one of your dream schools.
Backup Schools: Schools with lower entry barriers and those where you would definitely be accepted based on your GPA and test scores. You might be disappointed initially, but you would be okay if you had to settle for one of your backup schools.
Target Schools: Schools where you have a solid chance of being admitted based on your test scores and academic record. These are the ones you will focus the majority of your efforts on. You would be perfectly happy to be admitted to one of your target schools.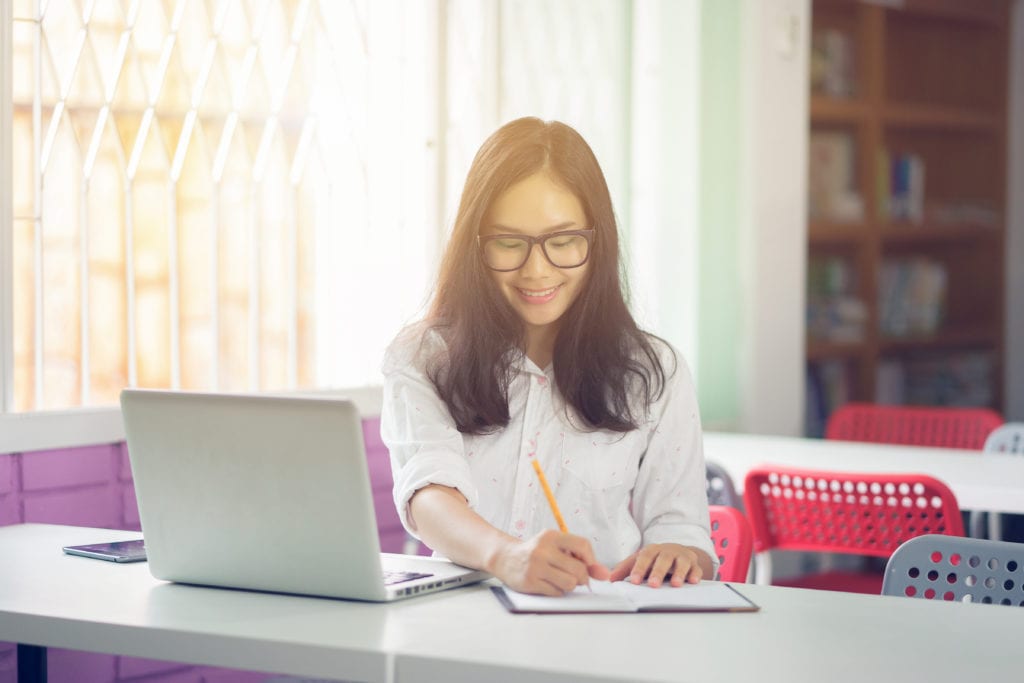 Check Out Financial Aid Options
The planning stage is also the time to start looking into your options for financial aid. Sit down and make a detailed list of all the expenses related to grad school:
• Tuition
• Fees
• Books
• Housing
• Living expenses
Since costs will vary across schools, you should make a list of expenses for each school. This way, you can see exactly what you would need depending on where you decide to attend. Then, find out what types of Federal student aid might be available for you. It would help if you also looked into any associated grants, fellowships, or scholarships for the program you choose.
While you're working on your college budget, don't forget about additional expenses like application fees and the cost of obtaining copies of your official transcript.
Get Organized
Before you start completing graduate applications, take some time to set up a system to keep yourself organized. You will be glad you did, especially if you are applying to multiple schools.
Gather all of the paperwork and information you have already, and file it either digitally or in physical folders. Create a timeline with all the due dates for your applications so you don't accidentally forget any deadlines. A spreadsheet can be particularly helpful at this stage. List the admissions requirements and documents you will need for each school, which may include:
• Transcripts
• Supplemental Materials
• Test Scores
• Letters of Recommendation
• Resume or CV
• Personal Statement
• Essays
In your spreadsheet, include a link to the application instructions page for each school. You can also print each of these out and use them as a checklist as you go along. If you are missing anything, now is the time to request new copies.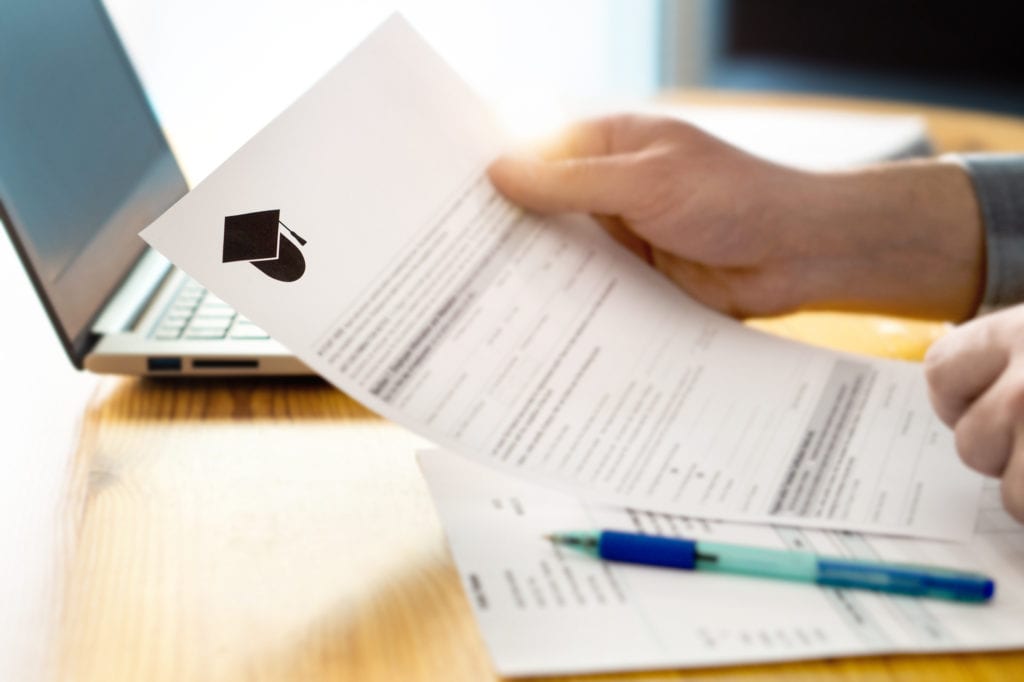 Applying to Graduate School—The Paperwork
Once you've got the pre-planning behind you, it's time to begin the actual paperwork you will need to get into graduate school. Make it easier on yourself by following these steps:
Start Filling Out Your Applications
While the Common App may have saved you some time filling out college applications originally, there is no such shortcut for applying to graduate schools. You will need to methodically fill out individual applications for each of the programs you want to apply to. Application costs vary but typically run between $50 to $100, depending on the school.
Check over the details carefully, as each application is likely to be a bit different. You will need to fill in basic information about yourself, your academic experience, and your extracurricular activities. Plus, different departments may have their own requirements when it comes to supplemental materials.
Naturally, you will want your application to be free of any grammatical errors, so you should run your answers through a proofreading program like Grammarly before you press submit. Alternatively, have someone else look it over for you. Sometimes, another pair of eyes can pick out typos that you may have missed.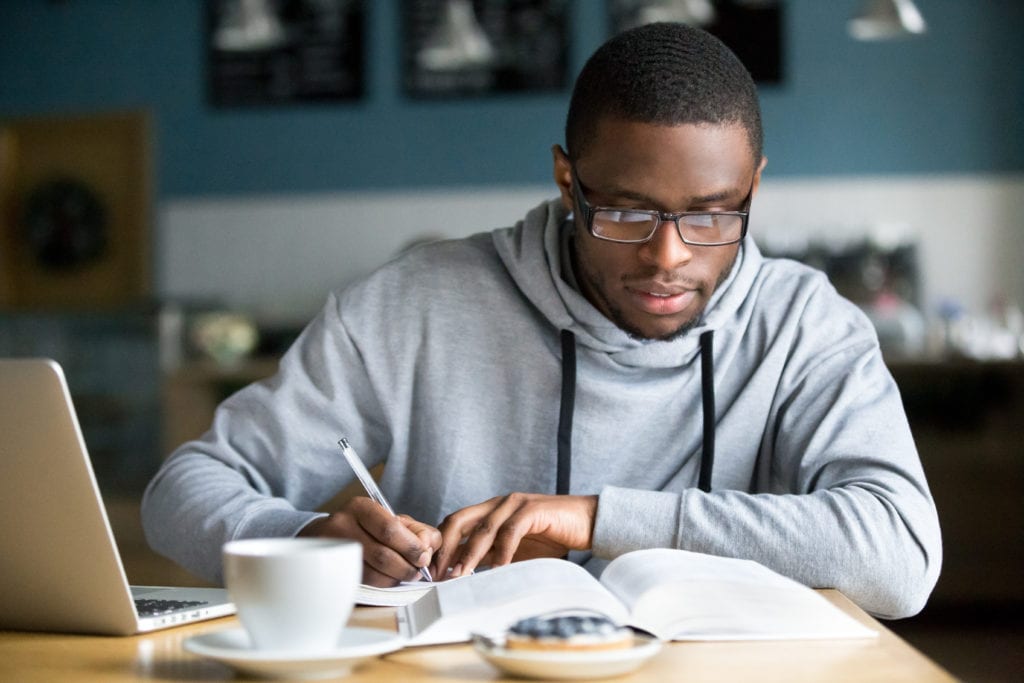 Request Your Transcripts
At the same time you are filling out your applications, you will want to begin requesting transcripts. This is one step you don't want to put off. Your transcripts will need to be sent directly from the school where you earned your bachelor's degree to the graduate program you are applying for.
Requesting them is not difficult, but the entire process can take several weeks. It is recommended that you begin gathering them two months in advance. Also, be prepared to pay between $10 to $20 for each transcript sent.
Ask for Letters of Recommendation
Requesting letters of recommendation is also a task you should get started on right away. Like transcripts, you will want to ask for them at least two months in advance. Most graduate schools require three letters of recommendation, and they need to come from someone who knows you well. Employers, former professors, and mentors are your best bet. Ideally, you will want at least one of the letters to be from someone who is a professional or instructor in the field you are interested in. Here are a few tips regarding letters of recommendation: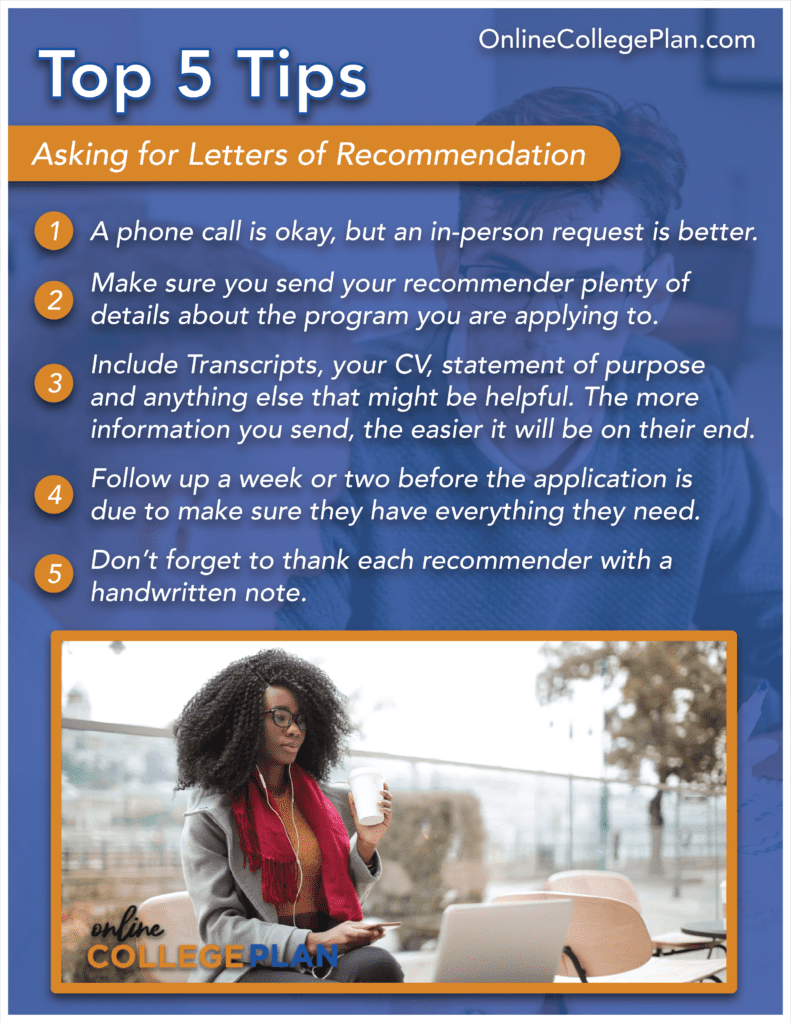 Write Your Personal Statement
One of the most vital components of your application is your personal statement. This is where you can demonstrate what sets you apart from other applicants. While the theme is often open-ended, some schools will have specific topics to address: They may ask you what influenced your decision to pursue the field or how the program fits in with your career goals. They may also want some additional information about your background and accomplishments. No matter what you end up writing about, there are a few helpful tips to keep in mind:
• Begin with an eye-catching opening paragraph. The admissions office reads scores of essays regularly. So make sure yours is compelling enough to capture your reader's attention.
• Demonstrate how you can bring value to the school you are applying for. Be sure to include your strengths, experience, and any relevant skills you possess.
• Share copies of your personal statement with your recommenders. It can help them as they are writing letters of recommendation for you.
• Don't forget to proofread. In addition to any digital proofreading programs you have, print a copy and look for typos and errors. While you're at it, have someone else check it over and give you feedback. You want to make sure it's completely free of mistakes.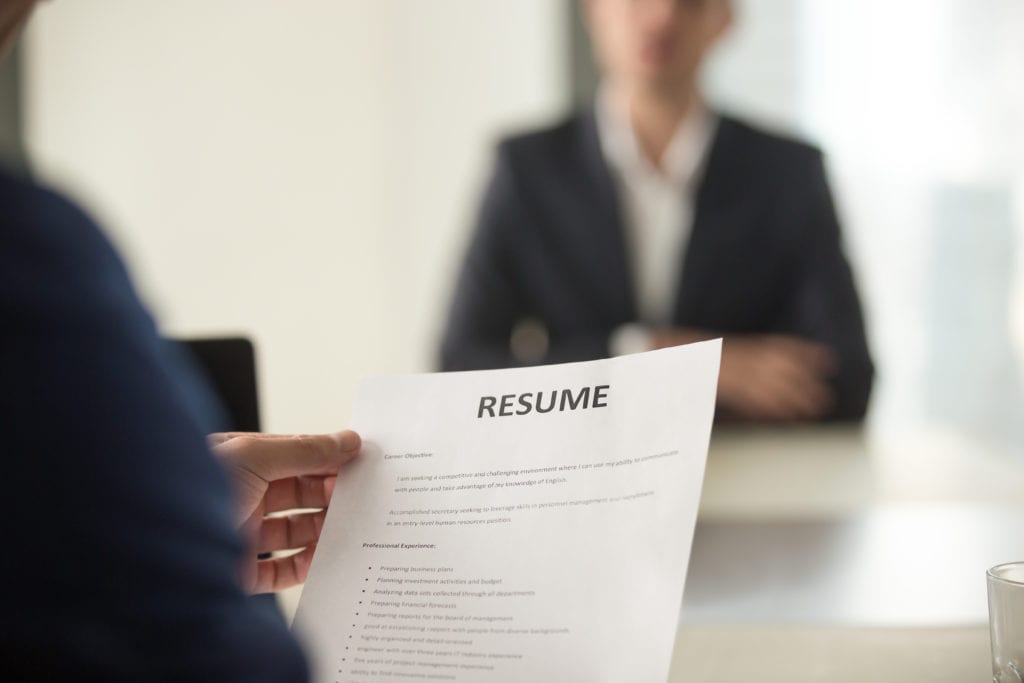 Create a Resume or CV
Most Grad schools require applicants to submit a resume or curriculum vitae (CV) along with their application. Just as you would create a stand-out resume when applying for a job you want, your CV is the document that helps you secure a position at a specific grad school. The main difference is that your focus will be on your academics rather than your professional experience. If you are applying to multiple schools, you will need to tailor it to the individual institution.
Unlike a resume for a job, a CV for grad school doesn't need to be short and sweet, and it's perfectly acceptable to submit one that is several pages long. That's because it needs to include as much detail as possible about your academic history, relevant work experience, research projects, accomplishments, interests, honors, etc.
Supplementary Materials
If required by the admissions committee, you will also need to gather and submit any requested supplementary materials. Although it's not always the case, students with achievements that can't be demonstrated on the application may be asked to provide additional documentation such as a portfolio, musical score, video, writing samples, academic research papers, etc. Only submit these materials when and if they are requested.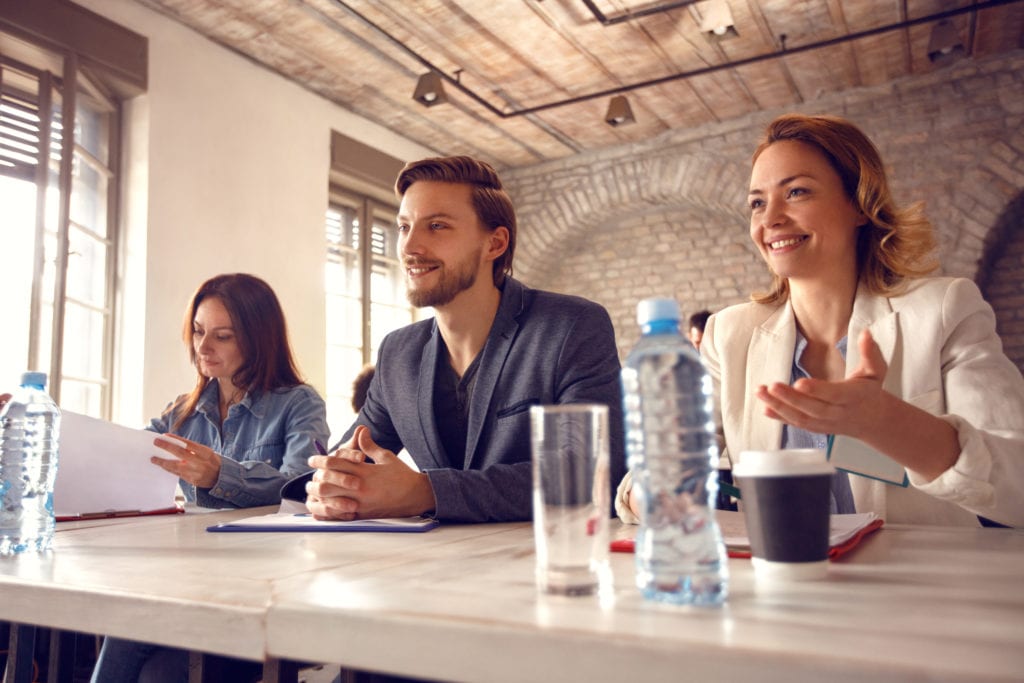 Admissions Interviews
The last step in applying for a graduate program is admissions interviews. Not every school uses interviews as part of the admissions process, but those that do typically begin contacting students for interviews around four to six weeks after the final deadline for applications.
If you plan to attend in person, you will need to start preparing for any travel that will be necessary. This won't be an issue if the interview will be conducted remotely, but you still need to be prepared. Create a folder to hold everything you will need for your interview, and start practicing the answers to some of the most common interview questions.
Other Questions and Answers About the Grad School Application Process
Students who have other questions about getting into graduate school may find them in this section.
What Are Graduate Schools Looking for From Their Applicants?
Although each school has its own admission requirements, including those listed above, these are the basic requirements for admittance. Many schools look beyond academic performance to deeper (and sometimes more vague) characteristics. Here's a look at some of them:
Experience and Involvement
Admission committees aren't just looking at what applicants know, but how they have put it into practice. The more involved you have been in your area of study, the better. Community service, job shadowing, volunteering, and research projects in your field of interest are impressive and can dramatically improve your chances.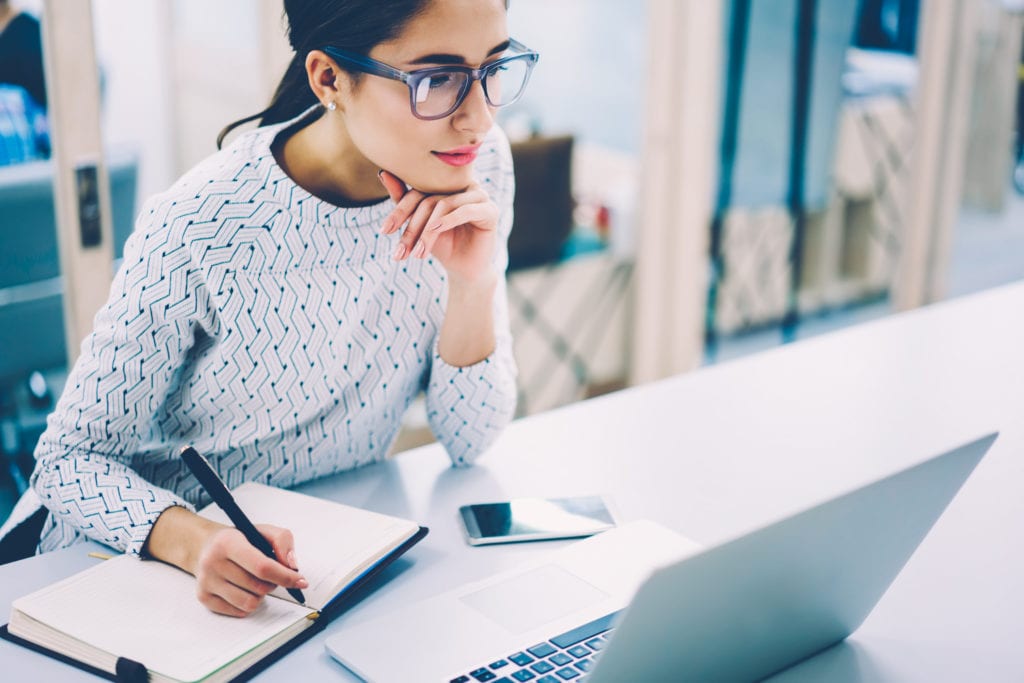 Writing Skills
When compiling your materials, don't forget that your writing is likely to be heavily scrutinized. For many evaluators, writing aptitude is even more important than some of your application's other components. A strong command of the English language is vital, and your writing should be thoughtful, engaging, and well-organized. Correct spelling, punctuation, sentence structure, and grammar are crucial. You can have the most outstanding academic performance among your peers, but your application is likely to be denied if you present yourself poorly in your writing.
Being a "Good Fit"
This vague consideration comes up all the time, and it can be frustrating because it's so subjective. In general, it means that your goals, skills, strengths, and interests align with those of the department you are applying for. How do you know what those are? You will need to do a little investigative research.
Don't just regurgitate the same information anyone can find in a brochure or website, either. It would help if you made it personal. Visit the school in person to soak up the vibe and get a feel for the overall environment. Participate in informational sessions. Read up on faculty members and their interests, or contact some clubs. This way, your interview and the writing portions of your application will be unique to your view of the school.
Self Discipline and Motivation
Graduate programs are rigorous. Schools want students who are driven, self-motivated, and have the initiative to create their own opportunities. Demonstrate these traits by submitting your application well in advance of any deadlines. And make sure you show up at your interviews on time or early. In all your dealings with the school, show that you are disciplined, follow directions, and are on top of things.
Unique Character
Time and again, we learn that admission committees choose students because of what makes them unique, so don't be afraid to let your freak flag fly a little. What you may think of as a bizarre or uninteresting hobby might be just the thing to put you in the running. Sure, your parents never liked your insect collection, but the committee might find it fascinating that you've devoted ten years of your life to raising dung beetles.
What Are the Costs Involved With the Application Process?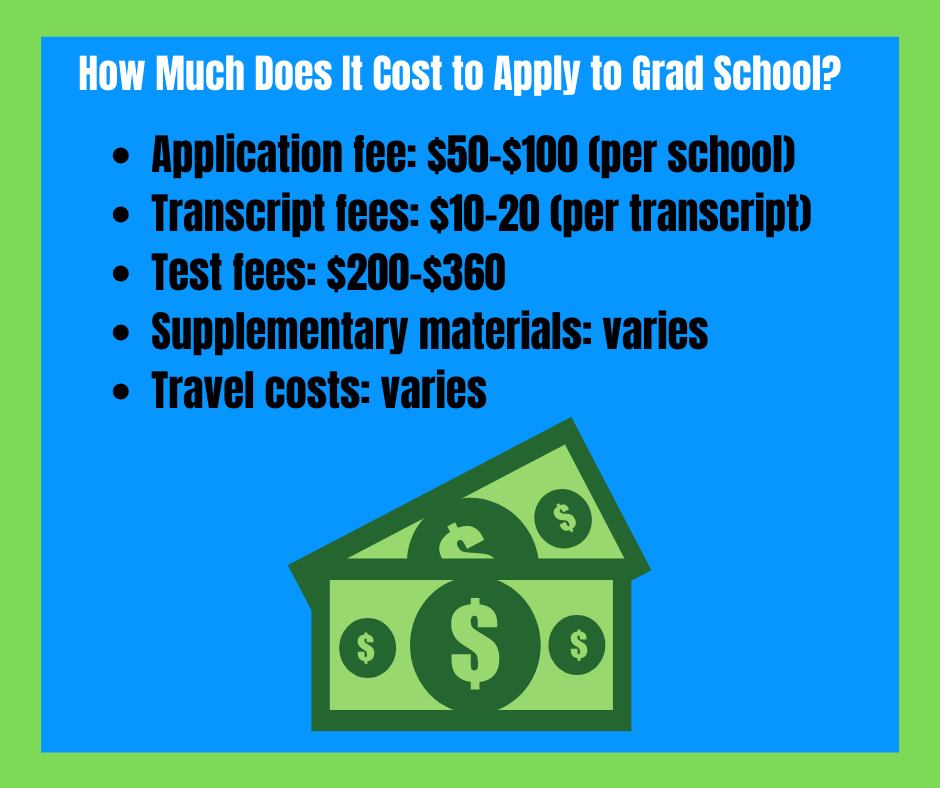 The costs of applying to graduate school vary depending on the location and type of program, but here's a typical breakdown:
Application fee
Although some no-fee schools exist, you will likely need to pay to submit an application to grad school. Most cost between $50-$100, although some can be upwards of $150 or more.
Test fees
Taking a standardized test will typically cost you, and sending the scores to different schools may incur an additional expense as well. Some of the most common test fees include:
GRE (Graduate Records Examination: $205
GMAT (Graduate Management Admission Test): $250
LSAT (Law School Admissions Test): $200
MCAT (Medical College Admission Test ): $315
DAT (Dental Admissions Test): $360
Note: If you cannot afford the testing fees, some schools provide waivers to students who can demonstrate financial hardship.
Supplementary Materials
Not all students will incur expenses related to supplementary materials, but some may. Depending on the program you are interested in, you may need to provide samples of your professional work. For example, if you're a music student, you will usually need to send a recording. This involves the expense of renting a professional recording studio.
Other examples include binding services for a thesis, the expenses of creating a hardcopy or digital portfolio, and the cost of mailing.
Travel costs
If you need to travel to visit the school or attend an admissions interview, you'll need to factor in any necessary costs like airfare, hotels, gas, and food. Check first to see if any of these expenses are covered.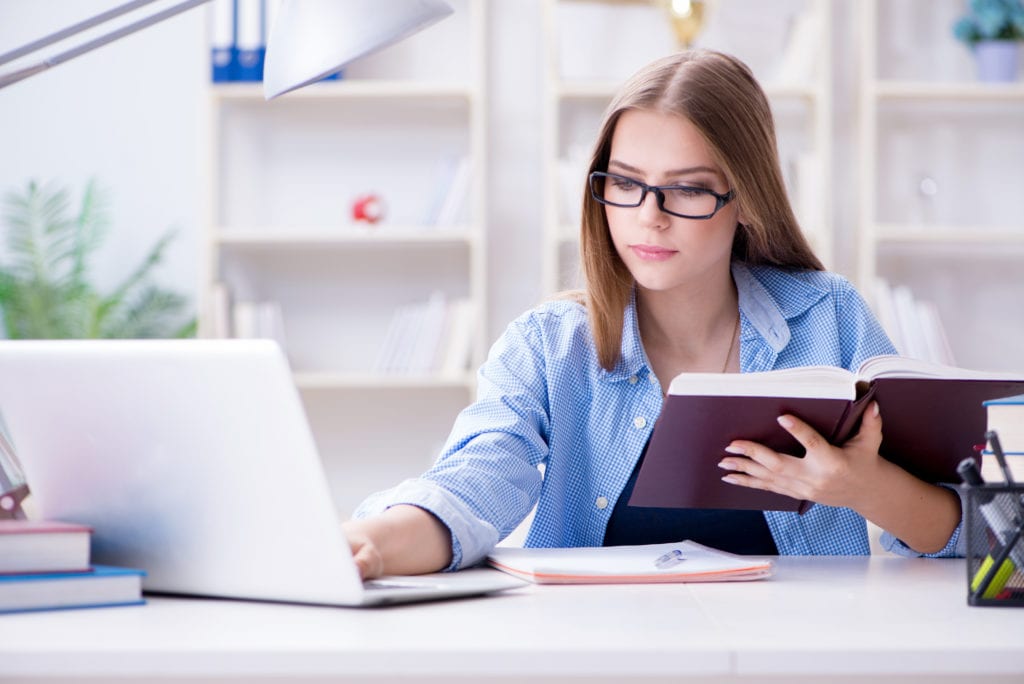 How Many Graduate Schools Should a Student Apply To?
There really is no right or wrong answer here. How many programs to apply to will depend on how much time and money you are willing to spend. Applying for more programs certainly casts a wider net, but considering the fees involved, it may not make good financial sense.
Remember, too, that the process of applying to grad school is a little more complicated than it was for you as an undergraduate. Since you can't use a program like Common App, it can take much more time. Is that a sacrifice you are okay with making? There's no magic number that's right for all students; just be sure you are as thorough in the final application as you were in the first.
When Do Graduate Schools Make Their Decisions Regarding Admission?
Few things are more unnerving to a prospective grad school student than waiting to find out if they have been accepted or not. Most schools make their first round of offers between mid-February to early March. However, don't panic if you haven't received anything within those time frames. It can take eight to ten weeks from the time you apply to receive an answer.