Top 20 Easiest Online Degree Programs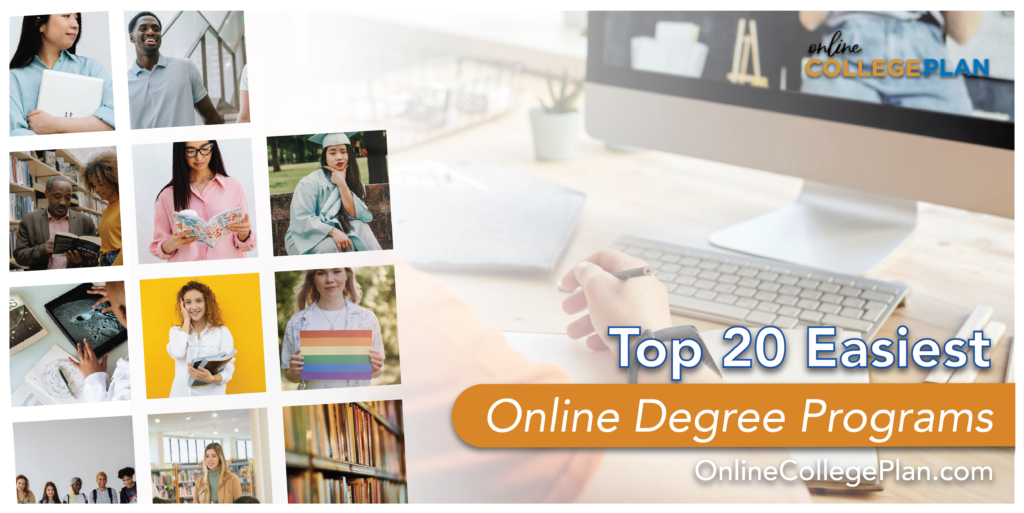 Whether you've just graduated high school and want to look for an easy degree program or you're a working adult who wants to get back to school, earning your degree doesn't have to be stressful and rigorous. Instead, it can be easy to get a degree online.
These days, with remote learning (and working) becoming the norm, getting an online degree gives students as much credibility as traditional on-campus programs. Plus, employers now regularly consider the reputation of the school and the candidate as a whole when choosing the right person for the job.
Below, we've compiled a list of the top 20 easiest college degrees you can get online. Of course, any program can be easy if you are passionate about it, but these are particularly suited to students looking for a less rigorous academic experience.
Featured Programs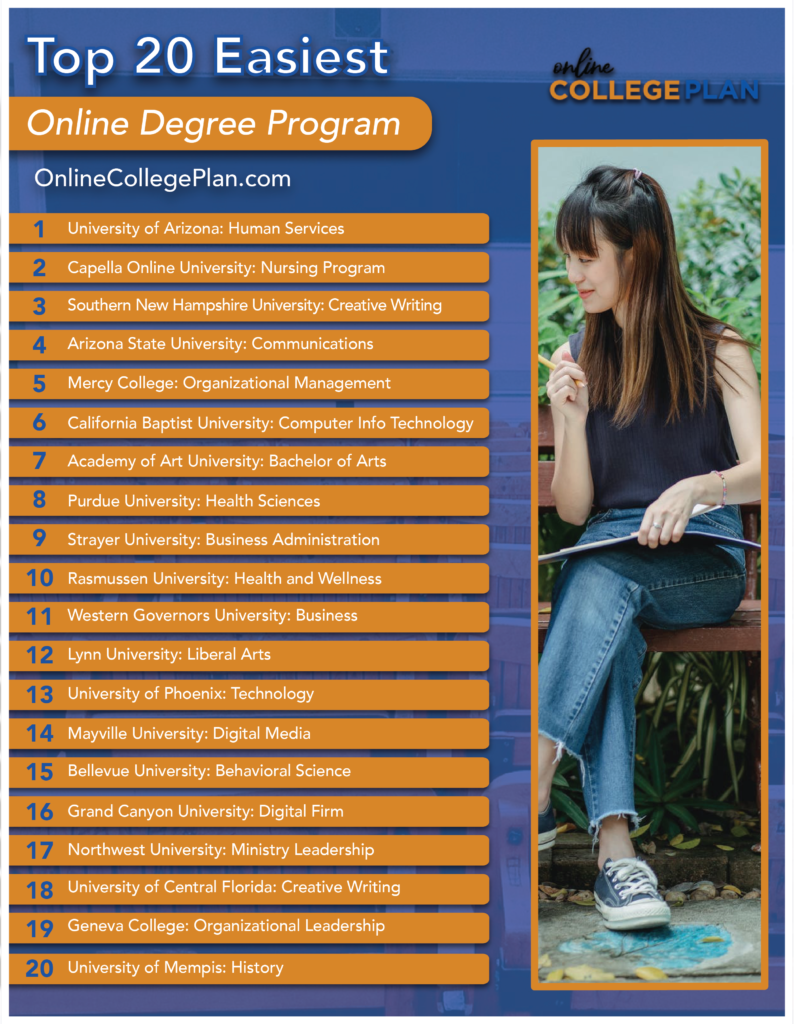 List of the 20 Easiest Online Degree Programs
Up next, our curated list of the easiest remote college degrees. These online degree programs range in topic and style from creative writing to information technology, but all have one thing in common: they're easy. So keep reading to find the best program for you.
Also check out: The Ultimate Guide to Online College
University of Arizona Human Services Program
If you have a background in human services but haven't been able to earn a degree in the field, you should consider the University of Arizona's human services online degree program. The program has been rated seventh in the nation for best bachelor's program by US News and World Report! In addition, the university and program allow for transfer credits, which you can use to accelerate your time toward earning the degree.
Instead of rigorous or tedious sessions, students will experience lessons in cultivating soft skills like compassion, empathy, kindness, and more. All of the skills you gain from this course will help you during real-time work, unlike other material, which makes you memorize specific dates and individuals within the industry.
The degree program is engaging and fun to help you retain information better. In becoming more enjoyable, this degree program will get easier and easier as you progress toward earning the degree. 
Capella Online University Nursing Program
If you want to become a nurse but don't want the years of training and education that go along with the degree, you can take advantage of Capella University's online Bachelor of Science degree in Nursing.
With Capella's nursing program, you still get a thorough curriculum covering need-to-know coursework about patient care and interprofessional practice. However, the course load is offered online for complete ease of access.
You can also complete the program with Capella's FlexPath. This option streamlines the program so that you can earn your degree within 22 months. However, because of Capella's versatility, you'll still be able to curate your courses to your schedule.
During your coursework, you will have access to one-on-one tutor support and detailed faculty feedback to help you succeed. Plus, all courses are interactive so that you can ask questions in real-time and engage with others working toward the same degree. 
See Also: Online Bachelor Degrees in Nursing
Southern New Hampshire University Online Creative Writing and English
As more and more companies join in on the digital expansion movement, writing and English degrees are in high demand. However, the degree doesn't only lead to writing opportunities, although they may be the most plentiful.
Instead, you can pursue the easy Creative Writing and English Program from Southern New Hampshire University (SNHU) Online as a gateway to a broad range of career opportunities, including Public Relations, Digital Media, Education, Communication, Broadcast Television, and more.
SNHU's program is available to access 24/7 from anywhere. Not to mention, the schedule is highly flexible, so you can complete coursework whenever you see fit. You don't have to wait months to start working toward your Bachelor's degree with SNHU either.
Enrollment starts on multiple dates to provide access for those who want to start and finish the program as soon as possible.
If you have previous relevant education experience, you can transfer up to 90 credits toward your degree completion. In doing so, you won't have to take courses you may have otherwise completed previously. 
Related: 30 Online Bachelor's in English
Arizona State University Online Bachelor of Science in Communications
Communications offer ample career opportunities within varying industries. With Arizona State University (ASU) Online's BS in Communications program, you can quickly secure your future. In addition, admission to the online university does not require the written portion of either the SATs or ACTs, giving applicants one less application requirement to worry about.
Even if you don't meet the admission requirements, ASU Online offers an Earned Admission option where you can complete online courses for access to the online university's full-length degree programs.
The program only takes about 40 credits to complete, which can include transfer or previous education credits. If you choose to transfer over credits, either from an earlier college or from high school applicable courses, you can fast-track your degree process.
The online program is also accessible 24/7, so you don't have to burden yourself with physical classes. Instead, you can complete your coursework wherever and whenever you want. 
Related: 30 Online Bachelor's in Communications
Mercy College Bachelor of Science in Organizational Management
Not only will Mercy College's Bachelor of Science in Organizational Management give you a comprehensive understanding of what it takes to excel within the workplace, but you can also earn the degree in only 11 short months. Most Bachelor's degrees take at least two years online to complete, but not Mercy College's program.
The online curriculum is comprehensive and incredibly flexible because it's designed for working adults. You can complete courses as you see fit to fast-track the program or take it at your own pace.
If you want, you can opt for the single course per month option in which you take a three-hour credit course every month until completion. Plus, a large portion of the major completion is elective-based—36 credits out of the required 120. Electives give you the option to choose the courses that you want to take.
California Baptist University Bachelor of Science in Computer Information Technology
With more and more companies and organizations moving toward digital platforms, information technology is an in-demand career field. Luckily, with California Baptist University's BS in Computer Science online program, you can fast-track your IT career goals to meet the demand.
The program takes roughly 16-months to complete and does not sacrifice your education quality. Through California Baptist University's IT program, you will get a full course load of relevant information about today's society.
The coursework is also fully online for you to complete with ease. So you won't have to stress about making it to class on time, pop-quizzes, rigorous in-class exams, and other anxiety-provoking in-person program details.
California Baptist University online has a graduation rate of 63%, which is well above the national college/university average of just over 30%.
Related: 30 Online Bachelor's in Information Technology
Academy of Art University Online Bachelor of Arts Degree
If you're looking for an easy Bachelor of Arts degree, you should consider the Academy of Art University online. The online university offers various arts-focused degrees which you can complete at your leisure. The generalized Bachelor of Arts degree provides students a comprehensive curriculum, encompassing a little bit of everything concerning art.
You'll learn some about art history, take fine arts courses and even study pop culture. To qualify and complete the degree, you only need to maintain a C- average or 2.00 GPA. Even though the course is online–and online-only–you still get access to a responsive support team to help you from day one until graduation.
Of course, you can also complete the coursework from anywhere in the world, so you don't have to sacrifice your day-to-day lifestyle to earn your degree.
Purdue University Global Health Sciences Degree
Obtaining a degree in health sciences is far easier than acquiring a degree in nursing or becoming a physician because you don't have to take intensive classes, seek internship experience, or continue onto graduate or medical school.
Instead, Purdue's health sciences degree program gives you an essential education in the health industry to propel your career. Purdue accepts both transfer credits and experience credits to accelerate your program progress.
If you find yourself struggling with some of the course material, you can always take advantage of the full-range one-on-one support service. In addition, the service provides tutoring services and other resources at no cost to you.
The courses have been designed for working-class adults and are flexible to fit your schedule and lifestyle. This way, you can work toward your degree at your pace. So if you stumble with some work, don't stress. Instead, you can take your time and steadily progress toward the degree.
Strayer University Business Administration Program
The business administration degree program with Strayer University online gives you the tools and skills you'll need to excel within the business industry upon completion.
Since the coursework is online, you can complete tasks, check for updates, and stay in the know with everything about your education from the comfort of your home or wherever you find yourself during the program.
Even though the program runs online, you can take advantage of Strayer University's Student Outreach, Assistance, and Resources (SOAR) program. With SOAR, you can connect with other students and experts and acquire the necessary resources to succeed in the program. You can even use it to schedule a babysitter if you're a working parent.
Strayer University's unique documentary-style educational videos will help you retain more information through their engaging, captivating filmography. 
Related: 30 Best Online Bachelor's In Business Administration
Rasmussen University Health and Wellness Online Bachelor's Degree
Earn your Bachelor's degree in health and wellness in as little as 18 months from Rasmussen University's online degree program. The program is flexible to benefit your schedule and interactive to make learning more enjoyable and more immersive.
Rasmussen also offers a Flex Choice path that combines standard online coursework with self-directed assessments and competency-based learning. Ultimately, Rasmussen University believes in rewarding students for what they learn, not how well they perform on tests or whether or not they attend class.
The classwork also goes wherever you need it to go. If you can't attend a live session at a specific time, you can watch another at a time that's more convenient for you. You will get to participate in virtual labs and relative projects too.
Western Governors University Online Business Degree
As an accredited online university and awarded for its distance learning, you can trust Western Governors University (WGU) for an easy online bachelor's degree, especially when it comes to its business degree program.
Students can obtain their business degree within 12 months of starting WGU's program. In addition, the university accepts transfer credits from accredited establishments, which can help fast-track your degree timeline and allows you to bypass non-essential courses.
As an online university, it's unrealistic to focus on time spent in the classroom, so WGU focuses on competency-based learning instead. Ultimately, this means that you don't have to spend hours each week working on a class until it runs its course.
Instead, you can take things at your pace. Then, when you finish everything the course requires, you can progress to the next level or a new subject regardless of the scheduled timeline. Plus, you'll get the opportunity to accept guidance from a mentor who will help you throughout your education experience.
Lynn University Online Liberal Arts Bachelor's Degree
Lynn University's online liberal arts degree is easy to acquire and provides a broad range of career paths upon completion. The program material includes a healthy mix of different liberal arts subjects such as international communications, psychology, literature, contemporary social issues, critical thinking, and more.
The class sizes for the online degree program are surprisingly small, too, giving you more opportunities to actively engage with the professors, unlike a large-scale class, which can feel alienating.
When you're ready to apply to the program, you don't need to submit SAT or ACT scores as the university does not require them for admission. Once accepted, you can start when it's convenient for you. The liberal arts program has rolling start dates to accommodate whatever life throws at you.
You can complete the degree program within a year if you want to because you get the freedom to work through the material whenever and wherever.
University of Phoenix Technology Degree
The University of Phoenix online allows you to learn when you want, 24/7/, 365 days a year. Earning your technology degree through the school won't limit you to specific timeframes or restrictive classroom settings.
Plus, the degree program doesn't require standardized testing scores or an application fee. They'll even request previous educational transcripts for you without any cost.
The program is set on a fast-tracked timeline, allowing you to earn your degree within a year if you choose. In addition, the University of Phoenix offers one-on-one support five days a week for your convenience.
The programs don't sacrifice content either. You will learn real-life skills that will benefit you in your eventual career. With the comprehensive course load, you get access to expert faculty members.
When you're ready to earn your degree, you don't have to wait for the date of admission to roll around. Instead, the University of Phoenix provides up to 18 different opportunities to jump in and get started.
Maryville University's Online Bachelors in Digital Media
What better way to earn a Digital Media degree than with a digital university? Maryville University's online platform gives students access to an easy Bachelor's Degree in digital media. In addition, the classes are held 100% online, so you don't have to complete any projects, quizzes, exams, or papers in a classroom setting at any point during your education.
You can log in whenever you want to study at convenient times for you and your schedule. This laissez-faire style makes earning your degree easy and flexible. Plus, all classes only average about 20 students, making them more intimate and interactive. You will get more time and opportunities to engage with your professors about the course material.
Maryville University online does not require entrance exams or fees to apply. Instead, you can request admission, follow the platform's minimal requirements, and start working toward your degree either in the fall, spring, or summer.
If you have previous digital media education, you can transfer credits toward your current Maryville degree.
Bellevue University's Online Behavioral Science Degree
Prepare for a career in behavioral science with a Bachelor's Degree from Bellevue University's online program. The program offers tight-knit classes that hold your focus and let you interact with other classmates and professors.
The behavioral science program is accelerated, meaning you can speed up earning your degree instead of having to endure long classes and years of coursework. In addition, you can transfer any credits you already have toward your degree to make it even easier to achieve.
The classes are incredibly flexible, designed for working students who don't have the time to exert their effort 24/7. You also get access to tons of resources and aid during your education. In addition, Bellevue caters to the student rather than the institution, making your education a pleasant and virtually effortless experience.
Grand Canyon University's Online Bachelor of Arts in Digital Film
Suppose you want to study film but aren't exactly excited about the idea of going to a film school or spending four years working toward your film degree. In that case, you can pursue a Bachelor of Arts in digital film with Grand Canyon University online.
GCU's online digital film degree program cuts the time it would take to earn a Bachelor's degree at a standard college or university in half. Most students that go through GCU's program earn their degrees within 48 months.
Courses are fun and interactive via the online platform. Plus, some classes require watching and analyzing different film techniques, and what better way to do so than from wherever you happen to be, online?
The degree program requires 120 credit hours, but the university allows for up to 90 transferred credit hours to aid you.
Northwest University's Online Bachelor of Arts Degree in Ministry Leadership
If you have a deep faith, you'll find this online degree program from Northwest University incredibly easy. Most of the program's coursework is spiritually based, making it a breeze to complete since it doesn't put a rigorous focus on testing and memorization.
Ultimately, coursework toward this degree focuses on critical thinking and looking more at the big picture rather than minute details that some other courses for different focuses might emphasize.
The faculty within the program are not only experts within the ministry field but are passionate about their classes, so they are more than willing to help guide you toward earning your degree. Essentially, you can get help whenever you need it within the Ministry Leadership program.
Not to mention, the program is very interactive and engaging, meaning it will help hold your attention longer and help cultivate your determination and passion for the subject matter.
University of Central Florida's Online Creative Writing Degree
Earning a creative writing degree is essentially more straightforward than some other majors because it doesn't require intensive exams, mathematical equations, memorization of key historical events, and other tedious degree requirements. Of course, that is if you already have a passion for writing.
For individuals looking for an easy creative writing degree, the University of Central Florida's online degree program is the route to go. You can transfer previously earned credits and even use previous professional writing experience to accelerate the program.
The degree itself is fun too. You get to engage with other students and receive constructive criticism for your work to benefit your writing career in the long run. You must complete 120 credit hours to receive the degree, but being online, you can do so at a pace that's best for you.
Geneva College's Bachelor of Professional Studies in Organizational Leadership
If you love to socialize, meet new people and want your degree as fast as possible, you might want to consider Geneva College's Bachelor of Professional Studies in Organizational Leadership program might be right for you. The coursework for this program is conversational and engaging to maintain your interest and help you retain information better.
The program also helps you prepare for real-world leadership and management roles post-graduation. You can complete the program in as little as 16-months, depending on how you utilize the flexible course scheduling and transfer credits, which the university accepts.
Geneva College's organizational leadership program is fast but lets you indulge in lively online class discussions too.
University of Memphis' Online Bachelor of Arts Degree in History
The University of Memphis offers the online Bachelor of Arts in history degree online and in person. The online program follows the same format and curriculum as the in-person program, so you know you aren't sacrificing the quality of your education just because you chose an online platform.
However, that's not to say the program isn't easy. Instead, the program is relatively effortless if you're willing to work for it. The coursework is engaging and informational. The discussion boards accompanying the course material allow you to interact with your professors and other students even though you don't attend in-person classes.
The university also offers "finish in four" aid, which guides students who choose flexible online learning schedules to keep them on track toward earning a degree within four years. You can even sign up for the "Study Abroad" program and take your coursework from another country.
Closing Thoughts
Many people have the false assumption that a college degree would be too difficult for them to achieve. Sure, some fields and subjects are rigorous and challenging, but with so many schools offering programs online, there is more variety than ever before. As you start exploring your options, you may be surprised to learn that you can earn your degree in something you've always enjoyed.
Also, keep in mind that this list of the 20 easiest online degree programs is only a tiny cross-section of the online programs available. For more information, check out these related articles: