30 Most Exciting Colleges Where Practically All Students Live on Campus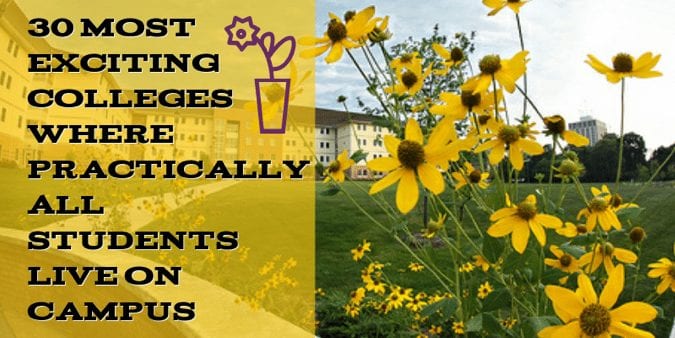 Find your degree
Online College Plan is an advertising-supported site. Featured or trusted partner programs and all school search, finder, or match results are for schools that compensate us. This compensation does not influence our school rankings, resource guides, or other editorially-independent information published on this site.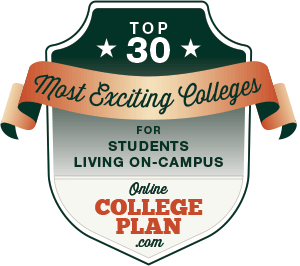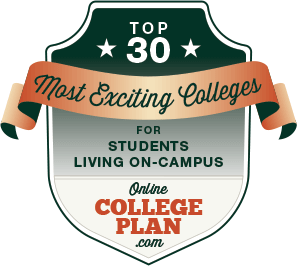 Would-be students have a lot to consider when choosing which college to attend. Anything from the size and prestige of the school to its policies on financial aid and international student exchange could be crucial in the decision of where to spend the next four years – or more – studying. But for those planning to live on campus in particular, perhaps one of the most important things to consider is which college offers the most exciting extracurricular activities and events right on their doorstep, giving them a welcome break from hitting the books.
With this in mind, the following list aims to showcase 30 of the most exciting school environments where pretty much all students live on campus.
Methodology
Featured Programs
To create this piece, we first looked at U.S. News & World Report's "Most Students Living in University Housing" list, which ranks U.S. colleges and universities according to the percentage of students living in college-owned or affiliated housing.
The schools that appeared highly in this list were then assessed and ranked according to their on-campus atmospheres and the number of exciting things for students to do outside of class. In order to gauge which of these institutions ought to be included, each entry was judged according to the following factors:
• The number and variety of its student clubs and organizations
• The quantity and character of its annual on-campus events
• The number and variety of its sports teams and clubs
• Its selection of exciting on-campus facilities
• Its incorporation of exciting-sounding or unique leisure activities
• The quality of its campus social scene
Other factors, such as each institution's surrounding environment, were also considered to a lesser extent.
Additionally, military schools and colleges with fewer than 1,000 enrolled students were disqualified.
You may also enjoy our ranking of the top 100 best online colleges.
30. Sewanee: The University of the South – Sewanee, Tennessee
Outdoor adventurers will be more than satisfied at Sewanee: The University of the South. The Tennessee school's campus is situated within 13,000 acres of university-owned land, known simply as "the Domain." Featuring a trail network of more than 50 miles, this naturally beautiful space offers an abundance of al fresco activities – from walking and cycling to horse riding. Additionally, there are over 50 climbing spots in close proximity – the highest of which rises to 80 feet – as well as around ten on-campus caves. If that's not enough, there's also a unique Frisbee golf course within the school's grounds, as well as all the usual university student clubs and intramural sports teams. All in all, 96 percent of students who live in college-affiliated accommodations have plenty to keep them entertained.
School Profile
29. Colby College – Waterville, Maine
There's no escaping Maine's great outdoors at Colby College in Waterville. Every freshman is obligated to take part in the school's Colby Outdoor Orientation Trips, and excursions include backpacking the Grafton Loop Trail or canoeing in the Debsconeag Lakes Wilderness Area. Furthermore, two of the school's approximately 100 student organizations have a dedicated outdoors focus, with the Mountaineering Club and Outing Club both offering thrilling year-round excursions. The Colby College campus itself, meanwhile, accommodates a 128-acre arboretum that includes nearly two miles of walking trails. It's probably safe to assume, though, that not all of the 95 percent of students living in college housing are nature lovers. Fortunately, they're catered to by the events organized by the Student Programming Board, which include concerts, movie screenings, and comedy nights.
28. Hamilton College – Clinton, New York
Just 2 percent of students live outside of Hamilton College-affiliated accommodation. All of those learning at the Clinton, New York school, though, have the opportunity to participate in a reported 189 student clubs, from DJing and gaming, to ping pong and, unusually, a mock trial organization. Many students are also part of one of the 18 fraternities and sororities on campus, while Late Nite at Hamilton and the Campus Activities Board make sure that there's always a social event to attend. If students ever do find themselves with time on their hands, though, it's worth bearing in mind that Hamilton College's beautiful campus is an arboretum, where sightings of dozens of species of birds, such as wild turkeys and brown thrashers, are common.
27. Amherst College – Amherst, Massachusetts
Boasting a rather academically-minded student body, Amherst College in Massachusetts took an award for the second-best national liberal arts college, according to U.S. News & World Report. And while bookish pursuits are an important aspect of campus life, so too are extracurricular activities – whether it's exploring the school's on-campus natural history and art museums, its 500-acre wildlife sanctuary, or perhaps something more group-oriented. Indeed, Amherst has more than 100 clubs and societies to choose from, as well as an intra-school sporting program. Additionally, with 98 percent of learners living in college housing, there are plenty of candidates to compete in the annual Lip Sync talent show, the winners of which are rewarded by being allowed to pick the best dorm rooms on campus.
26. Gettysburg College – Gettysburg, Pennsylvania
Pennsylvania's Gettysburg College hosts almost 800 official functions throughout the academic year, in addition to the usual parties and gatherings of regular college life. Sports, too, are huge at the school, as are the various fraternities and sororities around campus – but that's just the tip of the iceberg. The 93 percent of students living in college housing, among others, can enjoy a plethora of activities from any one of over 120 student groups, including, of course, the Civil War Club, while on-campus nightclub The Attic can be hired by learners organizing their own college parties. If that's not enough to keep students entertained, the Gettysburg Recreation Adventure Board is on hand to arrange exciting experiential student backpacking and kayaking trips, as well as snowshoeing and ice climbing in the winter.
25. Kenyon College – Gambier, Ohio
Kenyon College alumnus and best-selling author John Green believes that the Ohio school offers "clubs and groups that allow you to pursue the most obscure or passionate of interests." And while the Beer & Sex Society's name shouldn't be taken entirely literally, Kenyon's additional 127 groups cater to everyone from ballroom dancers to knitting enthusiasts – perfect for the 99 percent of those who live in college accommodation. Students hoping to do more working out than hanging out can benefit from the Gambier campus' Kenyon Athletic Center – described by The Princeton Review as "unparalleled" compared to similarly sized colleges. Not far from the center is Kenyon's 480-acre nature reserve, offering plentiful opportunities for hiking and a lazier take on tubing on Kokosing River, which passes through the area.
24. Claremont McKenna College – Claremont, California
Shortly after arriving at the Claremont McKenna College campus, students brace themselves for an experience unlike any other: the Welcome Orientation Adventure. These exciting outdoorsy trips are advertised to incoming students as perfect ways to prepare them for Californian college life – a big part of which is spent on campus. Indeed, 94 percent of students live in college-affiliated housing, though all learners have a plethora of activities to choose from. Fire and Meat Club, for example, offers students the chance to improve their cooking skills, while Under the Lights provides an outlet for aspiring actors. The Marian Miner Cook Athenaeum, meanwhile, hosts a varied program of intellectually minded talks in informal surroundings. Parties, naturally, are common as well.
23. Ursinus College – Collegeville, Pennsylvania
95 percent of Ursinus College's students live in college accommodation – and those on the school's 170-acre Pennsylvania campus, in particular, are perfectly positioned to take advantage of a wealth of entertainment options. For athletic types, the Collegeville school has the Floy Lewis Bakes Center, which includes just about every indoor sports facility learners could hope for – including basketball courts and a wrestling room. Outdoor recreation, meanwhile, is available via multiple sports venues and a cross-country course set within the college's jointly owned 35-acre Hunsberger Woods. Culture vultures are similarly well catered to with an on-campus art museum and the Kaleidoscope Performing Arts Center, which offers avant-garde theater. Occasionally, though, learners prefer to simply relax with friends – in which case, they should head to the student lounge at the end of the week and play computer games until the early hours.
22. Oberlin College – Oberlin, Ohio
According to its official website, Oberlin College's Ohio campus is home to "a top liberal arts college and a world-class conservatory of music." With over 500 concerts taking place per year, it's a reputation that's justified – and something of which its campus-based students, part of the 90 percent that live in college-affiliated housing, are perfectly positioned to take advantage. Other events include around 40 annual theater productions and popular traditional events like the Drag Ball, the Big Parade and the Bassoon Christmas concert. Campus life can be further enhanced by participating in any one of over 175 student clubs, which cater to everyone from Harry Potter fans to swing dancers. There's also the chance to explore the college's Allen Memorial Art Museum, referred to by British newspaper The Guardian as one of the "great university museums". Students can also enjoy sledding down Mount Oberlin, which is actually a fairly modest campus mound, come winter.
21. Allegheny College – Meadville, Pennsylvania
Nearly one third of Allegheny College students join one of the school's ten Greek organizations. Naturally, that makes for a lot of late-night parties for the 90 percent of learners living in the Meadville, Pennsylvania school's accommodation options – but Greek nights are by no means the only on-campus events after dark. Allegheny's Late Night Programming scheme arranges dozens of nighttime events every semester, including glow-in-the-dark quidditch and late-night capture the flag. Gator Activities Programming, meanwhile, is responsible for bringing top acts like Jimmy Fallon and Jason Mraz to the school, as well as the traditional Wingfest and Springfest events. If students are hoping to enjoy the campus during daylight hours, though, they can head to the Henderson Campus Center for some casual socializing or enjoy a stint in its well-equipped games room.
20. DePauw University – Greencastle, Indiana
Greek life dominates at DePauw University, and over two-thirds of students are associated with one of the Greencastle school's 26 fraternities or sororities. But these clubs are by no means the only organizations on offer to students at the Indiana institution. In fact, there are more than 100 clubs to consider, and potential activities range from anthropology and sociology to yoga and meditation. If sports are what students are after, though, DePauw also includes football, baseball, tennis, basketball, softball and watersport facilities. If that's still not enough, the school's campus features its own nature park, where learners can take in 9.6 miles of hiking trails that incorporate Big Walnut Creek and an open-air amphitheater. All things considered, the 96 percent of students living in school-affiliated housing should never have a dull moment.
19. Denison University – Granville, Ohio
Partying and Greek life go hand in hand, so it's no surprise that Denison University benefits from a quality social scene when nearly a third of students belong to sororities or fraternities. It's not all about big blowouts, though, as Denison's Ohio learners can take it a little easier in the student-operated cafe or pub-like hangout The Roost. There are over 175 student groups to choose from as well, though more culturally minded learners may be tempted by the Vail Series – a concert program that has consistently attracted internationally renowned performers to its cozy Swasey Chapel venue, based on the school's Granville campus. 99 percent of Denison's student body live in college accommodation.
18. Middlebury College – Middlebury, Vermont
All students entering Middlebury College are automatically given school-affiliated housing for four years, with 95 percent of all learners taking the Vermont school up on this offer. One of the reasons for this may be the yearly Winter Carnival, run by students and involving an exciting "three days of fun, frolic and snow." Further entertainment is provided by the school's estimated 150 societies and groups, and club sports and varsity teams are available for sports fans as well. Students looking to participate in winter sports, meanwhile, could always check out the Middlebury College Snow Bowl. Located 14 miles from campus, the bowl features 17 ski trails to explore and traverse, and students are entitled to purchase discounted season ticket passes.
17. St. Lawrence University – Canton, New York
Freshmen arriving at St. Lawrence University's Canton campus may wish to consider signing up for the First Year Cup. Created to encourage student involvement in campus life, the cup competition rewards learners for attending and contributing to various school events, such as talks, sports and poetry readings. The individual winners enjoy an exclusive banquet, while the victorious team is awarded a special prize. Once the cup is over, students should be well equipped to dive headfirst into other campus events, like the annual Winterfest celebration or weekly live performances at the student-managed Java Barn. The 98 percent of learners living in the New York college's housing, among others, can also choose from more than 100 student clubs and societies.
16. Bates College – Lewiston, Maine
Of the 110-plus student groups and organizations at Maine's Bates College, learners are advised to seriously consider joining the Outing Club. The school's Lewiston location makes it ideal for the club's outdoorsy activities, like hiking to the summit of Mount Katahdin – the state's tallest peak – surfing or skydiving. Back on campus, meanwhile, the 93 percent of students that live in college accommodation can enjoy some downtime in the student-managed Ronj coffeehouse, or take in diverse exhibitions at the Bates Museum of Art. Elsewhere, the Benjamin Mays Center – located within the residential village – hosts the Village Club Series, featuring a variety of performing artists. Best of all, students attending are entitled to free entry and complimentary drinks.
15. Wofford College – Spartanburg, South Carolina
Over 40 percent of Wofford College students belong to one of the school's many Greek letter organizations. Perhaps the Spartanburg campus' legendary parties on Fraternity Row have something to do with it. It's not just reveling, though, that occupies students in this corner of South Carolina. The Wofford Activities Council, for example, hosts events such as Wofford's Got Talent and "Slidin' 'n' Shaggin'" – which, incidentally, refers to oysters and dancing rather than anything X-rated. Wofford Live, meanwhile, sees prominent musicians perform on-campus concerts. And those who prefer the outdoors can take advantage of the arboretum campus' natural attractions, which is good news for the 93 percent of learners who reside in school accommodation.
14. Davidson College – Davidson, North Carolina
Learners living in Davidson College accommodation represent 92 percent of the student body, and the North Carolina school provides an array of extracurricular activities to keep residents occupied. It all starts with Wildcat Welcome Week, which includes a karaoke night, a block party and the traditional Freshman Cake Race. Throughout the year, the After Midnight programming scheme arranges a variety of evening events and, of course, there are also the activities offered by Davidson's more than 200 student organizations. If learners find themselves with any additional spare time, Davidson Outdoors will fulfill any outdoor recreation urges with its rope course, indoor climbing wall and kayaking excursions.
13. Harvard University – Cambridge, Massachusetts
"Boredom does not exist" at Massachusetts' Harvard University, according to one student – and there are numerous options for on-campus socializing. Learners could, for example, sign up with one of 13 unofficial clubs around the Cambridge campus, or join over 80 percent of their peers and participate in at least one sport. A further option, meanwhile, is to simply hang out and listen to live music at campus bar the Cambridge Queen's Head. Any downtime students may have could be spent wandering the school's historic halls – graced by no less than eight Harvard graduates who went on to become U.S. presidents – or by basking in the school's famous surroundings, which have featured in movies like The Social Network and Legally Blonde. 99 percent of students live in Harvard-affiliated accommodation, with undergrads starting out in Harvard Yard's freshman dorms before moving on to one of 12 university houses.
12. Trinity College – Hartford, Connecticut
89 percent of Trinity College students live on the school's Hartford, Connecticut campus or in its official housing. While first year students live in residence halls, sophomore, junior and senior students are allowed to choose between single rooms, suites or from a selection of themed housing halls. The latter include artsy The Mill, the Bayt al Salaam "House of Peace" and eclectic, culturally minded The Fred. Residences aside, students are also well placed to enjoy classic movie theater Cinestudio – complete with a retro gold screen curtain. Additionally, new recruits can embark on a pre-class orientation trip along the Appalachian Trail. The range of club sports on offer to students is impressive, too, and potential activities include archery, trap shooting, rock climbing and ultimate Frisbee.
11. Princeton University – Princeton, New Jersey
U.S. News & World Report ranked Princeton University as America's top national university one year, beating the likes of Harvard, Yale and Columbia. Moreover, the vast majority – 97 percent, to be exact – of the New Jersey school's students reside in its affiliated accommodation; undergrads live in six housing facilities, fostering a cozy and friendship-building student community. Some learners receive their food and regular entertainment from one of Princeton's 11 time-honored eating clubs, the oldest of which has been serving students since the late 19th century. According to The Princeton Review, the clubs are perfect for "partying, chatting, drinking and dancing." Also appealing are the school's roughly 250 organizations and astounding 300 estimated sports teams, not to mention free movie screenings towards the end of the week.
10. Carleton College – Northfield, Minnesota
To become a fully-fledged Carleton College student, learners must first participate in the school's Freshman Frisbee Toss ceremony, a yearly tradition that sees all first-year students line up and fling discs at a designated landing site. Interestingly, this isn't the only quirky tradition at the Northfield, Minnesota school. Others include the so-called annual "Primal Scream," which involves students collectively shrieking from their windows the night before finals, and the Silent Dance Party; essentially a student-led flash mob staged during finals week. There are, however, more conventional college experiences for the 96 percent of students living in the school's housing options, among others. Intramural sports are one key aspect of college life, for example, as are the more than 250 student clubs. Live gigs are also staged at student-operated venue The Cave.
9. Bowdoin College – Brunswick, Maine
Maine's Bowdoin College was once ranked by Niche as the very best college campus in the U.S. This is certainly good news for the 92 percent of students who live in college-affiliated accommodation – which includes the Brunswick school's eight halls of residence – and, indeed, anybody thinking of joining the school in the future. Prospective undergrads can look forward to an abundance of on-campus activities, such as live concerts at the college bar after class, movie screenings and athletics displays from any one of Bowdoin's 31 varsity teams. The college's annual traditions, meanwhile, include a delicious "Welcome Back" lobster bake for learners returning from summer vacation and a "zombie run" that involves students racing to flee the walking undead, ultimately going on to enjoy a concert and some good grub.
8. Stanford University – Stanford, California
A whopping 91 percent of Stanford University students live in the California school's housing facilities. Such a large number has given rise to a great variety of activities – many of which are facilitated by an estimated 625 clubs and 60 club and varsity sports options. Culture vultures are catered to as well with the campus' Bing Concert Hall, which is home to Stanford Live, an initiative that features a packed schedule of concerts and live events. Parties are a regular source of merriment as well, and teetotalers can take advantage of Cardinal Nights, an initiative that arranges booze-free activities like chocolate tasting, indoor trampolining and a yearly carnival. Exciting school traditions to look forward to, meanwhile, include fountain hopping, kissing under the first full moon of fall quarter and the post-graduation "wacky walk."
7. Hendrix College – Conway, Arkansas
Before settling in to their Conway, Arkansas surroundings, new Hendrix College students may have already enjoyed canoeing, hiking or climbing orientation trips. Closer to campus, however, things don't exactly quieten down. For example, freshmen can look forward to Welcome Week's traditional Pizza Wars event – which involves eating as much free pizza as possible. Other attractions include casino night, movie night, bowling and skating. All this activity takes place before classes begin in earnest, and while academic pursuits soon take priority, students' social calendars don't exactly suffer. Learners – including the 92 percent living in college housing – can take their pick from a number of parties. They could also attend one of the events organized by the Social Committee – of which Faux Rush Week, featuring a foam party and 1970s-themed disco, is among the most popular.
6. Pomona College – Claremont, California
Pomona College students can enjoy free late-night sustenance during the first half of every week – a tradition, aptly named Snack, that occurs close to one of the school's 16 residence halls and is understandably among the most popular on-campus happenings. Competing for that title, though, is Ski-Beach Day. Taking place every winter, the event sees students make the most of the school's exciting Claremont location by spending the morning skiing at a nearby resort and the afternoon enjoying the waves of a sun-drenched Californian beach. Other activities may include contributing to the school's graffiti-friendly Walker Wall, helping out at its on-campus farm, or, indeed, joining one of more than 220 organizations vying for students' attentions. With so many recreational options, it's perhaps not surprising that 98 percent of learners choose to reside in college housing.
5. High Point University – High Point, North Carolina
Whatever leisure activities students may be interested in pursuing, it seems that High Point University has them covered. For example, the North Carolina school hosts weekly events called Extraordinaire Cinema, where students can watch the latest movies free of charge. Then there's Point Arcade, with its complimentary video games and pool tables, and the High Point campus concierge service, which offers free use of its iPads and Kindles. If it's sport that learners want, then the cutting-edge Slane Student Center has almost every conceivable workout machine, as well as separate sports areas, a heated pool and a 16-person hot tub. Meanwhile, the campus arboretum is perfect for outdoorsy types; likewise the school's traditional spooky Halloweenfest is spot-on for party animals. It's little wonder, then, that students – including the 93 percent in High Point-linked housing – are, according to Niche.com, "sad to be going home at breaks."
4. Columbia University – New York City, New York
It comes as little surprise to learn that 94 percent of Columbia University's students live in the New York school's housing facilities – after all, it's located on iconic Broadway, one of the world's most famous thoroughfares. The Big Apple plays its part in student engagement as well, from a history class being partially taught on its streets to student club Urban New York gifting freshmen complimentary entry to local events. The on-campus environment, though, can be just as exciting. There are a jaw-dropping 500 estimated student clubs available, for example, and at least 25 sports teams to consider. Furthermore, the yearly events calendar at Columbia's Barnard College includes a welcome back block party, where free meals are served to returning learners.
3. Vassar College – Poughkeepsie, New York
The Huffington Post didn't name New York's Vassar College "one of the most hipster schools in the nation" without reason. Take the Poughkeepsie school's collection of over 120 student clubs, for example – nestled among the ever-present a cappella groups are several distinctive alternatives, like performing with the Barefoot Monkeys circus club, expressing a love for marginalized music with VCPUNX or even submitting material for college sex magazine Squirm. If the organizations aren't enough for the 95 percent of students living in college housing, there are also plenty of sporting options to enjoy. However, even in this regard Vassar differs from the norm. After all, why should students settle for squash and soccer when they could become a ButterBeer Brewer and represent their college in quidditch?
2. Wesleyan University – Middletown, Connecticut
Mention extracurricular activities at Connecticut's Wesleyan University and it won't be long before someone brings up the naked parties. These clothing-optional celebrations are supposedly the specialty of dorms in West College, and have become infamous amongst the student body. Thankfully, they're not the only form of recreation on offer at the Middletown school. Wesleyan's nearly 3,000 learners have an astounding 220 student clubs and organizations to choose from, with options including dance, sport, music and comedy – and that's just the official groups. Also, with only 1 percent of students not living in college housing, they're never far from the next unmissable social gathering.
1. Lafayette College – Easton, Pennsylvania
The list of on-campus traditions at Pennsylvania's Lafayette College is enough to keep students happy and excited all year round. Kicking off the fall semester in grand style is the Presidential Ball. This is followed by traditional events like an annual block party, the 1,000 Nights freshmen formal, the numerous events of Rivalry Week and, last but not least, the Midnight Breakfast, which involves faculty members catering to as many as 1,000 hungry students twice a year. Students can also look forward to All-College Day, a yearly college-wide carnival of free food and good music. The Easton-based school also has in excess of 250 student societies and 50 intra-campus sports teams to get involved with, as well as its own climbing wall. With so much going on, Layafette students, including the 92 percent that live in the school's accommodation facilities, are almost spoilt for choice.
See Also: The Ultimate Guide to Online Colleges