College Planning Quick Checklist
Find your degree
Online College Plan is an advertising-supported site. Featured or trusted partner programs and all school search, finder, or match results are for schools that compensate us. This compensation does not influence our school rankings, resource guides, or other editorially-independent information published on this site.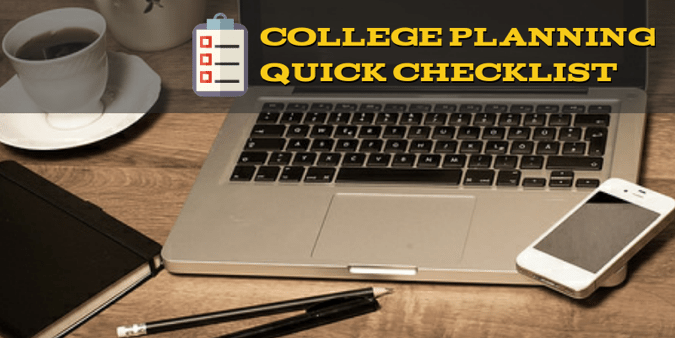 Planning for college can be an exciting and challenging time. Whether you're a high school senior or adult going back to school for the first time, there are many tasks to complete along the way. The most important part of planning for college is developing a good organizational system. The major college planning decisions should center on a well-rounded experience that takes finances and personal career goals into consideration. Follow this college planning quick checklist to get started.
College Planning Quick Checklist
Prep and Take Admissions Tests
Preparing for the SAT or ACT is one of the first tasks in planning for college. Many colleges require these scores as the minimum for admission requirements.
Consider taking these tests as early as possible. There is no harm in retaking these tests to improve your score. There are many test prep resources available and most local libraries carry current test preparation materials for free. It's often a good idea to take both the SAT and ACT. Some colleges or programs may have a specific preference.
Organize a List of Career and Major Choices
One of the most important aspects of planning for a successful college experience is the choice of study. Many colleges have hundreds of options for majors. This can seem daunting at first and requires an organized look at common interests and likes.
Consider breaking down interests into categories of strengths and weaknesses to link them with appropriate majors. The required credit hours and completion timeline for different majors can vary considerably.
Make a list of colleges and programs of interest and make a personal visit to these places. They can help eliminate and hone in choices as the time draws near.
Develop an Academic Resume
Your academic resume is unlike any other resume you've done before. A well-planned academic resume includes samples and ideas to bring forward with you once you're in college as well. It should be a great resource that's developed over time.
Most colleges don't require a resume. However, an academic resume and portfolio can give you a head start once in college to help plan for careers and interests. It should list all previous accomplishments and work experiences.
It may also be helpful to keep an appendix of projects and personal work. Consider uploading most of this material on a personal professional blog or website that can give your resume a web presence over the years.
Compile Resources for Financial Aid
Financing college should be a strong investment in your well-rounded education and career advancement. Compile a folder with scholarship resources early and note their due dates ahead of time.
The best resource for access to state and federal financial aid is the FAFSA or Free Application for Federal Student Aid. All potential college students should fill this out in advance by the March due date.
The report will notify potential colleges of financial need and give you a glimpse into what you may have to bridge with student loans and scholarships.