What are career services at college?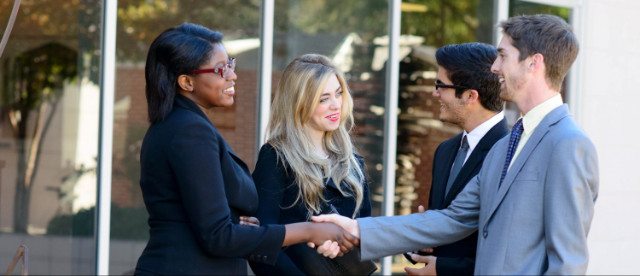 Find your degree
Online College Plan is an advertising-supported site. Featured or trusted partner programs and all school search, finder, or match results are for schools that compensate us. This compensation does not influence our school rankings, resource guides, or other editorially-independent information published on this site.
Career Services is an umbrella term for a number of services that almost all colleges will offer to their students. These services strive to help students in different areas such as advising them on various careers in their chosen field, advising them on what is the best option for them in continuing their educations, managing their credentials, and even preparing for their real search for a job, and then preparing for the interview. Career Services exist to help you from start to finish making sure that your bridge from college to career is as successful and fulfilling as possible.
Career Services are exactly what they sound like; they are a compilation of different services or programs that will go the extra mile in making sure students have a successful transition from higher education to their professional lives. The limit to what career services at an online college can do is entirely dependent on you. Most schools have a group of advisors to aid you in your selection of a graduate school. They will also often have a credential management system. This will keep track of your different letters of recommendation from faculty that you've encountered, and will even distribute them to potential employers at your request. Another thing that career services will do is help you in constructing an effective resume or writing the perfect cover letter. It is arguably the most nerve-wracking part of a job search, creating a resume. There are a ton of templates online to do this, but they only create it for you, with career services you will have an advisor to walk you through the process. Because of that, you will know the best way to highlight your skills and credentials without including a great deal of unnecessary information that a lot of people include on their first few resumes. This will put you ahead in the hiring pool because it shows you have a better understanding of what they are looking for and are more to the point than other applicants that had a "fluffy" resume full of irrelevant skills or accolades. Many career services departments also sponsor workshops, or online webinars, to help students get ready for job interviews. These seminars cover topics on possible questions, how to highlight your skills in your answers, the best ways to present yourself, and a lot of them will also allow students to take part in mock interviews to hone in on what they have learned. Another good thing about career services is that while they are not only committed to helping students, you will most likely have the continued benefit of their resources after you have graduated. This is because most of them will continue to provide services to alumni, doing all they can to make sure you have career success because that will help you reach your goals, and it also benefits the college at which you have earned your degree.