University of Miami – Ranking, Athletics and Notable Alumni
Find your degree
Online College Plan is an advertising-supported site. Featured or trusted partner programs and all school search, finder, or match results are for schools that compensate us. This compensation does not influence our school rankings, resource guides, or other editorially-independent information published on this site.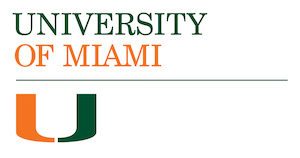 The University of Miami is a private and not-for-profit research university which is located in Coral Gables, Florida in the Miami-Dade County. The University of Miami–which is commonly referred to just as UM–was originally established in 1925 with the sole intent of providing students and the community with a "unique opportunity to develop inter-American studies, to further creative work in the arts and letters and to conduct teaching and research programs in the area of tropical studies."
UM today offers 116 undergraduate, 105 Masters, and 63 Doctoral degrees to its more than 16,000 attending students through the university's 13 schools, colleges, and divisions, including the university's Division of Continuing and International Education. In addition to the programs offered at UM, the university has a partnership with the nearby Florida International University (FIT), which allows attending students to take graduate classes at either university, enabling them to have an even more broad range of academic choices and providing them with even more flexibility in obtaining a higher education. UM is consistently ranked in the top 100 universities in the nation by numerous publications as does FIT, meaning students will receive a reputable and career-defining education regardless of which school they take their classes at.
The University of Miami is not only a provider of a high-quality postsecondary education but is also a source of cutting-edge for various disciplinary and interdisciplinary areas. UM operates various research institutions, including: The Center for Computational Science, The Center for Hemispheric Policy, The Institute for Cuban and Cuban-American Studies, the Leonard and Jayne Abess Center for Ecosystem Science and Policy, The Sue and Leonard Miller Center for Contemporary Judaic Studies, the John P. Hussman Institute for Human Genomics, the Center on Research and Education for Aging and Technology Enhancement and the Wallace H. Coulter Center for Translational Research. The most notable of these is arguably the John P. Hussman Institute for Human Genomics which conducts research into the possible causes of Parkinson's Disease, Alzheimer's Disease and of age-related macular degeneration (which is commonly referred to as AMD or as ARMD). In total, UM receives more than $125 million USD in federal research funding for these research institutions, which is provided by the Department of Health and Human Services and the National Science Foundation, among others.
Featured Programs
In addition to being home to the University of Miami, Coral Gables is home to many things to do and sights to see, including:
Fairchild Tropical Botanic Garden:The Fairchild Tropical Botanic Garden is an 83-acre botanical garden which features an extensive collection of rare tropical plants which includes palms, cycads, flowering trees and various specimens of vines. The garden first opened in 1938 and is currently open year-round. In 2012, the Fairchild Tropical Botanic Garden became the permanent home of the American Orchid Society, which a horticultural society which is devoted to the education, conservation and research of orchids (Orchidaceae) and which was founded in 1921. Fairchild has many roles within the community, including acting as a museum, learning center, botanical research provider and as a botanical conservation area.
The Village of Merrick Park:The Village of Merrick Park (also called The Shops at Merrick Park) is a shopping mall located in downtown Coral Gables. The mall features more than 100 tenant shops and restaurants, including many upscale stores. The mall is home to Miami's first Nordstrom and features an Equinox Fitness Club and Spa. In addition, the mall is home to shops such as the Banana Republic, Bebe, Burberry, Godiva Chocolatier, Gucci, Hugo Boss, Jimmy Choo, Juicy Couture, Lacoste, Swarovski, Tiffany & Co. and Vineyard Vines among others. The Village of Merrick Park is a popular shopping area due in part to the number of upscale stores and restaurants that are available.
University of Miami Online Degrees and Programs:
The University of Miami offers a selection of professional certificates and graduate degree-granting programs entirely online to cater to the university's many distance-learning students. These programs cover a variety of different areas-of-study, and include:
Certificates:
What Makes University of Miami Unique: The Rosenstiel School of Marine and Atmospheric Science
The Rosenstiel School of Marine and Atmospheric Science is a research institute which also offers both graduate degrees and undergraduate degrees. The Rosenstiel School of Marine and Atmospheric Science–which is commonly called RSMAS–performs research in the areas of oceanography, marine biology, coastal ecology, admiralty law and the atmospheric sciences among others. The institute is broken up into six academic divisions (Applied Marine Physics, Marine & Atmospheric Chemistry, Marine Affairs & Policy, Marine Biology & Fisheries, Marine Geology & Geophysics and Meteorology & Physical Oceanography) and RSMAS also maintains several research units (the Oceans and Human Health Center, the National Resource for Aplysia, the National Center for Coral Reef Research, the Center for Southeastern Tropical Advanced Remote Sensing–which is commonly shortened to CSTARS–and the National Institute of Environmental Health Sciences). RSMAS has conducted a lot of notable and groundbreaking research since its creation in 1943. Widely-lauded scientist Cesare Emiliani, the father of paleoceanography, was the Chairman of the Division of Geology and Geophysics at RSMAS from 1967 until his retirement in 1993.
Other University of Miami Facts:
Some notable University of Miami alumni include:
Steven Bauer – Golden Globe-nominee actor;
Bob Clark – director of A Christmas Story and Porky's;
Grace Slick – singer and songwriter for The Great Society, Jefferson Airplane, Jefferson Starship and Starship;
Lyor Cohen – CEO of U.S. Recorded Music Divisions at Warner Music Group and;
Daniel T. Barry – scientist and former NASA astronaut
In addition to the many notable University of Miami alumni, some current and former notable university faculty members are:
Juan Ramón Jiménez – Nobel Prize-winning author;
Kazi Mobin-Uddin – inventor of first inferior vena cava filter;
Stefan Brecht – poet, critic and scholar of theater; son of poet Bertolt Brecht and actress Helene Weigel;
Behram Kurşunoğlu – physicist and author of Modern Quantum Theory and;
Robert Francis Furchgott – Nobel Prize-winning biochemist
University of Miami's Website: https://welcome.miami.edu/
University of Miami's Accreditation: Southern Association of Colleges and Schools Commission on Colleges (SACS)
University of Miami's Values and Mission Statement: https://welcome.miami.edu/about-um/university-leadership/mission-statement/index.html
University of Miami's Motto: Magna est Veritas – "Great is the Truth"
University of Miami's Mascot: Sebastian the Ibis
University of Miami's Colors: Green, Orange and White