University of Indianapolis – Ranking, Majors and Athletics
Find your degree
Online College Plan is an advertising-supported site. Featured or trusted partner programs and all school search, finder, or match results are for schools that compensate us. This compensation does not influence our school rankings, resource guides, or other editorially-independent information published on this site.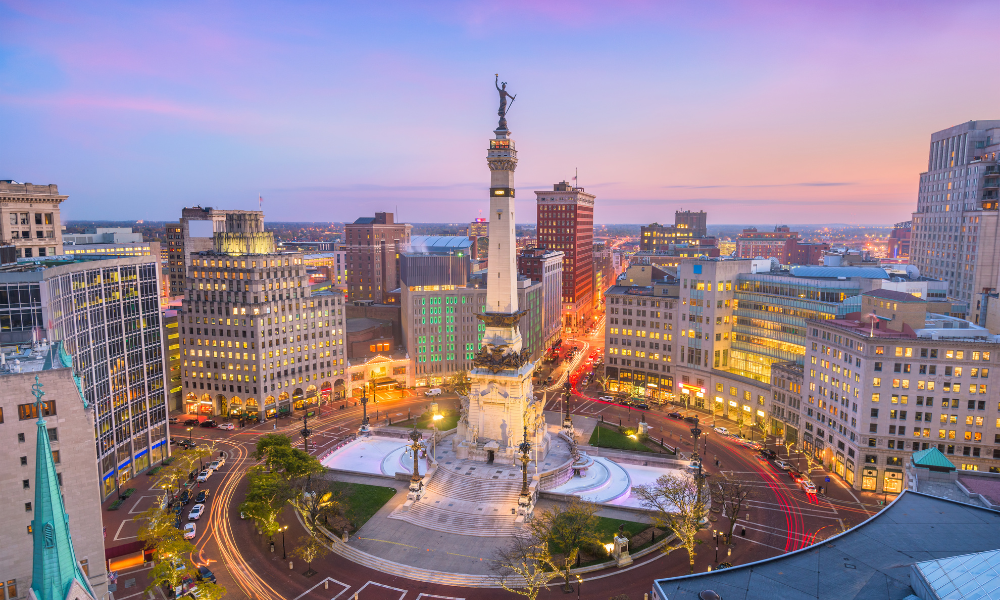 Although Indiana Central University was chartered in 1902, classes did not begin until the completion of its first building, Good Hall, in 1905. The land for the university was donated by William Elder, a real estate developer, to the Church of the United Brethren in Christ in exchange for help with selling 446 parcels of land in the same area, although the school opened prior to all parcels being sold. From 1921 until 1975 the school became known as Indiana Central College, even though accreditation for the university had been obtained as early as 1947. From 1976 until 1986 when it became University of Indianapolis, the school reverted to its original chartered name, Indiana Central University. Today, "ICU" can still be found in the brickwork of the Krannert Memorial Library.
When the school was founded, naturally it was affiliated with the Church of the United Brethren in Christ. In 1946, the Church of the United Brethren in Christ merged with the Evangelical Church and became Evangelical United Brethren and the university was affiliated with them. However, in 1968, they merged with Methodist churches and the institution became and is now affiliated with the United Methodist Church.
Today, University of Indianapolis has 3 colleges, Applied Behavioral Sciences, Arts and Sciences, and Health Sciences, and 7 schools which are Adult Learning, Business, Nursing, Education, Physical Therapy, Psychological Sciences, and Occupational Therapy. Undergraduates have about 100 programs to choose from at UIndy. There are also 33 different choices for master's degree programs and 5 doctoral programs. UIndy also offers non-degree programs for students for Professional Development or Lifelong Learning.
Featured Programs
One of the more interesting facts about UIndy is that it educates and produces more physical therapists, occupational therapists, and clinical psychologists than any other school in Indiana. Also, it offers the state's only neonatal nurse practitioner program.
A growing selection of online courses and programs are available at the University of Indianapolis, and students are able to look through the course registration for online courses or browse the website to see which programs are selected for online learning.
There are more than 50 registered student organizations active at the University of Indianapolis. Students should have no trouble finding one or more that catches their interest whether it be a group that coincides with their major, supporting a cause, or something that is just for fun.
Exploring Indianapolis
Indianapolis is well known for its Speedway, even by those who are not racing fans. There are a large number of parks in Indianapolis as well, such as Military Park, White River State Park, Eagle Creek Park, and Sahm Park to name a few. There are also local water parks for those who enjoy splashing about or might be parents to children old enough to enjoy them. Also great for families are the Children's Museum of Indianapolis and for all ages, there is the Indianapolis Zoo which is located in the White River State Park.
Of course, there are plenty of other places to enjoy visiting in Indianapolis, like the Dallara IndyCar Factory, the Indianapolis Museum of Art, Mass Ave. Arts District, Fountain Square Cultural District, Circle Centre, and Castleton Mall. There is virtually something for everyone to do, see, or enjoy in the Indianapolis area.
The Religious and Spiritual Side of UIndy
While UIndy is affiliated with the United Methodist Church, it welcomes other religions and cultures to study at the university. All students, regardless of faith or background, are welcome to join in the on-campus worship services, ministries, or academic programs. Most events and services are sponsored through the Office of Ecumenical and Interfaith Programs. McCleary Chapel hosts a number of services, including Thursday Night Alive, chapel prayer, University community communion, and more. There are also several interfaith services held in the chapel throughout the year.
There is also a Meditation Room adjacent to the chapel which is open during regular hours for those who would like to enjoy the quiet space for prayer, moments of silent reflection, or meditation. Individuals and small groups alike are welcome to enjoy the space, regardless of their faith.
Accreditation: Higher Learning Commission of the North Central Association of Colleges and Schools. Also many programs offered at UIndy have further accreditation from organizations in their field.
University of Indianapolis Motto: Education for Service
UIndy's Mission: UIndy intends to prepare graduates to be effective, responsible, and articulate members of society as well as equip them with excellence in leadership in both their professional and personal lives. Students attending the university will become more capable in the areas of thought, communication, judgment, and action. Also, the school hopes to enhance students' imaginations and creative talents as well as help them to gain a deeper understanding of the Christian faith and an appreciation and respect for other religions. Another goal is to cultivate rationality and tolerance for ambiguity, and finally to use their intellect during the processes of learning and discovery.
Mascot: Ace the Greyhound
School Colors: Grey, Crimson
Athletics at University of Indianapolis
Like many universities and colleges, student athletes at UIndy have opportunities for scholarships. The university proudly has more than 20 teams in the NCAA division II and half of them advanced to postseason play in the school year of 2013-2014. The Greyhounds brought home 29 individual All-American honors and six of the athletic teams were ranked in our national top 20. The university also took fourth place as Division II in the Learfield Sports Directors' Cup, ranking as one of the country's best athletic programs. Go Greyhounds!
It should also be recognized that athletes at UIndy hit the books just as hard as they play their sports. The overall GPA of the athletic department is 3.23. In the 2013-2014 school year a whopping 224 student athletes were found named on academic honor rolls. During the same year there were 5 named Academic All-Americans and 2 GLVC Scholar Athletes of the Year.
The following are great ways to connect to and stay in-touch with happenings at UIndy:
Website: https://www.uindy.edu/
Reflector Online (Student Newspaper) : https://reflector.uindy.edu/
Twitter: https://twitter.com/uindy
Facebook: https://www.facebook.com/uindy