Find your degree
Online College Plan is an advertising-supported site. Featured or trusted partner programs and all school search, finder, or match results are for schools that compensate us. This compensation does not influence our school rankings, resource guides, or other editorially-independent information published on this site.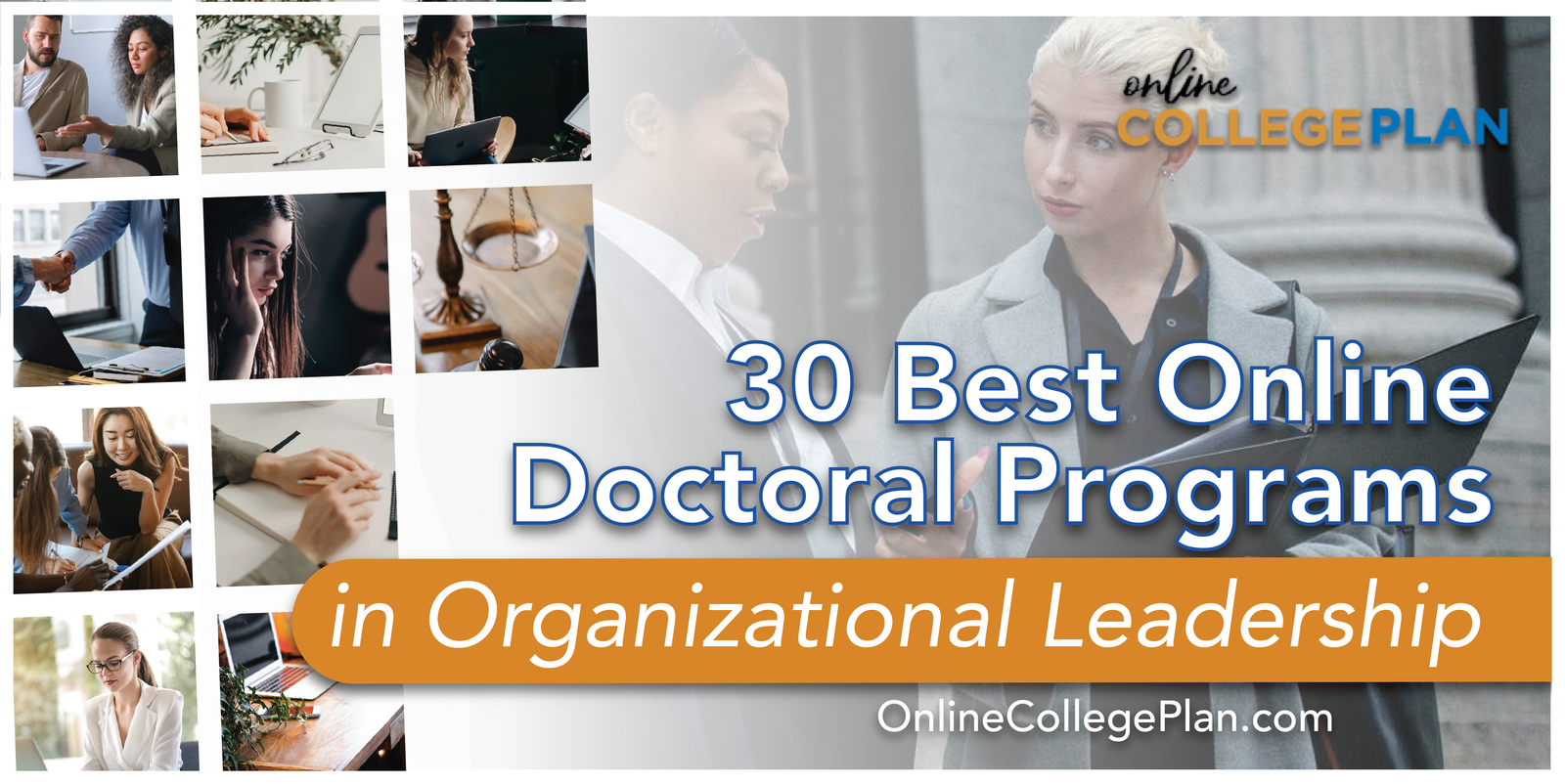 If you're ready to rise to the top of your organization, you need to consider one of these top online Ph.D. programs in organizational leadership. 
This is a field that involves setting goals, leading, and evaluating the success of individuals as well as large teams. You will need to have a strong vision of what the success of your organization looks like. Being able to see the small and big picture is crucial, as is attention to detail. 
A Ph.D. is the most direct path to earning the leadership position of your dreams. Whether you want to work in business or education, one of these degrees can easily pave the way to career success. 
Although this degree is only a few decades old, emerging as an offshoot of both human resources and business management, it requires a strong skill set and a powerful vision for the future. Earning an online Ph.D. in organizational leadership can help you develop those skills.
Admissions Requirements
To apply for a Ph.D. in organizational leadership, you will be expected to have a minimum of a bachelor's degree along with several years of experience. Often, you can replace a few years of that required experience with a master's degree instead. In most cases, you will be required to submit transcripts from any college you attended (usually with a minimum of a 3.0 GPA), GRE test scores, a personal essay, and letters of recommendation from professionals who know you well. 

What Is the Outlook for a Doctoral Program in Organizational Leadership?
Organizational leadership is growing, with jobs in organizational management and management analysis projected to grow rapidly. With jobs increasing at a rate of 14%—nearly three times the national average—by 2028, you won't have to worry about being out of a job for long. 
The Best Organizational Leadership Degrees:
Methodology 
The ranking system we've used to create this list is based on various factors, such as the total cost for the program, how many applicants get admitted, and the student-to-faculty ratio. Online College Plan uses data from the National Center for Education Statistics to determine the best programs. We also get information directly from the institutions, US News and World Report, and other sources.
Each part of the criteria represents several points, and we have listed them in descending order, with the number one school at the bottom of the list. If there was a tie between schools, we gave higher placement to the college with lower total tuition fees.
With the criteria that we're using, here's how we've calculated those points: 
Total Tuition
Less than $15,000– 3 points 
$15,001 to $20,000– 2 points
Over $20,001– 1 point
Acceptance Rate
More than 50% of applicants accepted – 3 points
25% to 50% of applicants accepted – 2 points
Less than 25% of applicants accepted – 1 point
Student to Faculty Ratio
10 to 1 or less – 3 points
11 to 15 to 1 – 2 points
16 or more to 1 – 1 points
Please note that the listed tuition is based on the average cost per academic year for graduate programs at each university. Costs can vary between programs and will often depend on whether you are a resident, non-resident, or an online student. You may be able to apply previously earned credits toward your degree, depending on the school or program. Each student's situation may differ. For exact amounts, contact the school directly. 
Top 30 Schools for a PH.D. In Organizational Leadership
School
Tuition
Acceptance Rate
Student/ Faculty Ratio
Points

Liberty University

$29,750

50%

  

17:1

4

Northeastern University

$25,264

20%

14:1

  
4

Nova Southeastern University

$20,618

48%

 

17:1

4

University of Southern California

$47,880

18%

9:1

5

The Chicago School of Professional Psychology at Chicago

$22,212

13.04%

4:1

5

Regent University

$15,552

50%

  

19:1

5

Abilene Christian University

$23,238

61.5%

13:1

 
6

University of Illinois at Urbana-Champaign

$15,016

60%

20:1

6

Southeastern University

$13,365

 

48.14%

  

30:1

6

Grand Canyon University

$10,528

 

41%

  

21:1

6

Northcentral University

$16,983

90%

13:1

  
7

Franklin University

$16,080

100%

12:1

 
7

Colorado Technical University-Colorado Springs

$13,758

 

100%

28:1

7

Brandman University

$12,060

 

95%

19:1

7

Colorado State University-Global Campus

$9,000

 

81.4%

24:1

7

Valdosta State University

$4,572

 

57.7%

21:1

7

University of the Cumberlands

$4,282

 

80%

17:1

7

Fielding Graduate University

$17,296

96%

7:1

8

University of La Verne

$14,346

 

76%

14:1

 
8

Cornerstone University

$13,920

 

77.6%

15:1

  
8

California Baptist University

$13,410

 

80%

14:1

  
8

Eastern University

$13,374

 

63.9%

12:1

  
8

University of Arizona Global Campus

$11,938

 

84.6%

15:1

  
8

Indiana Wesleyan University-National & Global

$11,083

93.5%

14:1

 
8

Concordia University – Chicago

$9,090

 

79%

12:1

  
8

Touro University Worldwide

$9,000

 

100%

11:1

  
8

Wilmington University

$8,784

 

99%

15:1

  
8

Cabrini University

$2,115

 

76%

13:1

  
8

Johnson University

$11,750

 

55%

10:1

9

City University of Seattle

$11,812

 

100%

6:1

9