LGBT Online College Guide
Find your degree
Online College Plan is an advertising-supported site. Featured or trusted partner programs and all school search, finder, or match results are for schools that compensate us. This compensation does not influence our school rankings, resource guides, or other editorially-independent information published on this site.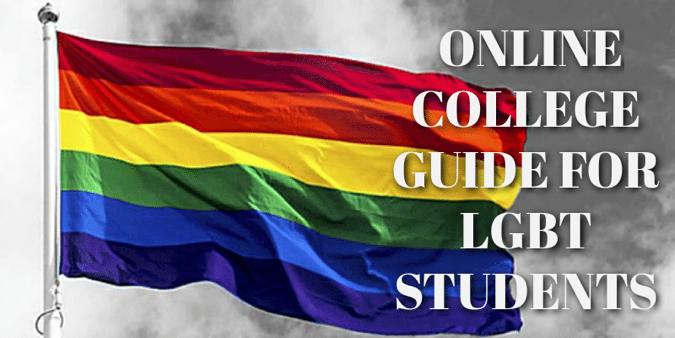 A Note on Language and Intent Throughout the LGBT Online College Guide:
This LGBT online college guide strives to avoid slurs or any other insulting language. We feel that it is best to start out with a basic understanding of the vast array of identities in the LGBTQQIAP+ community.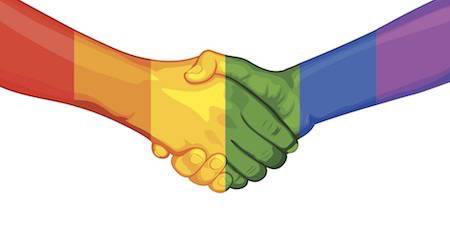 We have taken into account that the vastness of the gender and sexuality spectrums does not truly allow for an all-encompassing term or acronym, as there is no way to effectively represent each and every individual. Throughout this guide, the terms LGBTQ+, trans, gender nonconforming, and queer are used to describe people who fall into many different places on these spectrums.
The intention behind these terms is to be as inclusive and all-encompassing as possible. We recognize that "queer" is sometimes used in a derogatory manner; this term is used to describe people who do not identify as heterosexual or within the gender binary and we use it here with the utmost love and respect. In the event that you find language that is insensitive or exclusionary, do not hesitate to reach out to us. Thank you in advance, and good luck with all of your endeavors, educational and otherwise.
Featured Programs
Navigate the LGBT Online College Guide by scrolling or using the menu on the upper right. The arrow at the bottom right will bring you back to the top of the LGBT Online College Guide.
Before we begin the LGBT Online College Guide, here is an overview of LGBTQQIAP+ Identities: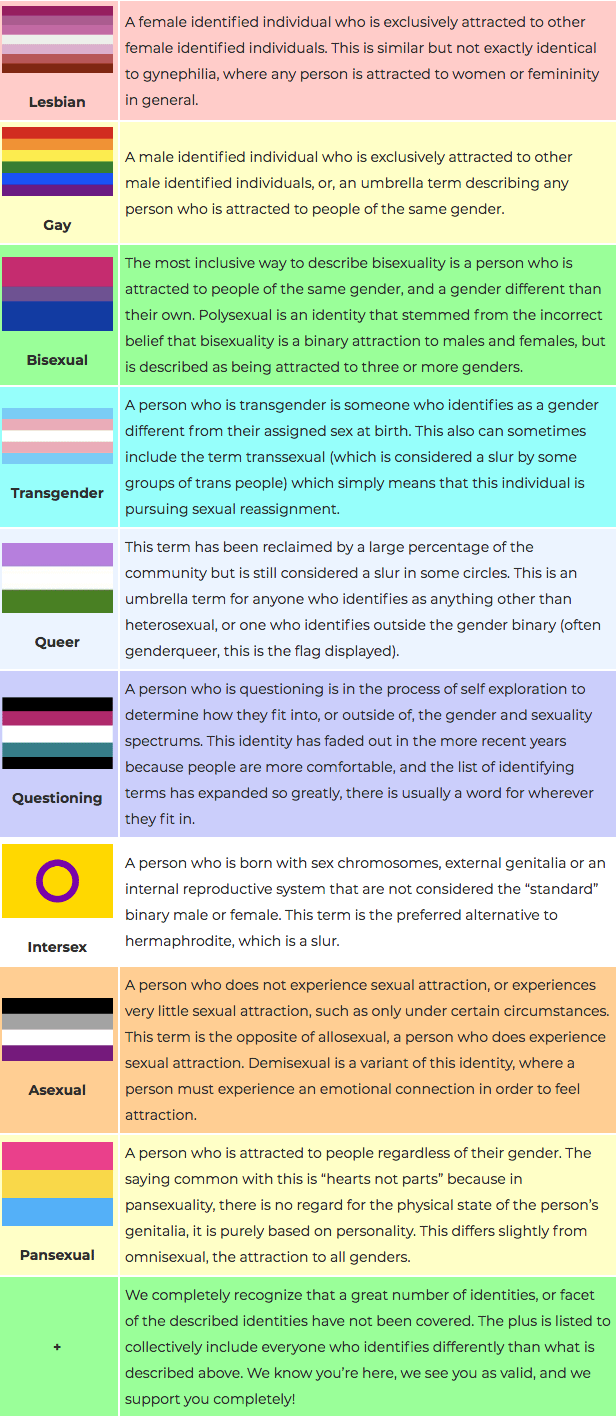 Downloadable LGBTQQIAP+ Identities Chart
---



The author of our LGBT Online College Guide, Brandon Carter is a young polysexual transman who grew up in the south. He founded and served as the president of two Gay Straight Alliances in high school, has participated in different conferences and events for queer students, and has remained active and passionate about LGBTQ+ advocacy long after graduating. He is a blogger, public speaker, and a crisis-trained volunteer with the Trans Lifeline. He is more than dedicated to making an equal and comfortable education environment accessible to everyone, and to the continuing support of his community. He has written this guide with the hope of providing clarity and valuable advice to his peers.
---
LGBT Online College Guide:
Information, Ideas and Support for LGBT+ Students
Students in the LGBTQ+ community have much more to consider when selecting a college to attend than many other students. Inclusivity, support, and safety are all factors that are of importance. This guide will address a variety of topics such as how to select a school, what scholarship opportunities to take advantage of, and will explore how and why an online education may be the strongest option for LGBT+ students.
Acceptance is certainly on the rise for the reported 8.4% of LGBTQ+ self-identified students, but visibility and legislation do not always translate to awareness, support, and accommodation; these are on more of a case by case basis with colleges and universities depending on their region, religious or political affiliation, and plenty of other factors.
Generally speaking, the college environment is far from hostile against LGBT students, and new policies to protect them are being adopted in waves, however, these factors provide no guarantees. With this in mind, we have created this guide to touch on the steps they need to take, and some of the other things that they can do to ensure a fulfilling college experience in an environment generally perceived as predominantly heterosexual and cisgender.

The history of the community is as richly varied as its members, with well-known events such as Stonewall, or the election of Harvey Milk. As far as college education goes, though, it is something that is not often taught or talked about unless you are taking specific classes.
Below are some brief descriptions of some key events that make up our history in higher education:
In September of 1970, Del Whan taught the first LGBTQ+ class at the University of Southern California. The class, called Social Movement: Gay Liberation, eventually became the Gay Liberation Forum. It was the first ever group of its kind on campus, and became recognized in 1975. This group is still alive and well today, now under the name Queer and Ally Student Assembly.
The University of Arizona's Pride Alliance has reportedly been active since the 1990's.
In 2013, the first ever American organization for bisexual lawyers, professors of law, and students of law was founded. This organization is aptly named BiLaw
In 2014, Mills College, an all-women's college, became the first ever single-sex college to have a policy that is inclusive of transgender students.
In June 2016, President Obama announced the Stonewall National Monument's inclusion into the National Parks System, making it the first to specifically highlight the history of the LGBT+ community.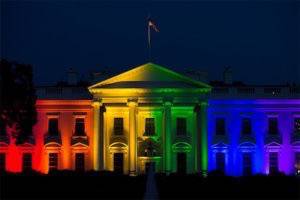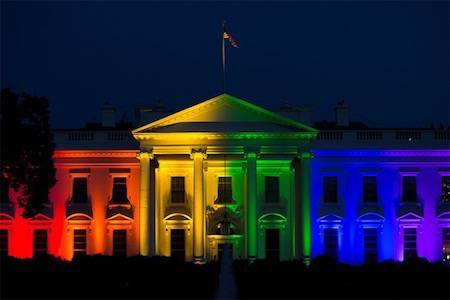 GLSEN, or the Gay Straight and Lesbian Education network has over 4,000 gay straight alliances registered to date, with more than 900 in California alone. Several states have included sexual orientation and gender identity in their anti-discrimination laws, and a large number of colleges have policies in place to disallow discrimination on this bases. Trans and gender nonconforming students have better access to gender neutral housing and restrooms than ever before in history, and year by year, on-campus life becomes more inclusive.
One thing we feel is greatly overlooked is the possibility of off-campus student life for LGBTQ+ students, particularly distance learning. It is reported that 13.4% of LGBTQ+ students say they do not plan on going to college as a direct result of verbal harassment, and a massive 20% of college students fear for their physical safety. These numbers are so high that it is disheartening, everyone should feel as though it is their right to obtain an education and they are entitled to feeling safe while doing so.
LGBT+ Community Voices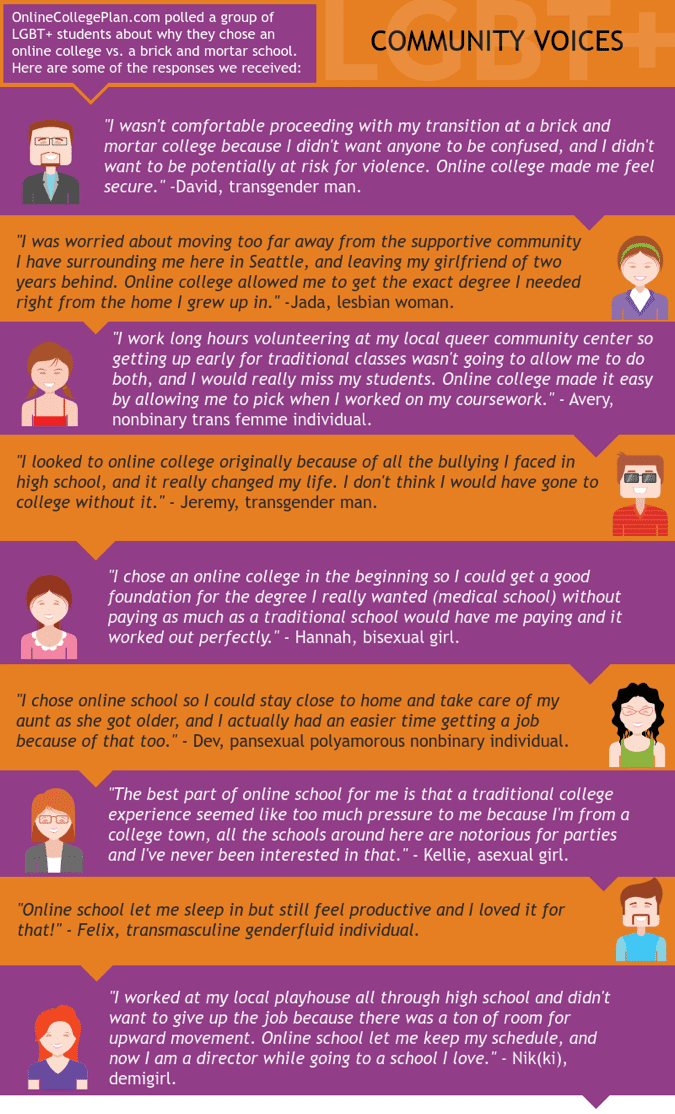 Benefits of Online College
Flexibility; picking your program, and your schedule.
Stay at home or travel – the choice is 100% yours.
Feel more secure because without classes to walk to and from, you can control your environment.
Being transgender with a desire to transition is expensive in the USA, but with some online schools allowing you to only take the classes you need, you don't end up paying for frills and can save for transitional care.
Stay close to the medical professionals you are already open and comfortable with to eliminate the need to introduce more people into your personal life and history.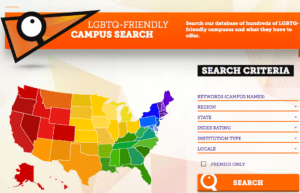 Online college selection should be an in-depth process — but that doesn't mean that it should be a difficult one. To help narrow your school choices, there are many resources available online for LGBT+ college students. A personal favorite of ours is Campus Pride because their board of directors includes members of the community, and their research is extensive and thorough, as detailed on their very interactive and accessible website.
Some key factors to look for when evaluating online colleges:
Look at are their policies, which are usually detailed on the school's website,
Check out what programs they offer in support of queer and gender nonconforming students,
What grants they have and/or accept, and
Political climate is a commonly noted factor, especially with recent events and new laws. For many, this can be another upside to an online college because things like this become irrelevant — you don't have to live there or attend campus classes!

Here are the top ten most friendly colleges in the nation that offer an online program based on the rigorous criteria set forth by Campus Pride:
This university has the oldest LGBT Resource center in the country, as well as the Lambda Alliance (which is an umbrella advocacy group for queer students. You can learn more here.) Tuition for this school is $49,536 per year.
---

This college hits 12 out of the 13 points that Campus Pride looks for and rates them on, making it one of the highest rated schools due to its inclusive policies, resource center, and LGBT support staff. Annual tuition is $39,532.
---

This school offers more than ten different groups from LGBT students and their allies, their support even extends to their staff with health coverage for their same-sex partners. The only hiccup is that they don't allow students to self identify on their forms. Annual tuition is $32,350.
---

University of Washington has it all as far as their policies and protections go, with some staff dedicated to support for LGBT students that work with the student body, faculty, and even deal with some of the curricula. Annual tuition is $34,500.
---

Based in the Boston area, this school has some of the strongest LGBT protective and anti-discrimination statutes in the country. They even allow for students to self identify on their forms, meaning you can get a truly tailored experience online as well. Tuition is $47,596 per year.
---

This school hit 13 of the necessary 13 points as rated by Campus Pride, giving them an almost perfect score. These points look at inclusion and commitment to the community, and in that respect this school truly stands out. Tuition is $27,974 per year.
---

California is one of the most accepting states in the contiguous USA, making it a no brainer that schools that are located there will be just as accepting and accommodating. Even their admissions team receives training on how to best support their LGBT prospects. Annual tuition is $11,330.
---

Not affiliated with the Princeton Review, this private university even has a program that helps LGBT students bridge the gap into their college life because they truly understand what a jump that can be, and the support just continues from there. Annual tuition is $43,540.
---

This awesomely ranked school has very inclusive policies, and makes sure that their staff is properly trained, with the only exception being the campus police. Counseling and STD testing is even accessible to all students. Annual tuition is $29,000.
---

As a standout, this was one of the first schools to cover hormones and surgeries for transitioning students under its student health insurance, and the university has developed an easy process for students to be able to access these benefits. Annual tuition is $35,631.
(Note: the tuition listed is out-of-state and on-campus. Online programs will differ slightly.)



src="https://www.onlinecollegeplan.com/wp-content/uploads/2016/06/apply_scholarships.png" alt="apply_scholarships" width="400″ />A big thing to remember when researching grants and scholarships is that you are not under any circumstances obligated to disclose your gender or sexuality in order to obtain these opportunities. However, there are a ton of scholarships out there if you are willing to do so.
The Human Rights Campaign allows you to search by state.
The Point Foundation is the largest LGBTQ+ scholarship granting organization in the nation, usually awarding around $10,000 to students who have showed a continued commitment to their education and their community.
Other standout organizations are the Pride Foundation, which focuses on especially marginalized groups within the LGBTQ+ spectrum such as queer students of color, those aging out of foster care, or even those who have faced homelessness; and PFLAG National which awarded $75,000 worth of scholarships in 2015 alone – ranging from $1,000-5,000.
A comprehensive list of all scholarships available to those within our community can be found in this scholarship database.
In Closing…
Whoever you are, however you identify, and whatever you are going through, everyone should have access to a safe and fulfilling education if they desire one. We strongly hope that this guide gave you some insight into the process of planning your college experience, and more than that, we hope that you chase and achieve your educational dreams.
We also hope you have enjoyed this LGBT Online College Guide and will visit us again for college information and school rankings.
Additional Resources: