Georgia Tech – Ranking, Mascot and Campus
Find your degree
Online College Plan is an advertising-supported site. Featured or trusted partner programs and all school search, finder, or match results are for schools that compensate us. This compensation does not influence our school rankings, resource guides, or other editorially-independent information published on this site.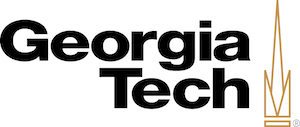 Located in Atlanta, Georgia, the Georgia Institute of Technology is a public space-grant research university. Georgia Tech — which is what the university is commonly called along with GA Tech and simply GT — was originally established in 1885 as the Georgia School of Technology. Georgia Tech was built as a part of Reconstruction plans to build and establish an industrial economy in the post-Civil War South and, due to this, only a degree in mechanical engineering was initially offered at the school Today, GA Tech is organized into six different colleges which offer degrees in numerous areas of study. Even though programs spanning various areas of study are offered, the school places great emphasis on the study of the areas concerned with STEM (Science, Technology, Engineering, and Mathematics). It holds true to its early roots of being an engineering school while still allowing attending students to obtain an education that is tailored to their career goals and personal interests.
We Ranked Georgia Tech:
#2 in Top 20 Best Online Colleges in Georgia,
#2 in Top 20 Best Online Colleges Near Atlanta,
#2 in Top 20 Colleges for League of Legends eSports Gamers,
#19 in Top 50 Online Colleges with the Highest Student Satisfaction; and
#10 in Top 50 Online Schools with the Best Websites
Featured Programs
The Carnegie Foundation classifies GT as a Research University with a Very High Research Activity rating. GT has nine research institutions in operation, the most famous of which is arguably the oldest research institution: the Georgia Tech Research Institute (GTRI). GTRI conducts sponsored research into a variety of technical specialties which includes radar, electro-optics and the field of materials engineering. The research done by GTRI benefits a number of organizations, many of which are concerned with matters such as national defense, homeland security, and the public health sector. Other research institutions under GA Tech include the Georgia Tech Information Security Center, the Georgia Institute of Technology Center for Robotics and Intelligent Machines, and the Georgia Tech Quantum Institute, all of which are highly regarded in their respective fields of study as cutting-edge research providers.
On top of being a force for cutting-edge STEM research, GA Tech is also a provider of many nationally-praised degree programs. The educational programs offered through the university help the 25,000 yearly enrolled students to obtain a career-defining education–with past GA Tech alumni including President Jimmy Carter and Orson Swindle, the Commissioner of the Federal Trade Commission of the United States (1997–2005) and decorated Vietnam War POW. For more than a decade, GA Tech has been ranked in the Top Ten best universities in the United States and is currently ranked as the "smartest" public university in the nation. U.S. News and World Report ranks GA Tech's undergraduate Aerospace program as the second best, their Biomedical program as the best, Civil Engineering programs as the second best, and their Industrial Engineering program as the best in the nation, among many other well-ranked programs that the university offers. Overall, GA Tech is a highly desirable institution of higher education to attend for many students, both nationwide and worldwide.
In addition to the university's many renowned programs, the surrounding area of Atlanta also has a lot to provide to the school's students. Some of the available attractions include:
The Vortex Bar and Grill:
The Vortex Bar and Grill provides an eclectic and unique culinary opportunity to gastro-enthusiasts visiting Little Five Points and Midtown. The menu includes the famous Coronary Bypass Burgers and absolutely top-notch fried cheesecake bites. The restaurant also has chicken sandwiches, barbecue pork, chili, soups, and salads among other menu items. The Vortex is also unique in that patrons are allowed to smoke within the restaurant and that they have strict etiquette guidelines that patrons must follow, including how to properly treat your server and bartender.
The College Football Hall of Fame:
The College Football Hall of Fame is located adjacent to the Georgia World Congress Center, and Centennial Olympic Park is a hall of fame for college football and was originally located in South Bend, Indiana. The hall of fame opened in its current location in 2014. The facility contains approximately 50,000 square feet of exhibit and event floor space, interactive displays, and a 45-yard indoor football field.
The CNN Center is the world headquarters of CNN. The CNN Center houses an Omni Hotel and features a large atrium food court and gift shops. CNN's multi-channel output to the world is also broadcast on large screens located around the center, and studio tours are available. These tours include demonstrations of various broadcasting technologies such as Chroma Key and teleprompters.
Georgia Tech Online Degrees and Programs:
GA Tech offers the following online graduate degree-granting programs and Massive Open Online Courses (MOOCs)–which are free online courses–to distance-learning students to choose from:
Master of Science in Computer Science
Master of Science in Computational Science & Engineering
Massive Open Online Courses (MOOCs)
Material Behavior
Introduction to User Experience Design
Take Your English Communication Skills to the Next Level
Build Your Professional ePortfolio
Write Professional Emails in English
Introduction to Electronics
Health Informatics on FHIR
Materials Data Sciences and Informatics
Introduction to High Throughput Materials Development
Games Without Chance: Combinatorial Game Theory
What Makes Georgia Tech Unique: Industry Ties
Georgia Tech has strong industry ties which are utilized to provide attending students with experiential learning opportunities in a variety of career paths. These opportunities are provided by Georgia Tech's Division of Professional Practice (DoPP), which was established in 1912 as the Georgia Institute of Technology Cooperative Division and which currently operates the largest and fourth-oldest cooperative education program located within the United States. The program is accredited by the Accreditation Council for Cooperative Education, and one of the programs–the U.S. News and World Report as being one of the Top Ten "Programs that Really Work" for five consecutive years.
Other Georgia Tech Facts:
"Clean, Old-Fashioned Hate" is the term used to describe the rivalry between GA Tech and the University of Georgia's collegiate sports teams; most notably their respective football teams. The two universities have been highly heated rivals since 1893. This rivalry is even prevalent in GA Tech's football fight songs, which feature lines such as "To Hell with Georgia," "Down with the Red and Black," and "Drop the Battle Axe on Georgia's Head."
Georgia Tech's Website: https://www.gatech.edu/
Georgia Tech's Accreditation: Southern Association of Colleges and Schools (SACS)
Georgia Tech's Values and Mission Statement:
Georgia Tech's Motto: "Progress and Service"
Georgia Tech's Mascot: Buzz and Ramblin' Wreck
Georgia Tech's Colors: White and Georgia Tech Gold