Freed-Hardeman University – Athletics, Ranking, and Tuition
Find your degree
Online College Plan is an advertising-supported site. Featured or trusted partner programs and all school search, finder, or match results are for schools that compensate us. This compensation does not influence our school rankings, resource guides, or other editorially-independent information published on this site.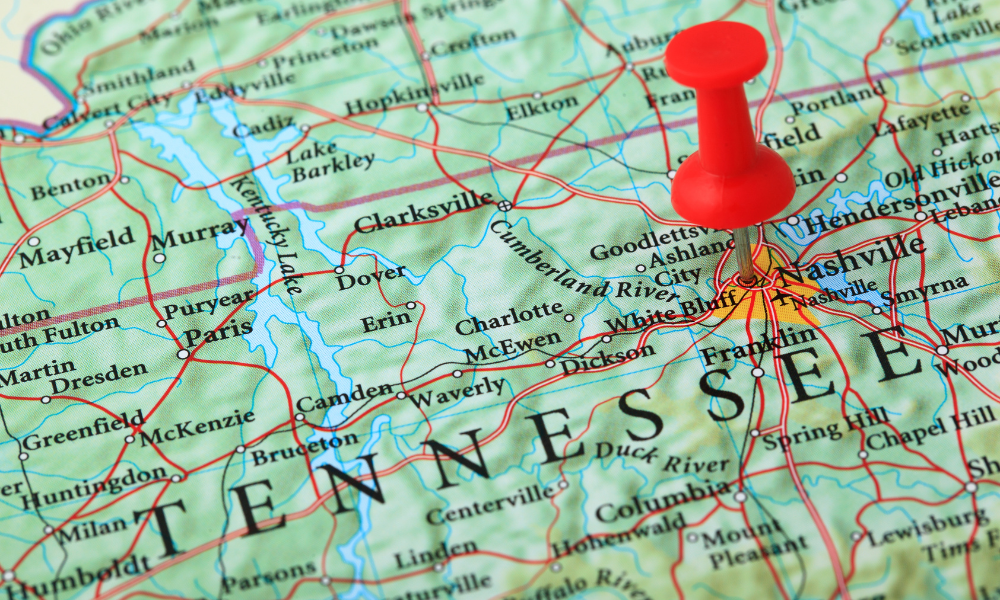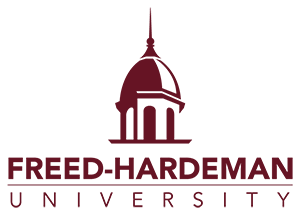 Freed-Hardeman University is a private, not-for-profit and Churches of Christ-affiliated liberal arts university located in Henderson, Tennessee. Freed-Hardeman University (which is commonly referred to as FHU) was originally established in 1869 through the charter of a private high school and college for local communities which was known as the Henderson Male Institute. The university has undergone numerous name changes over the years, with previous names including the Henderson Masonic Male and Female Institute; the West Tennessee Christian College; Georgie Robertson Christian College and; the National Teachers' Normal and Business College. The National Teachers' Normal and Business College was renamed to Freed-Hardeman College in 1919 in honor of its founders, A. G. Freed and gospel preacher Nicholas Brodie Hardeman. The name was changed a final time to its present-day name of Freed-Hardeman University in 1990 when the school was granted the ability to confer graduate degrees to eligible students upon successful completion of one of the school's offered graduate degree programs.
We Ranked Freed-Hardeman University:
#15 in Top 20 Schools for Online Theology Degrees
Featured Programs
Campus-wide devotionals are held every Monday and Thursday night at 10:30 PM. Additionally, every other Wednesday night at 10:00 PM students meet in Clayton Chapel for Clayton Chapel Singing where they sing various hymnals. Every year the University hosts the FHU Lectureship event on campus. On the Monday during Lectureship week, the university holds a dinner to honor a person of importance to Freed-Hardeman University and/or to the Churches of Christ. Although a large percentage of the event-goers that attend this Lectureship are visitors and alumni of the university, current Freed-Hardeman University students are strongly encouraged to attend as many lectures as they possibly can. This is to not only broaden their life experiences but also to give each of the students an opportunity to honor the person that was chosen for that year properly. Several other, smaller lectures and forums throughout the school year are also available for students to attend if they wish to. Overall, Freed-Hardeman University makes significant efforts to ensure that students will have their faith reaffirmed and to harden their convictions to serve God in the manner that He has chosen for them to serve as a member of his flock. The Christ-centric atmosphere that is cultivated on the university's campus serves to further the growth and maturing of each Freed-Hardeman University student–both spiritually and academically–because "as iron sharpens iron, so one person sharpens another" Proverbs 27:17.
The areas surrounding Henderson, Tennessee include bigger cities such as Jackson (about 17 miles away) and Humboldt (35 miles), both of which have numerous activities in which students can participate. Some of these attractions include:
The International Rock-A-Billy Hall of Fame Museum:The International Rock-A-Billy Hall of Fame Museum is a museum which recognizes the contributions of Tennessee musicians to the genre of rockabilly. Rockabilly is one of the earliest genres of rock-and-roll music, dating back to the early 1950's in the American South. As a genre, Rockabilly blends the sound of Western musical styles such as country music with that of rhythm and blues, leading to what is considered to be an example of "classic" rock-and-roll. Other important musical influences on the genre include western swing, boogie woogie, jump blues and electric blues among other more niche genres. The term "rockabilly" itself is a portmanteau of "rock" (which is taken from "rock 'n' roll") and "hillbilly," which is a reference to the country music influence. This type of country music which contributed strongly to the style of Rockabilly was often called "hillbilly music" in the 1940's and the 1950's.
The Miss Tennessee Pageant:The Miss Tennessee Pageant is the official state finals for the Miss America competition. The Miss Tennessee pageant was first held in 1938. The winner of the first pageant, Isobel Carter, was unable to compete at the Miss America competition due to illness and so the first runner-up became Miss Tennessee. Two years later, in 1940, the same situation would arise where the winner of the pageant became ill, and the first runner-up would go on to compete at the Miss America competition. The routine pageant was held in 1941, but from the year 1942 to the year, 1946 representatives were appointed without a pageant being held due to World War II.
The West Tennessee Strawberry Festival:The West Tennessee Strawberry Festival is a harvest festival which is held annually in Humboldt, Tennessee during the month of May while strawberries are in their peak harvesting time (harvesting season for strawberries is from April 10th to July 30th). The West Tennessee Strawberry Festival is a 79-year tradition and the festival features Pageants, music, a golf tournament, a horse show, firework displays, a recipe contest, a carnival, parades with floats and bands, 5K & 10K run marathons and lots of food among many other reasons that ensure that it is worth the time and effort to make a point to attend the festival.
Online Degrees and Programs:
Freed-Hardeman University is most notable for their selection of highly comprehensive theology degrees which are among some of the best online theology degrees available. Freed-Hardemen offers the following graduate degrees online:
Graduate Degrees:
Master of Arts in Pastoral Care and Counseling (M.A.);
Master of Business Administration (M.B.A.);
Master of Business Administration in Healthcare Management (M.B.A.);
Master of Education in Curriculum and Instruction (M.Ed.) and;
What Makes the School Unique: Coeducational Social Clubs
Freed-Hardeman University does not have Greek Letter fraternities and sororities in the traditional sense, unlike most other universities. Instead of these Greek Letter organizations, the university has coeducational social clubs on campus. These social clubs are local only to Freed-Hardeman University, and they do not have any connections to any of the national Greek system of fraternities and sororities. The coeducational social clubs that are active at Freed-Hardeman University are Sigma Rho, Phi Kappa Alpha, Chi Beta Chi, Xi Chi Delta, Gamma Tau Omega and Theta Nu. Sigma Rho was established in 1916, making it the oldest club on Freed-Hardeman's campus and was founded on strong principles of family and tradition. Phi Kappa Alpha was established in 1938 and was created for as a group for both men and women whose purpose was to exemplify and serve God in everything that they do and to hold onto the traditions of the past all while striving to be a club of excellence on campus. Chi Beta Chi was established in 1989 and is a social club which strives to provide its members with various social opportunities in which they can serve God, serve their communities and serve those less fortunate. Xi Chi Delta was established in 2002 and is currently the university's only social club that was started by students for students. The slogan of Xi Chi Delta is, "Keeping Nothing Inside Glorifying Him Through Service." which is referred to simply as K.N.I.G.H.T.S. Gamma Tau Omega's purpose is to build strong and lasting friendships, to provide social activities to the group's members and to encourage a wholesome Christian atmosphere where the group's members can grow spiritually, socially, intellectually and physically. Theta Nu is the newest club on the campus. Theta Nu was created to provide opportunities for the club's members to serve others, including people on campus, the residents of the surrounding area's communities and to anyone else that comes to them for help.
Other School Facts:
Notable Freed-Hardeman University alumni include:
Carl Bell: guitarist and songwriter. Founder, songwriter, back-up vocalist and guitar player for the multi-Platinum selling band Fuel;
Todd Farmer: screenwriter and actor. Wrote the scripts for Jason X (2001), The Messengers (2009), Messengers 2: The Scarecrow (2009), My Bloody Valentine 3D (2009) and Drive Angry (2011);
Kerby Farrell: former Major League Baseball player that played for the Boston Braves (1943) and the Chicago White Sox (1945);
Jere Hargrove: a member of the Tennessee House of Representatives;
Dianne Odell: a Tennessee woman who spent most of her life in an iron lung8;
Charles Pierce Roland: a noted historian;
"Miss Sue" Sue Shelton White: a national feminist leader and suffragist lawyer.
Other School Facts: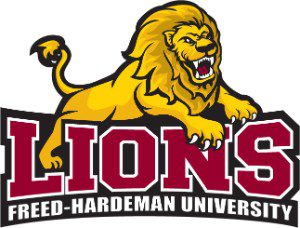 School's Website: https://www.fhu.edu/
School's Accreditation: Commission on Colleges of the Southern Association of Colleges and Schools (SACS)
School's Values and Mission Statement: https://www.fhu.edu/about/history
School's Motto: "Teaching How to Live and How to Make a Living."
School's Mascot: Lions
School's Colors: Maroon and Gold