The History of College Financial Aid
While financial aid is a routine aspect of college life today, this hasn't always been the case. Pell Grants, Stafford Loans and work-study are all relatively new initiatives, conceived to democratize universities and expanded to help Americans meet the rising costs of higher education.

Share this graphic on your site!
The History of Financial Aid
1643: Scholarships in the U.S. begin as philanthropy by the rich for the poor, like Lady Anne Radcliffe Mowlson's donation of £100 to Harvard to fund the education of disadvantaged students. (1)
1843: Harvard establishes its General Beneficiary Fund, a lending agency to make zero-interest loans to students who could not otherwise afford to attend. (1)
1870: There are 63,000 students enrolled in institutions of higher education in the U.S. (1)
1938: College Board begins administering the SAT to identify students for merit-based scholarships.(1)
1940: There are 500,000 students enrolled in institutions of higher education in the U.S. (1)
1944: The Servicemen's Readjustment Act, better known as the GI Bill, is enacted to, in part, cover the tuition and living expenses of World War II veterans attending college. (2)
1945: There are 1.7 million students enrolled in institutions of higher education in the U.S. (1)
1954: College Board opens its College Scholarship Service to connect low-income and minority students with funding from universities. (1)
1958: The Soviet launch of Sputnik inspires Congress to establish National Defense Student Loans, later renamed Perkins Loans, which offer university students low-interest loans with debt cancellation for service as teachers after graduation. (2)
1960: There are 4 million students enrolled in institutions of higher education in the U.S. (1)
1965: The Higher Education Act introduces the framework for many components of financial aid still in use today, like PLUS (Parent Loan for Undergraduate Students), Guaranteed Student Loans (government-backed private loans) and College Work-Study. (2)
1972: Basic Educational Opportunity Grants, now called Pell Grants, are introduced, awarding students up to $1,400. (2)
1978: The Middle Income Student Assistance Act increases the Guaranteed Student Loan limit to $2,500 per year. (3)
1980: 2.7 million students receive Pell Grants. (1)
1989: Guaranteed Student Loans, now called Stafford Loans, make up almost 27% of federal student loans. (1)
1992: PLUS limits are uncapped, allowing parents to borrow up to the total cost of attendance minus any other funds their student received, and Unsubsidized Loans become available. (2)
1993: The Student Loan Reform Act aims to transfer at least 60% of Stafford Loans to Direct Student Loans (government-issued loans) over the next 5 years and peg monthly repayments to a borrower's income for 25 years. (2)
1995: Total annual student financial aid issued grows to $47 billion. (4)
2005: Total annual student financial aid issued grows to $146 billion. (4)
2007: The College Cost Reduction and Access Act establishes a program to forgive debt after 10 years of full-time employment in education, emergency personnel and law enforcement services, military service and government positions. (1)
2008: Stafford Loans make up almost 46% of federal student loans. (1)
2010: The Student Aid and Fiscal Responsibility Act is signed into law, eliminating the lending of Stafford Loans in favor of Direct Loans.(5)
2015: Total annual student financial aid issued grows to $239 billion. (4)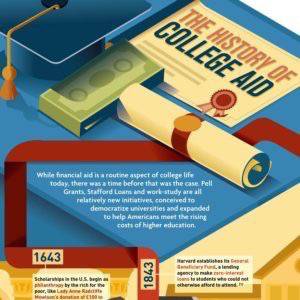 Sources:
1. http://publications.nasfaa.org/
3. http://www.presidency.ucsb.edu/
4. http://trends.collegeboard.org/