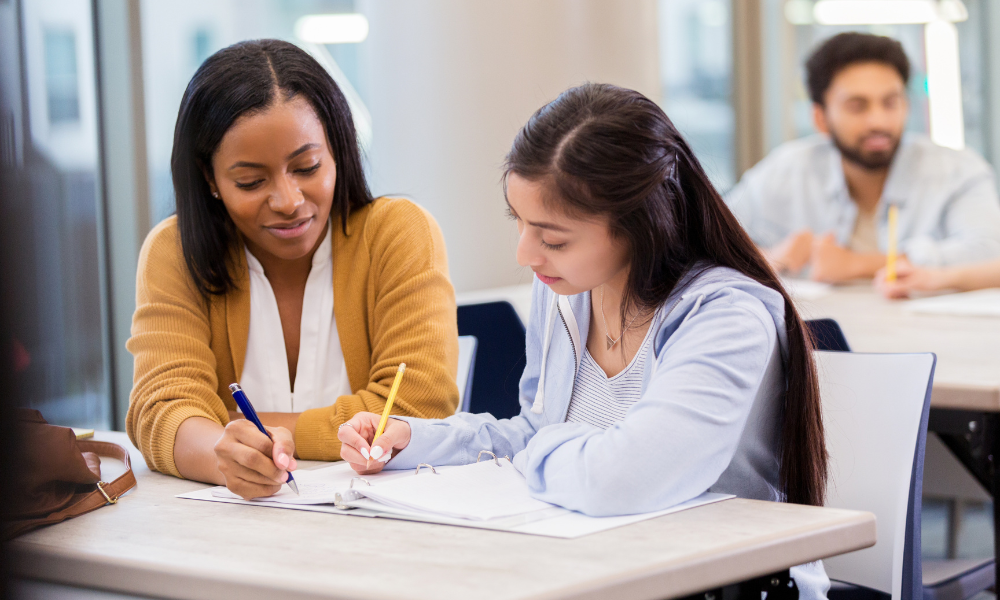 Find your degree
Online College Plan is an advertising-supported site. Featured or trusted partner programs and all school search, finder, or match results are for schools that compensate us. This compensation does not influence our school rankings, resource guides, or other editorially-independent information published on this site.
After earning an online bachelor's degree in education, you'll have plenty of options open to you. Some graduates might find they work exceptionally well in one on one situations. Being a tutor is perfect for this proclivity.
Tutors help people of all ages either catch up, maintain or accelerate skills in specific educational pursuits.
As a tutor, you'll need to be patient, and able to work calmly with one person, or a small group. You'll provide a productive, comfortable service for their clients through excellent verbal and writing skills. Tutors are able to explain complex processes and concepts in an accessible, engaging manner. They create instructional materials that assist students, document progress, liaise with parents, teachers or supervisors, and are excellent listeners and collaborators.
Featured Programs
Tutors may need certain certifications, degrees or equivalent experience in order to work.
If you work as a tutor, you'll get the pleasure of helping someone make tangible gains in an area that either challenges them, or that they are looking to go above and beyond to excel at. Instead of being forced to plan lessons that are somewhat universal, you can tailor your teaching skills to help individuals in a way that works for them, and build relationships that help inform your instruction.
Tutors have a lot more flexibility in their lives than teachers. You can work for a private company if you want, but many tutors prefer to work for themselves. They often set their own schedules, and work with clients of their choosing. Tutors will likely have to help their students prepare for tests like the SAT, GRE, or other standardized exams. This can be draining and lifeless, and is something to consider if standardized testing bores or repulses you. On the other hand, many tutors end up specializing in specific subjects like math, or music, and end up working with students who either need to improve, or have a special aptitude for a subject.
Payscale found that the median wage for tutors is just over $18 per hour. They also wrote that skills in "Physics, French Language, Math, Science, and Reading" are associated with higher wages. However, there are serious variations in what tutors are paid based on location, experience, needs of clients, and area of specialization. Cities associated with high pay for tutors include New York, San Jose and Seattle.
Tutoring can be a perfect side job while working in other educational roles, and can be used to supplement income while providing essential connections in the field. Tutors often end up working as teachers, school administrators, nurses, or executive assistants.
If you think tutoring is right for you, or aligns with some of your other goals, a great first step is to earn a bachelor's degree in education. Practical ability to teach a subject matters most, but having a basic foundation and understanding of education that is certified through a degree will be extremely helpful both in your abilities, and finding clients that want to hire you.