Best Trade School Options for Seniors
Find your degree
Online College Plan is an advertising-supported site. Featured or trusted partner programs and all school search, finder, or match results are for schools that compensate us. This compensation does not influence our school rankings, resource guides, or other editorially-independent information published on this site.
By Jennifer W. Eisenberg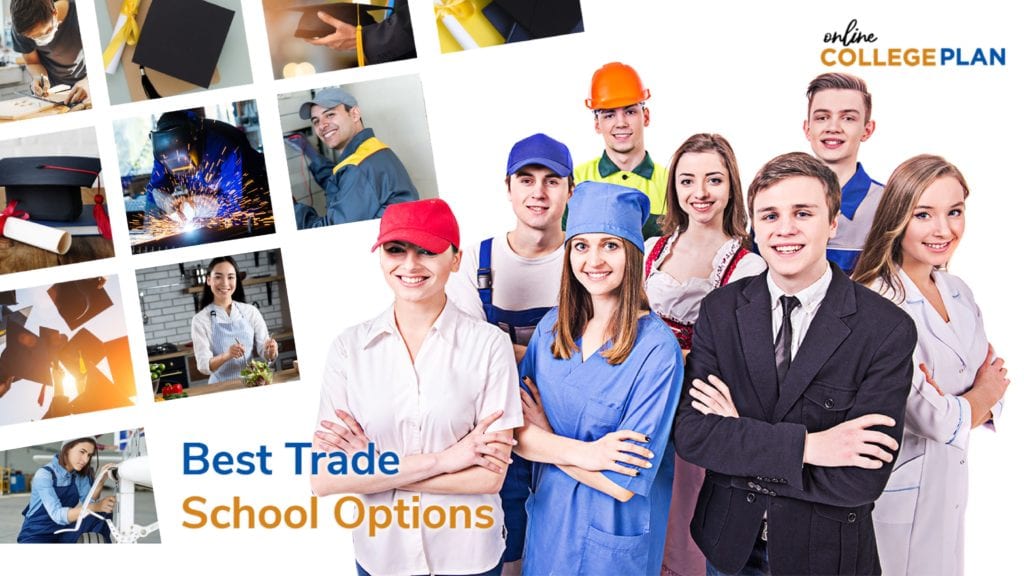 If you've been thinking that you want to change your career, but going back to school in the traditional sense is just not in the cards, there are still options! In the information that follows you will find several careers that you can embark upon at any stage of life. In addition, the training can generally be completed in less than a year. In some cases, you might be starting a new job in just a few weeks. All seven of these careers are well suited to the skill set of seniors, whose life experience can serve them well. In addition, many of these jobs allow for flexible schedules that can accommodate other scheduling needs for real-world challenges, such as caring for grandchildren or for ailing family members, as well as other types of realistic concerns.
Child Care
Child care is an area of employment that calls on many finely-honed skills, not all of which can be taught. Empathy and understanding, for instance, are nuanced and intuitive traits that may heighten with age, and an older person may be very likely to excel in the ability to work with children. Certified child care professionals are always in demand, and certification can be had in two years or less. Some of the training is available online and associates and bachelor's degree options in Early Childhood Education are available online. In some instances, larger employers are willing to train prospective employees so that they can be brought up to certification levels. These employers are often willing to provide workers with a space in which to accomplish hands-on hours in the classroom. Child care work is obviously not for everyone, and older applicants may prefer interacting with the smaller, less active participants in child care, but employment opportunities in this field abound and training is easy to access.
Cosmetology
If you are a creative, people-oriented person who does not like to be tied to a desk, then a training program in cosmetology may be tailor-made for you. You could be seeing clients in as little as nine months, though the time period varies from state to state. Cosmetology is a fast-paced and adventure-packed profession that can be very flexible in its scheduling. Licensing requirements vary from state to state, but a trained professional is always a welcome addition to any team. Haircutting, coloring, removal, and styling are all part of the training for this career. The US Bureau of Labor Statistics lists three important traits for success in this field: creativity; tidiness; and good time management skills. Fees, once you are licensed, run a bit under $200. Some state licensing requirements prohibit online training, so check your state's regulations.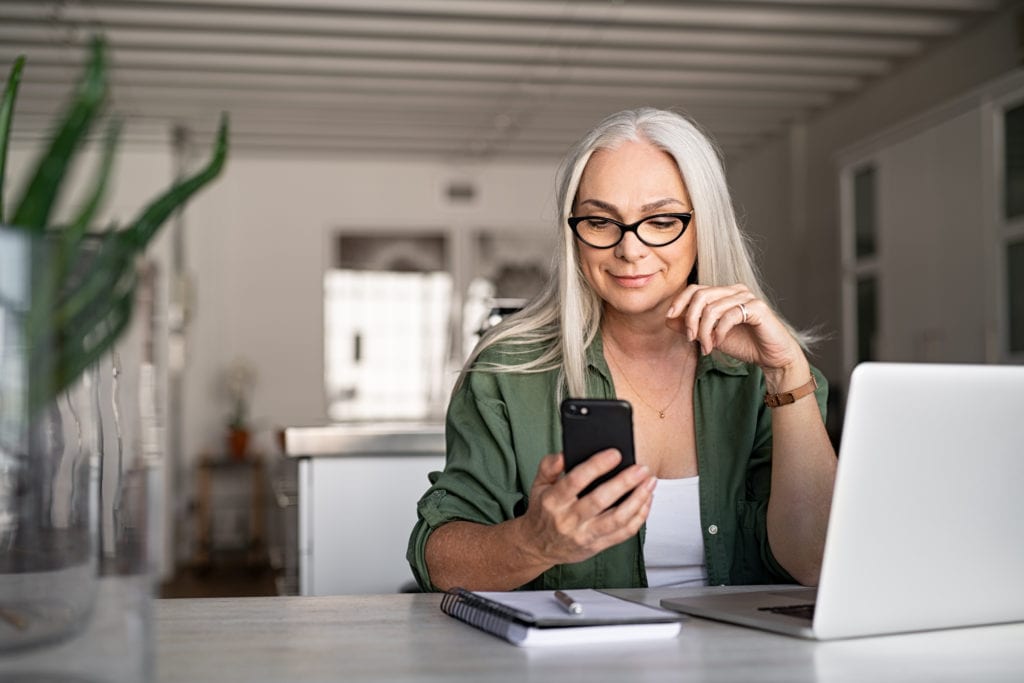 Home Inspector
Another flexible, people-oriented career path in this area is that of home inspector. Anyone who has bought a home knows the vital role that this professional plays in the process. The home inspector has the task of keeping all parties honest, both the buyer and the seller. This career also speaks to many interested job-seekers because of the relatively lightning-fast training process, which may be completed in as few as ten days, though it generally takes 3-4 weeks. Length of training, of course, is dependent on the skills you bring to the process. Licensing requirements vary by state, but a licensing exam is part of the program as well, as is the responsibility of conducting at least ten supervised inspections. Training programs may be in traditional classes or online, and standards usually follow the ones set up in the 1970s by the American Society of Home Inspectors (ASHI).
Medical Coder
A medical coder's job has the benefit of being work you can do from home in some cases, which can be very appealing to certain people, though medical coders are also often employed at doctors' offices and hospitals. Coders can even find employment at insurance companies and medically focused law firms. There is a minimum of 200 hours of training in this program before students can sit for the licensing exam, which usually translates to a full year of two semesters. There are many online medical coding programs that are online and coursework includes insurance claim procedures, technical knowledge, pharmacology, anatomy and physiology, and medical terminology. Three licensing options available to choose from include: certified professional coder; certified coding specialist; and certified coding assistant. Each job title will have its own pay grades and licensing requirements.
Real Estate Agent
Real estate is another field that can be entered into fairly quickly but is subject to a pre-licensure education component and a state or national exam before becoming licensed. In a strong economy, real estate is a good choice that offers flexible hours and the opportunity to be creative and think fast on your feet for the good of your client. This career is a good choice for anyone with a business or sales background, or for someone who really loves to get the best deal on a sale. Living in a community would probably give you an advantage toward working in real estate there and would certainly widen your circle of friends and acquaintances. Courses you may include real estate law, marketing–negotiation, real estate finance, and property management. Continuing education courses are required from time to time and would ensure your staying current on topics in the field.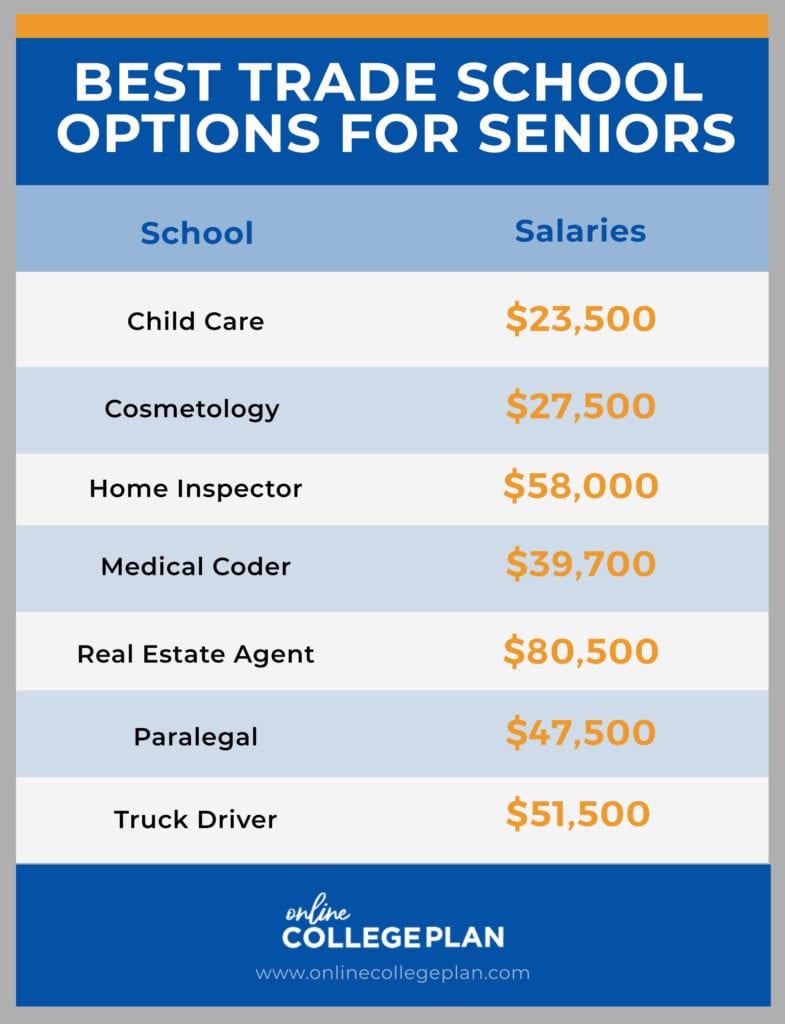 Paralegal
Paralegal training can be completed at a trade school or a community college and generally takes about two years and there are excellent options for paralegal degrees online. This fast-paced job does not traditionally offer the flexibility of some other jobs on this list, but if steady 9-5 work is what you are after, this is a solid option. Because the internet has solved a lot of the problems in society that used to require lawyers, the role of the paralegal has expanded in recent years, with law firms giving them more duties and other institutions, like banks and other businesses, looking to access their legal training. Coursework may include legal research, trial preparations and litigation, and torts and criminal law. According to the BLS, the median national annual salary for paralegals is $49,500. 
Truck Driver
The good news about becoming a truck driver is that there is not the age cut off like there is with air traffic controllers and their mandatory retirement at the age of 56. If you are over 21 and can pass the background check, this program will welcome you with open arms. Truckers are the lifeblood of the American supply chain, and technology has not yet come up with a superior replacement for a person behind the wheel of a delivery vehicle of some type. Wages in this sector are solid, and demand for employees is expected to remain steady. This position ranks lower in the flexibility of one's schedule, but it does in some cases allow you to travel full time with a spouse or at least be guaranteed a steady amount of "home time."
Top 30 Highest Paying Trade School Jobs and Vocational School Careers
The Best Career Tools for Seniors Looking for a Job