10 Best Online Bachelor's in Social Work
Find your degree
Online College Plan is an advertising-supported site. Featured or trusted partner programs and all school search, finder, or match results are for schools that compensate us. This compensation does not influence our school rankings, resource guides, or other editorially-independent information published on this site.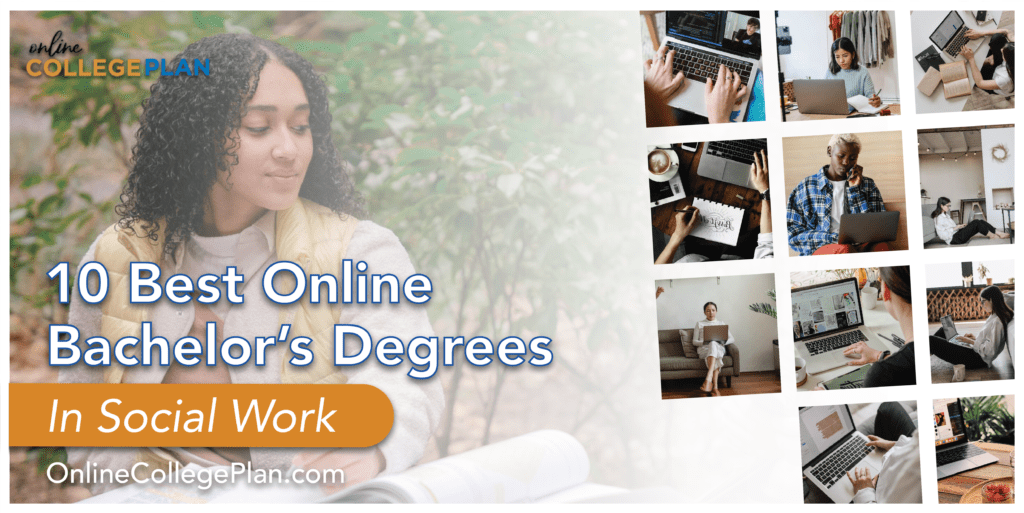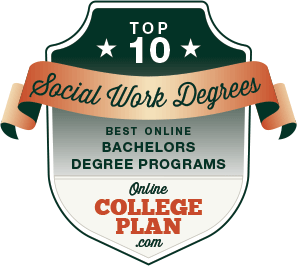 Social work provides an important link between individuals, families, or groups of people and resources to help them better cope, integrate with the community, or deal with other issues affecting their well being. While challenging, social work is a rewarding and ultimately necessary role that often involves both counseling, keeping tabs subjects in need, and interacting with larger organizations and community resources. While many social work positions require a masters in social work (MSW), bachelors in social work are an important first step. Below we've comprehensively surveyed online bachelors in social work programs, and have ranked the top 10 schools.
Social Work Career Outlook
According to the Bureau of Labor Statistics, social work positions are expected to expand 13 percent through 2029 (a rate much faster than the average expansion rate of all industries). This will result in nearly 91,000 new social work openings over the next decade. The average salary for social workers is $50,470 per year.
Types of Social Work Jobs:
Child, family, and school setting social workers
Community social workers
Research and administrative social workers
Gerontological social workers
Medical and health social workers
Mental health and substance abuse social workers
Military and veteran social workers
Palliative care social workers
Psychiatric care social workers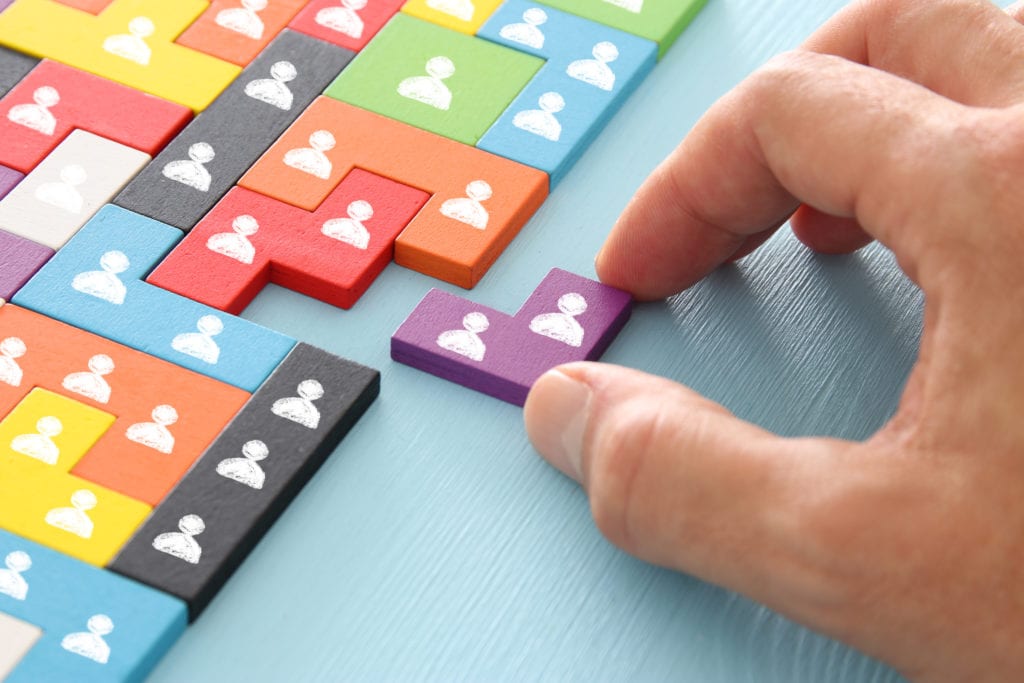 Methodology
Each university on this list offers an online bachelor's degree in social work. We did a deep dive into factors like academic reputation, affordability, and student satisfaction of over 50 schools to narrow our list down to 10.
The method we then used to rank these 10 universities looks at three aspects: graduate tuition or fees, the percent of applicants admitted, and the graduation rate. For each of these categories, universities are given one to three points depending on how they perform.
The number of points scored is ranked out of nine potential points. This number determines where the university falls on the list. For universities that share the same score, a higher placement is given to the university with lower tuition fees.
Each university is ranked from information gathered from the previous year's school term beginning in fall 2019. The list descends towards the number one choice for the best university for an online bachelor's degree in social work.
Yearly Tuition/Fees
Less than $10,000/year – 3 Points
$10,001-$20,000/year – 2 Points
More than $20,000/year – 1 Point
Applicants Admitted
Less than 25% – 1 Point
25% to 50% – 2 Points
More than 50% – 3 Points
Rate of Overall Graduation
50% or Greater – 3 Points
25%-49% – 2 Points
Less than 25% – 1 Point
| | | | | |
| --- | --- | --- | --- | --- |
| School | Tuition | Admission Percentage | Graduate Percentage | Points |
| Oregon State University | $10,001-$20,000/year | 82% | 67% | 8 |
| Colorado State University | $10,001-$20,000/year | 81% | 70% | 8 |
| Pennsylvania State University | $10,001-$20,000/year | 76% | 71% | 8 |
| Western Kentucky University | $10,001-$20,000/year | 97% | 48% | 7 |
| Central Michigan University | $10,001-$20,000/year | 70% | 61% | 8 |
| SUNY College of Technology | Less than $10,000/year | 67% | 60% | 9 |
| Arizona State University | $10,001-$20,000/year | 86% | 63% | 8 |
| Brandman University | $10,001-$20,000/year | 89% | 60% | 8 |
| Concordia University-St Paul | More than $20,000/year | 98% | 51% | 6 |
| Old Dominion University | $10,001-$20,000/year | 89% | 53% | 8 |
10 Best Online Bachelor's in Social Work for 2021
10. Concordia University-St Paul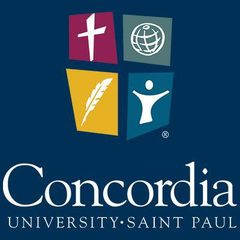 Saint Paul, Minnesota
Points: 6
Average Fees: $24,879.25
The Concordia University in Saint Paul is a private, for-profit school accredited by the The Higher Learning Commission. It offers two online bachelor's social work courses: Forensic Behavioral Health (certificate) and a Bachelor's in Family Science.
Earning a Forensic Behavioral Health certificate requires a 15-hour online program in which students specifically learn the relationships between behavioral health, criminal justice, and legal systems. For this program, Concordia partners with the American Institute for Forensic Studies' Advancement (AIAFS).
While not a clinical or counseling licensed program, a certificate in Forensic Behavioral Health is a stepping stone for students who wish to pursue a social work career in the criminal justice system.
Concordia's Family Science degree is a 43-hour program designed to teach the intricacies of stages of child growth and development, family law, and family systems.
9. Western Kentucky University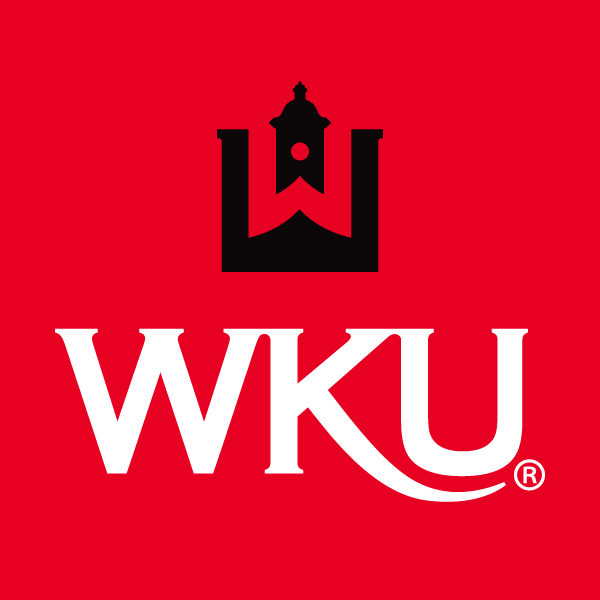 Bowling Green, Kentucky
Points: 7
Average Fees: $11,334.25
Founded by the Commonwealth of Kentucky in 1906, Western Kentucky University is an applied research university intended to give students real-life experience before graduation, including their social work bachelor's degree.
The online Bachelor's of Social Work requires 54 hours to complete, 48 of which are solely dedicated to social work and the remaining six hours filled by electives. This program prepares students for various job opportunities, such as addiction treatment and improving conditions for the disadvantaged. The cost per credit hour at WKU is $250.
8. Pennsylvania State University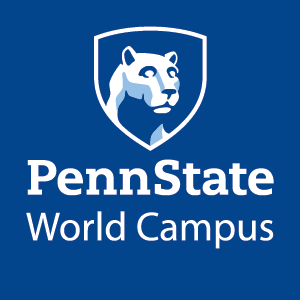 Several Locations, Pennsylvania
Points: 8
Average Fees: $18,886.25
As a public land-grant research university, Pennsylvania State University (or Penn State) has campuses all across Pennsylvania. It offers two online social work degrees, Rehabilitation and Human Services and Psychological and Social Sciences.
Both degrees look at the benefits and needs of various forms of rehabilitation as well as human behaviors and systems. The cost per credit at Penn State ranges from $576 to $617
7. Central Michigan University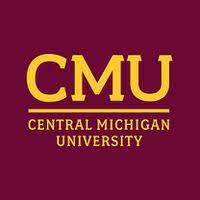 Mount Pleasant, Michigan
Points: 8
Average Fees: $12,960
Founded in 1892, Central Michigan is a public research university with more than 7,000 students enrolled online worldwide. This university offers either a Bachelor's of Applied Arts or Bachelor's of Science for Early Childhood Development and Learning.
A Bachelor's in Early Childhood Development and Learning teaches students about development and growth, including behaviors in children. This program lends itself towards a career in family social work or early child therapy.
Overall, CMU's program requires 120 credit hours at a rate of $417-$434 per credit.
6. Oregon State University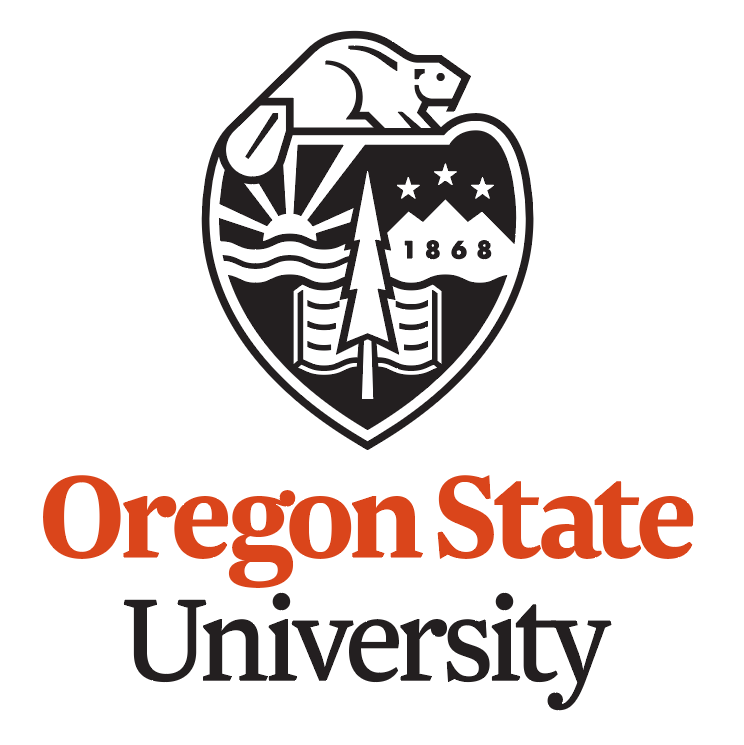 Corvallis, Oregon
Points: 8
Average Fees: $12,844
Oregon State is a public land-grant university based in Corvallis, Oregon. This university is accredited by the Northwest Commission on Colleges and Universities. It offers an undergrad in social work degree in Human Development and Family Sciences. E-campus students receive access to success coaching, library services, online tutoring, and career guidance.
This program goes into an in-depth look at human behavior during development as well as family behaviors and systems.
180 credits are required for program completion, at a rate of $318 per credit.
5. Brandman University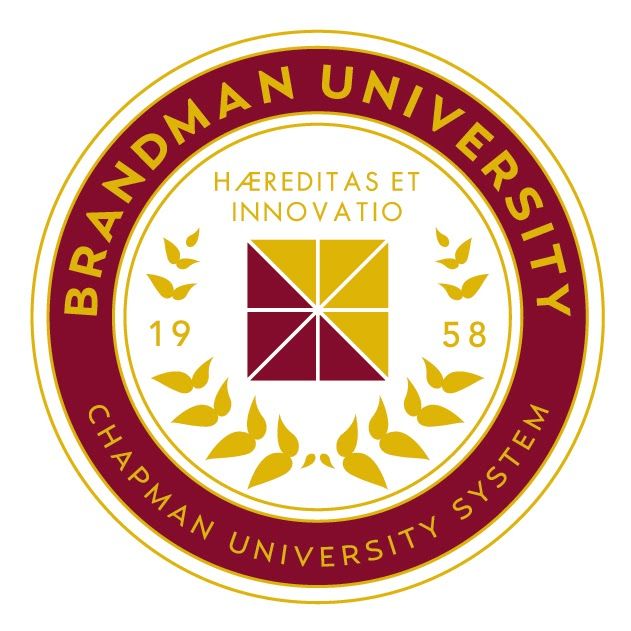 Irvine, California
Points: 8
Average Fees: $12,614.50
Brandman University is a private university with 25 campuses across California. Their Bachelor of Arts in Social Work prepares students for a variety of career opportunities, such as family social work, addictions counseling, mental health care, and probation work.
This bachelor's social work degree requires 400 hours of supervised fieldwork, with a rate of $500 per credit.
4. Colorado State University—Global Campus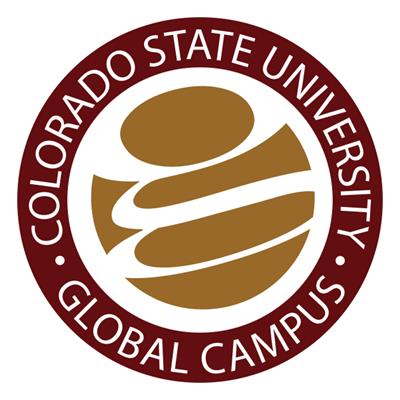 Fort Collins, Colorado
Points: 8
Average Fees: $12,051.50
The head of the Colorado State University System, the campus in Fort Collins, offers a Bachelor's in Social Work, with the option of a concentration on substance abuse.
Colorado State emphasizes vulnerable demographics and how to help them, ensuring their students are prepared for real-world experiences. For programs focused on substance abuse, students learn how to become adept addiction counselors for those in need.
This course requires 450 hours of internship fieldwork to give students a more in-depth, hands-on learning experience. The cost per credit is $350.
3. Arizona State University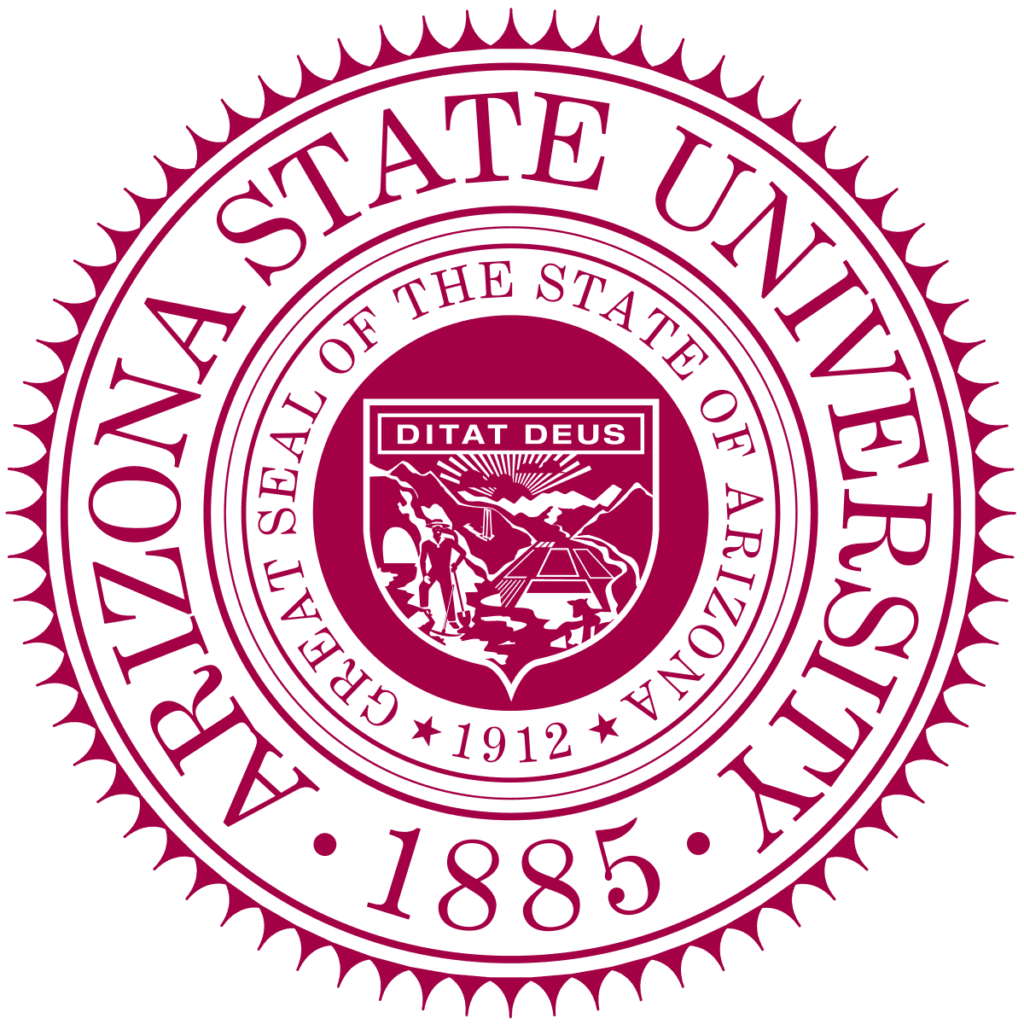 Tempe, Arizona
Points: 8
Average Fees: $11,884
Founded in 1885, Arizona State is a public research university centered in the metropolitan area of Phoenix, Arizona. In terms of online programs, Arizona State University Online offers a bachelor's social work degree in Family and Human Development.
This program includes 120 credit hours that deliver an immersive examination of family development and human interaction. These topics prepare students for family and child social work as well as counseling positions for both categories. Costs are between $561–$661 per credit hour.
2. Old Dominion University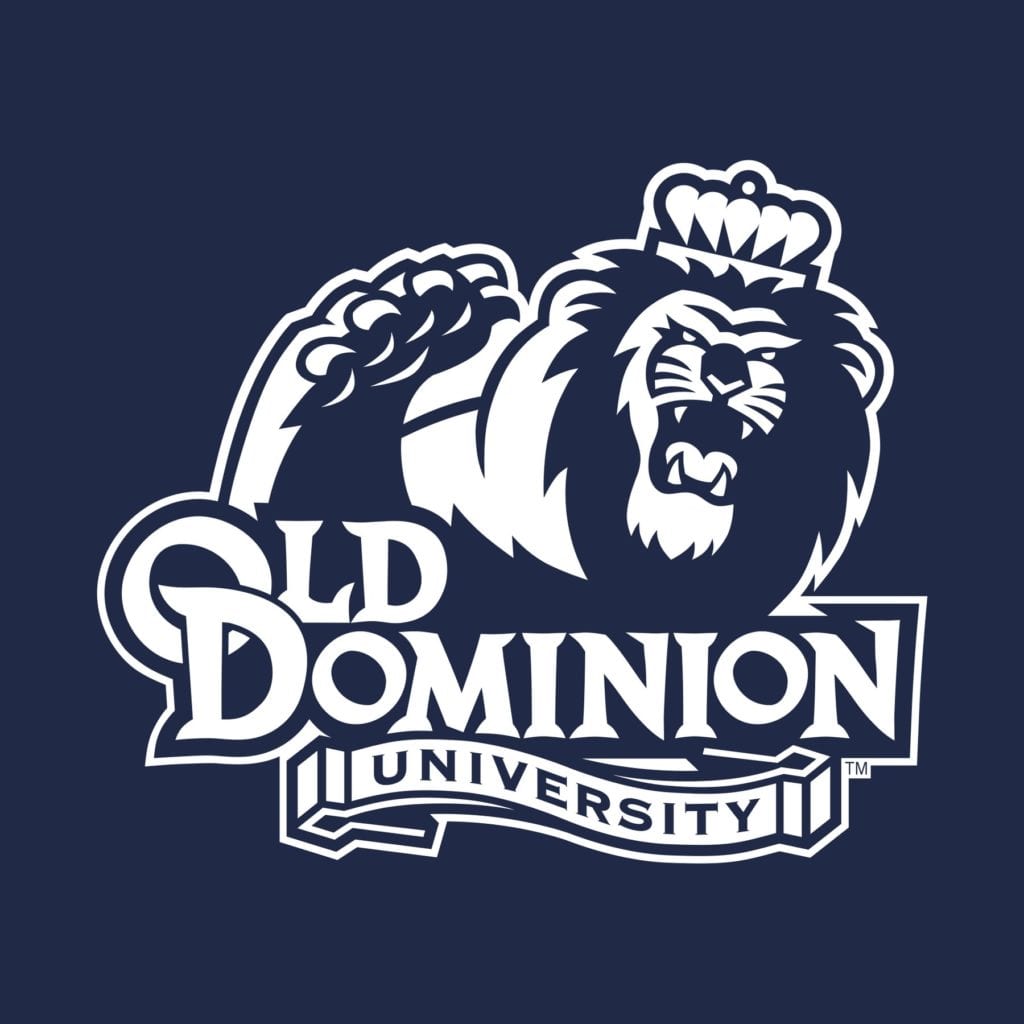 Norfolk, Virginia
Points: 8
Average Fees: $11,482.50
Established in 1930, this public research university is now one of the largest in the state of Virginia. Old Dominion offers a Bachelor of Science in Human Services for 120 total credit hours through distance learning. The cost per credit hour ranges from $360 to $407, depending on whether you are a Virginia resident or are an out-of-state student.
This bachelor's social work degree is approved by both the Virginia Board of Counseling and the Virginia Certification Board for delivering addiction education. Substance abuse and drug counseling certification can be acquired after graduation and completing a residency and exam set by the Virginia Board of Psychology.
1. SUNY College of Technology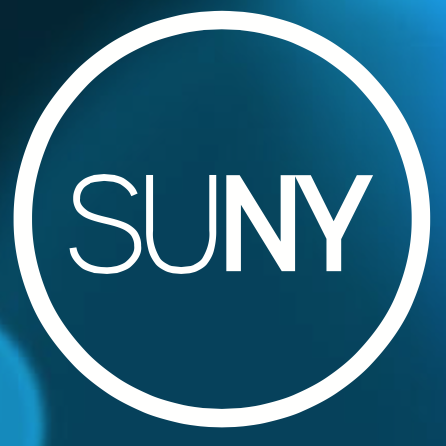 Several locations, New York
Points: 9
Average Fees: $9,085.75
The State University of New York system is a collective of New York's research universities. SUNY's College of Technology offers one of the best bachelor's social work online programs as a Bachelor of Art or Bachelor of Science in Social Science.
Earning the same diploma as on-campus students, this program explores society and social behaviors for a full look at theories, structures, and methods of help.
Each course requires an earned 124 credits for completion. The cost per credit hour is $295.
Ten Best Career Options for Those With a Bachelor's Degree in Social Work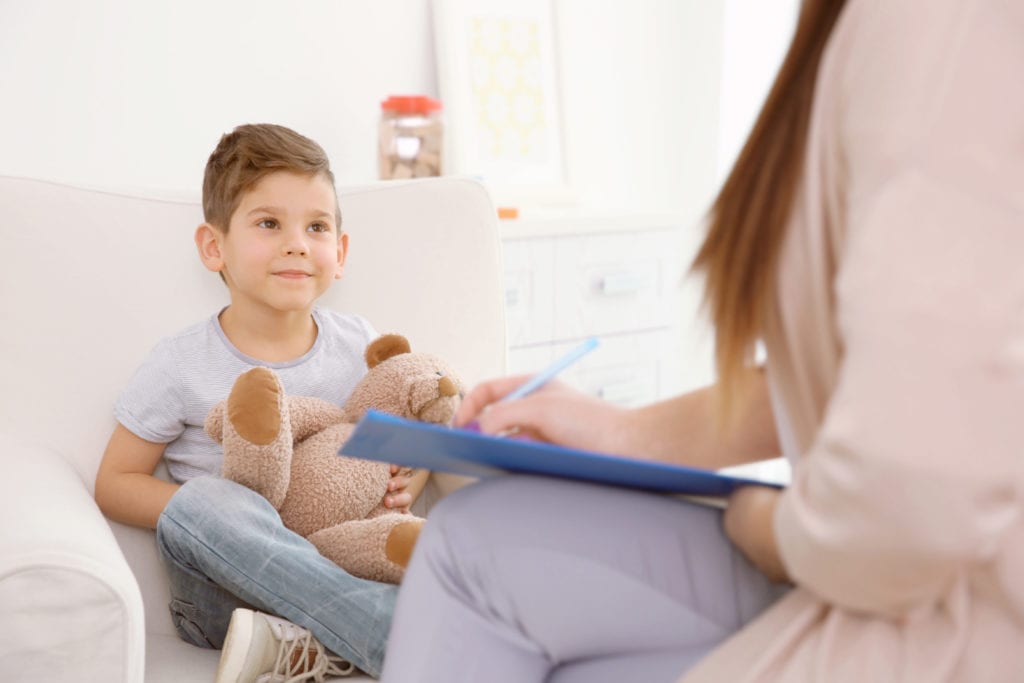 Social service jobs are typically very demanding but can also be quite rewarding. The people who excel in this field are compassionate, hard-working, and empathetic. Moreover, the best candidates are adept at active listening, skilled problem-solvers, and have superior communication skills.
Career opportunities span many industries that a Bachelor's degree in social work can open the door to many possibilities.
Child and Family Therapists
Family therapists look at the problems that arise between every kind of relationship, whether it's between spouses, parents and their children, or another family grouping. They help solve disputes by increasing communication flow and give both sides a greater understanding of how to properly react in tense situations to avoid confrontations.
Child therapists look at a child's behaviors and activities to determine how they are faring emotionally and mentally. If a child struggles with a certain aspect of their life, therapists can give them tools and strategies to cope.
Child and family therapists also examine a child's mental welfare to determine whether their home lives are acceptable.
Average yearly pay: $49, 610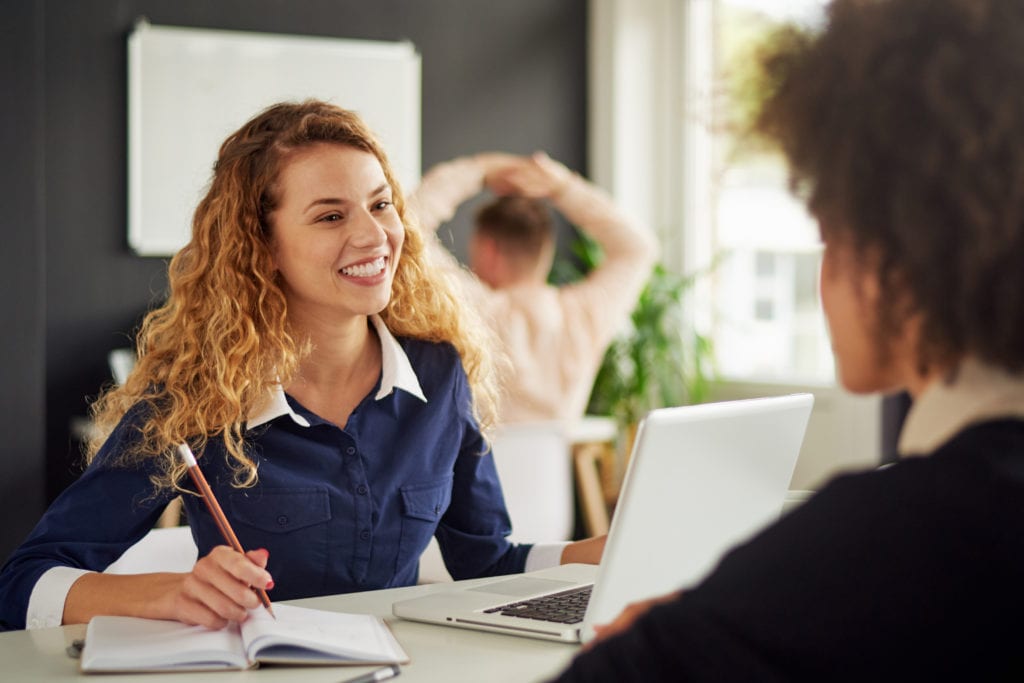 School and Career Counselors
School counselors, like guidance counselors, provide university options for high school students and offer advice on receiving admittance. They also work with teachers, parents, and students to alleviate behavioral problems by acting as mediators and offering resources and solutions. They monitor and assess progress to ensure a safe and productive school environment.
Similarly, career counselors support university students or individuals searching for work to become employed. Both counselors discuss requirements for courses or programs that will bring their clients closer to their goals. Counselors typically determine the next step an individual should take to achieve their maximum potential for career options.
Average yearly pay: $57,040
Research and Administrative Social Workers
These social workers are less likely to work with individual clients and instead view the entire social work system. With a focus on research in the industry, they look for statistics and potential flaws to improve resources and system processes.
Average yearly pay: $65,320
Gerontological Social Workers
These social workers look after elderly and aging individuals. They monitor aging rates and supply support for various conditions, including community resources. As many of their clients need more or different care levels as they age, gerontological social workers will provide different levels of assistance.
Some of this involves physical therapy and care. Often, social workers assist in applying for resources. Further, they can connect their clients with community programs for active living and provide support when elderly individuals look after younger family members.
Average yearly pay: $71,076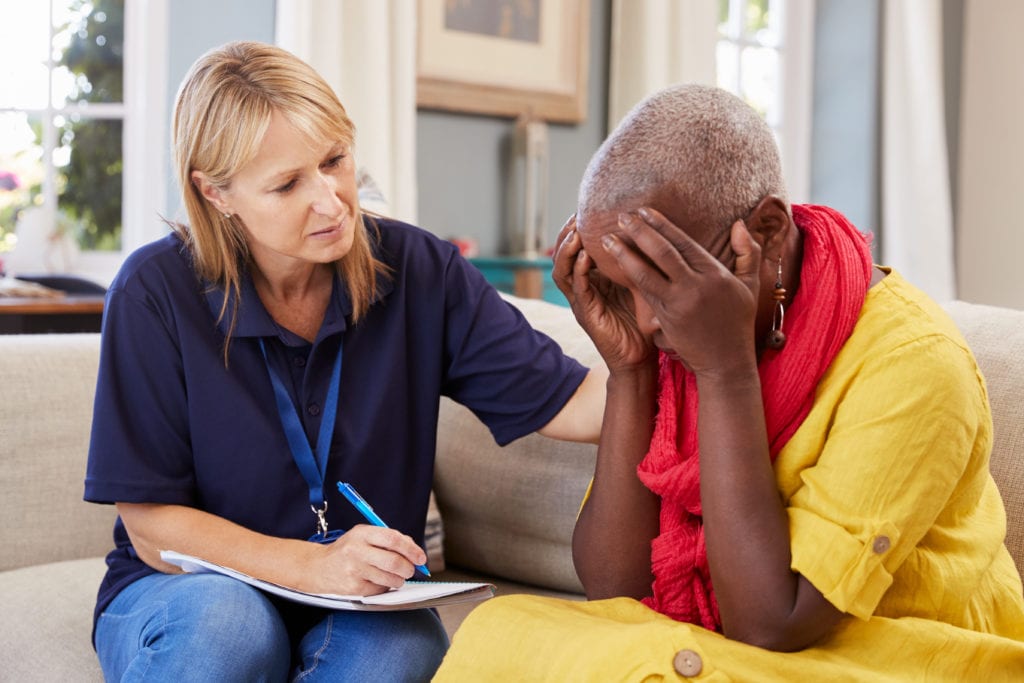 Medical and Health Social Workers
Medical and health social workers collaborate with other healthcare professionals to promote healthy living. They explain practices and remedies to patients and offer education for healthier behaviors. Frequently, they are tasked with collecting health data on specific communities and areas. They regularly educate people on health concerns and proper treatments or prevention.
Average yearly pay: $46,910
Mental Health and Substance Abuse Social Workers
These workers offer assistance, counseling, and support to people who struggle with various mental health issues or addiction. They provide treatment and courses for improvement. Many focus on rehabilitation, especially substance abuse workers, to help people return to a more stable lifestyle.
Average yearly pay: $46,240
Military and Veteran Social Workers
Often working with PTSD sufferers, military and veteran social workers rehabilitate veterans into non-combative society, offering support and resources. If a veteran suffers from combat injuries, social workers can refer them to physiotherapy clinics and support groups.
These social workers also assist military families on the move. They especially give support and resources to children who find themselves constantly rebuilding friendships.
Average yearly pay: $62,500
Palliative Care Social Workers
Palliative care social workers deal in situations involving the end of life. Generally, they work for or with hospices to give comfort and support to individuals and their families. Social workers assist with end-of-life tasks, such as legal wills or emotional preparedness for both the patient and their family.
Palliative care social workers manage physical pain, financial stress, and emotional stress to provide the most comfortable experience possible.
Average yearly pay: $78,443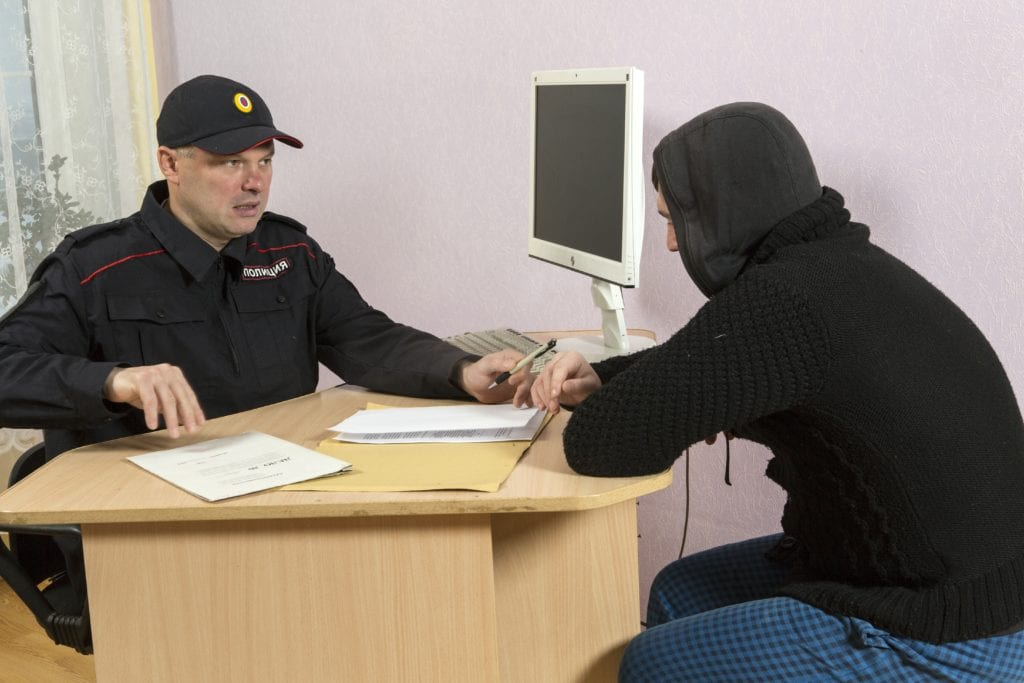 Probation Officers and Correctional Treatment Specialists
These officers and specialists work to rehabilitate offenders. Probation Officers look after released offenders serving their probation or parole and provide services and resources to assist a productive return to society.
Correctional Treatment Specialists work with law offenders who have yet to be released. Offering support before release aids the process of rehabilitation and makes it easier for offenders to transition back into society with resources and aid. The specialists regularly educate their clients about different opportunities to reduce repeat offending.
Average yearly pay: $54,290
Psychologists
Similar to therapists, psychologists examine people and their behaviors to offer guidance and support. Psychologists study how people interact with each other and their surroundings. They look at the cognitive, emotional, and societal processes of human behavior.
By examining a specific person or group, psychologists learn how to improve a person's reactions to their problems. They can then explain these processes to their clients to help them problem-solve issues in their lives.
Average yearly pay: $80,370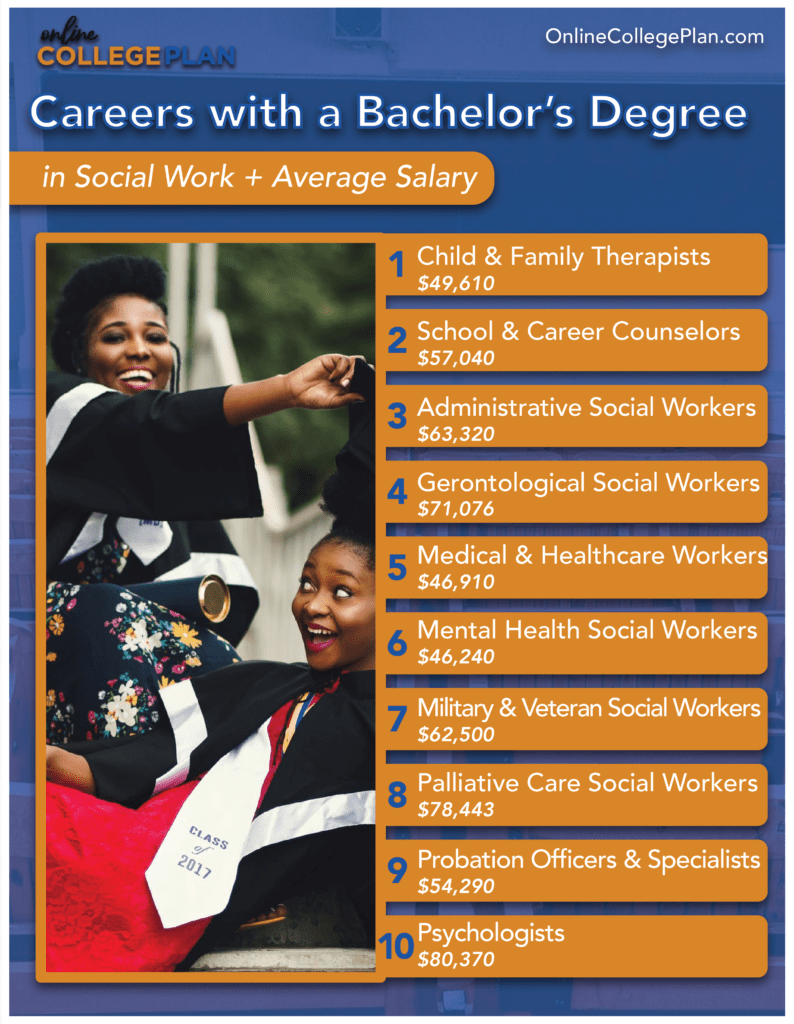 Related Rankings: