Anderson University is a small private Christian university located in Upstate South Carolina. The university was founded as a women's college in 1911 and is affiliated with the South Carolina Baptist Convention. Originally known as Anderson College, the school changed its name to Anderson University in 2006.
Anderson University is ranked:
#3 in Top 20 Bachelors for Online Criminal Justice Degree Programs
#11 in Top 20 Best Online Colleges in South Carolina
Important Note:
There is also an Anderson University located in Anderson, Indiana. This school profile contains only data and facts about Anderson University in Anderson, South Carolina.
Featured Programs
There are 59 major degree programs at Anderson. Plus, students can choose from 46 minors , 38 concentrations, 18 graduate programs, and eight certificates. For students who want to pursue a degree online, the school offers 39 remote options. We'll list just a few of the choices below.
Anderson University Undergraduate Programs (Partial List)
Anderson University Graduate Programs (Partial List)
Master of Science in Nursing – Executive Leadership (MSN)
Anderson College Online Courses


In addition to classes located on the Anderson University campus, the school also offers the convenience and flexibility of online degree programs. Anderson University has been named by Apple as a distinguished school for innovation, leadership, and educational excellence. This dedication is evident, especially in the school's online programs.
Anderson College currently offers the following majors 100 percent online:
Anderson University Tuition
Currently, tuition for full time Anderson students is $30,720 for the year. The cost per credit hour is $680.
Explore Anderson, South Carolina
Anderson, also known as the Electric City, is located in the foothills in upstate South Carolina. From Anderson University, it's only a short drive to hike the beautiful Blue Ridge Mountains or to swim, go fishing, boating or sunbathing at Hartwell Lake. There are also many nice golf courses in the local area.
The Anderson County Museum is a 12,000 square foot walk through local, regional and national history. The museum prides itself in providing more than static galleries and adds new features each month. In addition to 25,000 artifacts, Anderson County Museum also hosts many fun and educational events for all ages — even a preschool hour!
Downtown Anderson offers plenty of places to eat, shop, and enjoy. The town has seven parks, including Carolina Wren Park, Heritage Park, and a Dog Park. There are also numerous restaurants, brewpubs, and coffee shops. If shopping is your thing, you'll find various clothing, home goods, and specialty stores. Be sure to check out the local arts and events scene too!
Notable Anderson University Alumni
The founder of Chick-fil-A, S. Truett Cathy, and his son, Dan Cathy, each received honorary degrees from Anderson University.
Fitness and Recreation at Anderson
The Campus Recreation and Fitness department at Anderson offers students the opportunity to stay fit and healthy through a variety of programs. They oversee a state-of-the art fitness center, the university swimming pool, and the campus gym. Additionally, the school has a new game room, multipurpose theater, and tennis courts.
Anderson University Athletics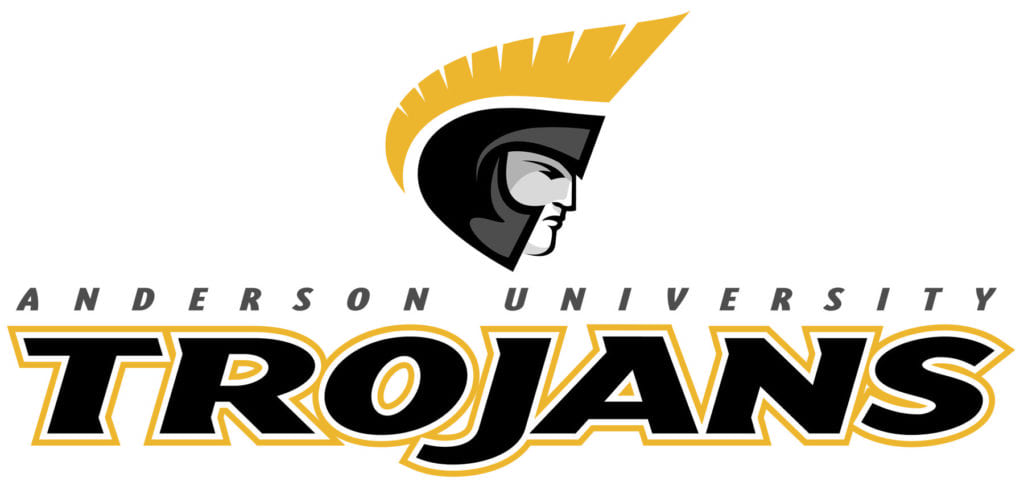 The Anderson Trojans have several teams on campus for both men and women, including:
Men:
Baseball
Basketball
Cheering
Cross-Country
Golf
Lacrosse
Soccer
Tennis
Track & Field
Women:
Basketball
Cheering
Cross Country
Golf
Soccer
Softball
Tennis
Track & Field
Volleyball
Other School Facts:
Anderson University's Website: https://www.andersonuniversity.edu/
Twitter: https://twitter.com/andersonunivsc
Facebook: https://www.facebook.com/AndersonUniversitySC
Accreditation: The Southern Association of Colleges and Schools Commission on Colleges
School Mascot: Troy the Trojan
Related Ranking: