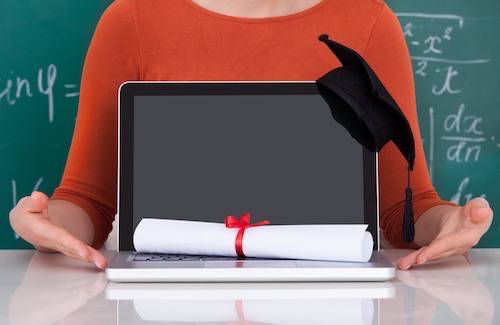 Ready to plan your perfect online college experience?
We're here to help!
There are many reasons for the massive surge in popularity of online college. Schools that may have been out of reach before are now at your fingertips, thanks to the Internet. Now a high-quality education can be obtained through a wide variety of accredited online degree programs. Nothing can hold you back!
Online College Plan provides you with up-to-date and current college planning checklists, resources and online college rankings. We also have the latest financial aid and scholarship information to educate and assist you in making the best decisions as you plan for your future.

What Are the Advantages of Online College?
There are many benefits and advantages to attending college online. Earning your degree from an online college can offer you flexibility and plenty of options, as well as being very affordable.
If you are a self-starter, very organized and motivated to get your education, you may also be able to complete your degree program faster by enrolling in an online college. Your diploma could be closer than you think!
Additionally, many traditional brick and mortar colleges now offer online degree programs, so you may choose from a wide variety of schools and programs. Education has evolved. It's now easier than ever to attend college.
Flexibility and Convenience
Traditional college classes require you to physically report to a classroom for instruction. For many people, this can be inconvenient or downright impossible due to a variety of circumstances, including family caregiver responsibilities, work schedule, transportation issues and disabilities.
Enter online college degree programs. Now it is entirely possible to attend college classes from anywhere you and your computer or laptop have a reliable Internet connection. Once looked at with much skepticism, online degree programs have proven themselves legit to academic leaders, students and employers alike and are now mainstream.
Online College Offers a Nearly Endless Array of Options
Choosing online education vs. a brick and mortar school doesn't necessarily mean choosing a different school. Many prestigious colleges and universities have developed high quality online degree programs which many students prefer. Many students who attend college on campus also elect to take some of their classes online in order to have replays of lectures, flexibility of schedule, to network with other online students or to squeeze in credits during summer breaks.

Most schools now offer online courses in many fields of study, for example:
Affordability = Less Student Debt!
Save money by not leaving home for college. Online degree programs are highly customized to fit unique needs. This means online college students spend less time and money taking classes they don't need.
With online college there are no commutes, student parking hassles, meal plans to purchase, moving expenses or new roommates. Plus, you won't rack up unavoidable (and very expensive) parking tickets and various other on-campus fees that wreck your budget. All of this can save you money and mean less student loan debt in the long run.
Enhanced Learning Environment
Multimedia Instruction = Better Retention. Online college students can view lectures and take notes any time. Many students also find it easier to communicate with instructors and classmates in an online learning environment. Course materials are edited and updated to stay fresh for an optimal learning experience, while college textbooks are wildly expensive and quickly outdated. Online study groups also make reviewing copies of past tests and note sharing easy.
Sharpen Communication Skills
It's a digital world. Learning how to communicate effectively online is essential. With online college, you will have the opportunity to hone your skills while you network and earn your degree, as participation in online discussions is often required.
---
Guiding You Towards your Education Goals!
Whether you are a parent, high school student or an adult considering going back to college, we're here to help you with planning every detail — from choosing a degree and online college, to financing your college education with grants, scholarships, student aid, student loans and other options. Whatever your current education goals are, we have the tools, resources, information and advice to help you plan for online college without getting overwhelmed.